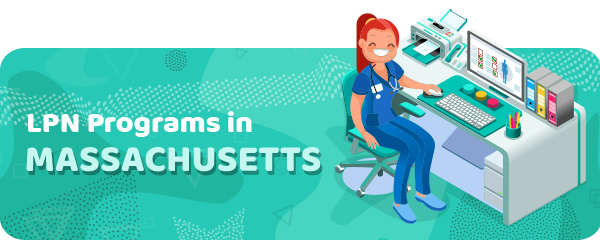 The need for something makes us go in search of it.
Whether be it a job or a friend, we're all in pursuit of what we miss.
However, some needs are hard to fill.
We may never be able to do so.
While some are possible.
The latter are usually material needs.
In this respect, US states have been in need of nurses.
Specifically, Licensed Practical Nurses.
A rewarding career, along with a high-quality education is the formula that is attracting many to become LPNs in Massachusetts.
To be more precise, the Bureau Labor of Statistics has come up with a 12% growth in LPN employment by 2026.
These programs take less than the Bachelor and Master's degree in Nursing, therefore are quite flexible for students.
In addition, an hour's work in Massachusetts is paid $26.04.
A year is paid $54,160.
While the two in total make $10,130 more yearly, compared to the US national average.
So, we had an overview of the LPN career in the state.
Now let's focus on the most important things.
The first is surely the school.
You have to make sure you choose a school that offers approved programs by the state.
These programs can be accessed at community colleges, technical schools, and private schools.
The state boasts with 18 LPN schools in total.
While the top-five programs have been listed in this article only.
The latter has been chosen in regard to the NCLEX-PN exam.
The first-time pass rates of the past years were specifically noted down.
Details on Massachusetts LPN Schools & Classes
You saw that LPN schools or programs can be found in certain places.
Now you're probably interested to know about the attendance and length of each.
Well, a particular LPN program in Massachusetts takes 1 to 2 years to complete.
The length varies from the attendance.
Whether it is part-time or full-time.
During the program, each student will develop intellectually and practically in the field.
The programs, in general, are held by a certain curriculum.
The curriculum usually offers nursing labs and courses in different nursing topics.
From them, you will find:
Medical Terminology
Essentials of Nutrition
Foundations of Practical Nursing
Human Growth & Development
Principles of Pharmacology
Medical-Surgical Nursing
Accreditation
In the process of selecting the right LPN program to study, you have to pay attention to its main feature: accreditation.
Accreditation ensures a high-quality program every time.
To find one easily, you have to contact two organizations in Massachusetts.
The first is the Accreditation Commission for Education in Nursing.
While the second is the Massachusetts Board of Registration in Nursing.
Apart from them, you may also consider regional accrediting bodies as well.
Admission Requirements
Being admitted to an LPN school takes fulfilling a few requirements.
Though they differ from school to school, they will all ask from you to attach these documents:
High school diploma or equivalent
Completion of any prerequisite courses
Satisfactory HESI exam scores
Proof of CPR certification
Must pass a criminal background test
Tuition and Costs
The LPN program costs vary from many factors.
These factors include the type of school, place, and similar.
However, it is the responsibility of a student to pay tuition, fees and course materials.
To give you an example of the cost, consider Blue Hills Regional Technical School.
Its total cost of a program is $12,300.
This stands for in-district residents.
While for non-district ones the total price of the program is $13,800.
On the other hand, $14,800 will be the sum for out-of-state residents.
In this price, uniforms and parking are not included.
While the schools, in general, will offer financial aid and other forms of help for students who cannot afford the payment.
Massachusetts LPN Licensing Requirements
LPN license is the last step of LPN education.
For an individual to attain it, he or she needs to attend an approved program and pass the NCLEX-PN exam.
Among the documents to attach in the application are the following:
The licensure by exam application.
A declaration of the primary state of residence.
Pass a criminal background check.
NCLEX Exam Information
The NXLEC-PN exam is the key to open the door of license.
The exam, in general, is made of various questions related to nursing.
It is separated into many sections that cover different aspects of it.
If some students do not feel ready for it, they can take the practical one first.
LPN Reciprocity and eNLC
Massachusetts will soon be part of the ENLC.
The compact makes it possible for the nurse to finish her LPN practice in every state that is a member of the compact as well.
He or she can do so without having to attain another license.
The case is different for out of states nurses.
They can apply for a license in the state through reciprocity.
Actually, the nurse needs to send a completed Determination of Eligibility for Practical Nurse Reciprocity.
Additionally, he or she needs to also send an official transcript from the attended program in her state.
In this transcript, there has to be included:
Dates the student entered and withdrew (or graduated) from the school.
Proof that the student was in good standing.
Calculation of theory and clinical clock hours that were successfully completed.
A statement verifying that coursework and clinical practice were in medical, surgical, pediatric, obstetrical, mental health, and nursing concepts.
LPN Salaries in Massachusetts
LPN salaries in this USA country depends on a variety of factors.
Mostly, their factors are educational level, skills, work experience as well as the location you're in.
So, make sure to have as many of these requirements as possible, to get a better wage.
The best things come to those who are ready for them, right?
Annual Salary Range:
Annual Salary by Location:
| Location | Avg. Annual Salary |
| --- | --- |
| Boston | $55,031 |
| Worcester | $51,340 |
| Springfield | $50,950 |
| Lowell | $53,144 |
| Cambridge | $55,031 |
| Brockton | $52,803 |
| New Bedford | $51,389 |
| Fall River | $51,389 |
| Lynn | $55,031 |
| Quincy | $55,031 |
The Best LPN Schools in Massachusetts
There are five LPN schools across Massachusetts.
They offer different programs for their students.
However, the best school is always the one that matches your opportunities and aims.
| School Name | Address |
| --- | --- |
| Northern Essex Community College | 100 Elliott St, Haverhill, MA 01830 |
| Massachusetts Bay Community College | 50 Oakland Street, Wellesley Hills, MA 02481 |
| Blackstone Valley Regional Vocational Technical School | 65 Pleasant St, Upton, MA 01568 |
| Greenfield Community College | 1 College Dr, Greenfield, MA 01301 |
| Mount Wachusett Community College | 444 Green St, Gardner, MA 01440 |
LPN Programs by State
---