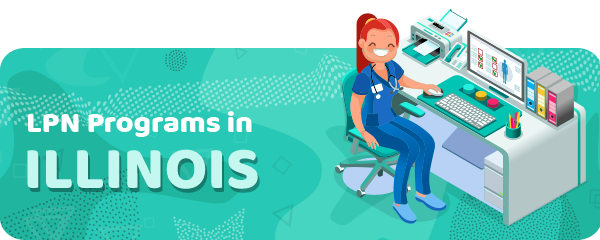 When a state offers many educational and work opportunities in a field, you will not be surprised why so many people turn to it.
Specifically, Illinois offers various nursing schools to LPN students to get a license in.
To be more concise, the Bureau Labor of Statistics projects a 12% increase in employment as we enter 2026.
However, LPNs would not be so interested in this career, if it were not for the suitable salaries they get in the state.
Hence, the hourly salary per LPN there is $22,69.
The annual salary of $47,190.
While the two sums together make up $3,160 more money yearly than the national average in the US.
Since school is an important thing to get a good education, an LPN is even more.
The importance of school varies from the programs that it offers.
Approved programs make a school worth studying into.
These programs can be found in specific places.
Such as in community colleges, technical centers, and private career schools.
Illinois is home to 38 LPN schools already.
But the top-ranked programs are 10.
So these only have been included in this article.
The choice of the programs was done in regard to the NCLEX-PN exam.
Especially, the first-time pass rates of these past years were considered.
Details on Illinois LPN Schools & Classes
Since we know where we can find the schools and LPN programs, now we only have to know about the schedule.
LPN approved programs in Illinois are given both full-time and part-time.
In regards to that, the length of the program will also depend.
The average length of a program, however, is one to two years.
Programs are made of different nursing courses and labs.
The main courses given there are:
Anatomy & Physiology
Fundamentals of Nursing
Adult/Geriatric Nursing
Medical-Surgical Nursing
Pharmacology
Accreditation
With a school choice, come also the standards that it has to meet to start your LPN education there.
Accreditation is one of these standards.
It ensures high-quality and academic studies.
In Illinois, you can head to two accrediting organizations to help you find approved programs.
The first organization is the Accreditation Commission for Education in Nursing.
While the second is the Illinois Board of Nursing.
However, if not them, you can also check regional accreditations as well.
Admission Requirements
From the admission requirements to enter an LPN school, are to be mentioned:
High school diploma or GED from a state-approved school
High school GPA of 2.5 or higher
Two letters of recommendation
Current CPR certification
Valid CNA certification may be required
Must pass a background check and drug test
Tuition and Costs
We're used to spending our money so easily.
But when it comes to education, we fear the huge sum that may be required from us.
In Illinois, an LPN student will have to pay for tuition, fees and other expenses.
Expenses depend on the school.
In Addition, students also have to consider paying for course materials, lab fees, uniforms, room, and board if necessary.
The total cost for an LPN program in Illinois is taken as an example considering the Adonis College of Nursing in Dolton.
The cost there for an LPN program is $20,150.
However, there are many schools you can benefit from their loans, financial aid as well as scholarships that they offer.
Illinois LPN Licensing Requirements
The main requirement for an LPN license in Illinois is attending classes in an approved program.
Along with that, you have to also send the following documents as part of the application to the state:
A written application for licensure.
Certificate of completion from the approved nursing program.
Pass licensing exam (NCLEX).
Pass a criminal background check.
The LPN candidate can get the license after finishing three years of the program.
If he or she fails to this deadline, attending another LPN program is a must.
LPN licenses expire in two years' time.
To make a renewal, the licensed candidate must take 20 hours of continued education in every renewal.
The procedure has to be followed the same every two years.
NCLEX Exam Information
At the end of the LPN program, you have to take the NCLEX-PN exam to test your knowledge for the time you have studied.
After this step, you will officially get the license.
Of course, if you pass it.
However, in Illinois, you can take the practical test of the NCLEX-PN exam to prepare for the final one through it first.
LPN Reciprocity and eNLC
States that are not part of the ENLC are free to disregard their rules.
Such is the case with Illinois.
However, a candidate who aims for an LPN license there, he or she can get it by endorsement:
Hold a valid license in another state.
Submit a written application to the Board.
Having completed a board-approved nursing education equivalent to the state of Illinois's.
Submitting a criminal background check.
LPNs who have a license in nursing in a country outside the US must send some verification documents.
These include passing the TOEFL exam as well as verifying the educational equivalent program.
The program has to be based on the Commission of Graduates of Foreign Nursing Schools
LPN Salaries in Illinois
LPN salaries in Illinois depend on the location you live in.
But they also depend on many factors.
These factors are work experience, education, skills and similar.
Annual Salary Range:
Annual Salary by Location:
| Location | Avg. Annual Salary |
| --- | --- |
| Chicago | $51,776 |
| Rockford | $48,352 |
| Aurora | $51,319 |
| Naperville | $50,728 |
| Peoria | $47,180 |
| Springfield | $45,084 |
| Joliet | $50,311 |
| Elgin | $50,942 |
| Waukegan | $48,828 |
| Cicero | $51,776 |
The Best LPN Schools in Illinois
There are 10 LPN schools across Illinois.
If you're interested you can find them in the list below.
| School Name | Address |
| --- | --- |
| Spoon River College | 23235 N. County Highway 22, Canton, IL 61520 |
| Kankakee Community College | 100 College Drive, Kankakee, IL 60901 |
| CALC, Institute of Technology | 200 North Center Drive A, Alton, IL 62002 |
| Illinois Valley Community College | 815 N Orlando Smith St, Oglesby, IL 61348 |
| Heartland Community College | 1500 West Raab Road, Normal, IL 61761 |
| Harper College | 1200 W. Algonquin Road, Palatine, IL 60067 |
| Joliet Junior College | 1215 Houbolt Road, Joliet, IL 60431 |
| Southeastern Illinois College | 3575 College Rd, Harrisburg, IL 62946 |
| Ambria College of Nursing | 5210 Trillium Blvd, Hoffman Estates, IL 60192 |
| Shawnee Community College | 8364 College Road, Ullin, IL 62992 |
LPN Programs by State
---