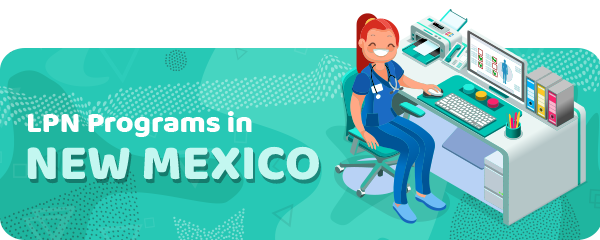 The closer we are to the end, the more we think about the beginning.
That's what happens to me every time I have to write a topic on US states.
The Union is really strong and offers so many opportunities for people of different interests.
Now, coming to New Mexico, you would not be surprised to find out that you can build there a successful LPN career.
But nothing happens overnight.
And success does not come the same as well.
As a state, New Mexico offers high-quality nursing through its progressive education, leadership, and respect between the patient and the nurse.
I sad that success does not come easily, but if you work hard enough, it will surely come.
So, to become an LPN in this state you need to meet a few requirements.
To motivate you, the Bureau Labor of Statistics has predicted a 12%employment growth in 2026.
In addition, three salary levels have also been shown.
Thus, the hourly salary per LPN in New Mexico is considered to be $22.48.
The annual one $46,760.
While the two together make up $2,730 more money yearly, compared to the national average.
Details on New Mexico LPN Schools & Classes
LPN programs are not hard to find in New Mexico.
You just need to know where to look for them.
You can do so by visiting junior colleges and vocational schools.
The classes will generally be kept local while online ones are also a trend nowadays.
However, attendance is also two ways.
You can have classes part-time or full-time.
The attendance, anyway, will determine the length of the program in total.
The length is usually one to two years.
The programs will offer a mixture of nursing courses, theory, and practice for LPNs.
The practice is meant to be kept at local facilities.
However, the main courses will consist of the following ones:
Human Anatomy & Physiology
Math/Dosage Calculations
Family Nursing
Pharmacotherapeutic Interventions
Common Health Problems
Medical Terminology
Nutrition
Accreditation
Accreditation is one of the key features of high-quality education.
It will also pay off with high-quality programs from which as a student you will benefit a lot.
Accredited programs go through a continual reevaluation and must cost what it may respect the agency's standards.
In New Mexico however, you will find two organizations that will make sure you find an accredited program in the field.
The first one is the Accreditation Commission for Education in Nursing.
While the second is the New Mexico Board of Nursing.
Admission Requirements
Before applying to an LPN program, every student must make sure they meet the set of requirements of it.
From these requirements, he or she needs to consider:
Minimum age of 18
High school graduate (or GED)
Completion of any prerequisite courses
Completion of college placement tests
Pass drug screen and background check; provide proof of immunizations
Written personal statement or interview with staff may be required
Tuition and Costs
LPN program cost is different from the schools to school.
For this reason, a student must check all of them and see which cost is most suitable to him or her.
The cost, in general, includes tuition, mandatory fees, and other necessary materials.
These are all to be paid by the student.
On the other hand, transportation, board, and room are not part of the expenses.
To give students an idea of the average program cost in New Mexico, consider New Mexico State University.
The entire LPN program there costs around $6, 04555 to $7,277.55.
In this cost tuition and all other additional expenses for a year are covered.
New Mexico LPN Licensing Requirements
Completing an approved LPN program and finishing the NCLEX-PN exam are two important steps that lead to licensing.
However, other requirements need to be met as well.
From them are to be considered:
Official transcript from the approved program directly from the program source.
Proof of English competency.
Submit a criminal background check.
LPN licenses in New Mexico expire every 2 years.
A renewal, however, is possible.
It requires 30 hours of approved continued education within each 2-year period for renewal.
NCLEX Exam Information
The NCLEX-PN exam is already known to us in US states when it comes to an LPN license.
The exam, in essence, tests a student's knowledge of nursing topics.
LPN Reciprocity and eNLC
New Mexico is in the range of the states that will soon be part of the ENLC.
As such, nurses from other states within the compact will be free to apply for an LPN license in its areas.
The same conditions, however, do not apply for non-state LPNs.
They have to apply for an LPN license by endorsement.
These LPNs need also to send other documents with the application.
From them, a course review of the LPN program from the Commission on Graduates of Foreign Nursing Schools should be attached.
Along with that, the original transcripts should be sent.
And finally, English skills should be verified as well.
The Best LPN Schools in New Mexico
New Mexico is home to many LPN schools.
The top-ranked ones have been put in this article.
So, you will have the best quality schools to consider.
| School Name | Address |
| --- | --- |
| Central New Mexico Community College | 525 Buena Vista Dr SE, Albuquerque, NM 87106 |
| Doña Ana Community College | 2800 Sonoma Ranch Blvd, University Park, NM 88003 |
| New Mexico State University | 1500 University Dr, Carlsbad, NM 88220 |
| Vista College | 6101 Montana Ave, El Paso, NM 79925 |
LPN Salaries in New Mexico
LPN salaries in New Mexico are suitable.
In fact, salaries are a means of drawing many candidates in the field.
Though they depend on many factors such as place, qualification and work experience.
Annual Salary Range: Annual Salary by Location:
| Location | Avg. Annual Salary |
| --- | --- |
| Albuquerque | $46,008 |
| Las Cruces | $41,592 |
| Santa Fe | $46,241 |
| Rio Rancho | $45,861 |
| Roswell | $42,914 |
| Farmington | $45,390 |
| Alamogordo | $43,647 |
| Clovis | $43,347 |
| Hobbs | $42,214 |
| Carlsbad | $42,914 |
Regional Salary in New Mexico
| Region | Employed | Avg. Annual Salary | Avg. Hourly Pay | Top 10% Annual Salary | Bottom 10% Annual Salary |
| --- | --- | --- | --- | --- | --- |
| Albuquerque, NM | 640 | $59,280 | $28.5 | $75,820 | $43,950 |
| Farmington, NM | 80 | $58,590 | $28.17 | $73,860 | $49,320 |
| Las Cruces, NM | 250 | $56,550 | $27.19 | $67,660 | $48,460 |
| Santa Fe, NM | 80 | $68,850 | $33.1 | $79,840 | $49,970 |
* Salary information based on the May 2022 Occupational Employment Statistics (OES) Survey for Licensed Practical and Licensed Vocational Nurses, OCC Code 29-2061, BLS.
* Employment conditions in your area may vary.
LPN Programs by State
---