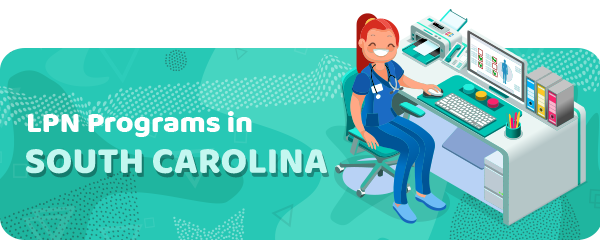 When someone offers you a thing, you feel privileged to accept it.
But when they try to offer you the best thing they have, you feel like you're being chosen.
The latter is happening in South Carolina.
The state is working on its best abilities to offer high-quality healthcare to its people.
This healthcare comes in a package of educational development and constant personal growth for the working staff.
Having an optimal number of LPN schools inside, aspiring nurses have no choice but to pursue a career there and finish it within a year.
Seemingly, LPN jobs are becoming frequent in South Carolina each day.
This has been proven by the Bureau Labor and Statistics lately.
The Bureau has claimed a 12% employment increase as we approach 2026.
Similarly, the salaries will not be bad either.
An LPN in SC will earn $18.95 per hour, $39,410 per year.
While the two in total will make up to $4,620 less than the national US average yearly.
So, if you've been long in the pursuit of an LPN career in there, don't stop now.
Start searching even more, and do it with the school first.
Then make sure you find an approved program.
You can find these programs at private career schools, community colleges, and technical schools.
So far, I have selected only the 5 top programs available in South Carolina.
But you have to be aware that there are 16 LPN schools in total.
However, the selection has been made to make sure I offer you the best quality programs.
The list has come as a result of the review of the NCLEX-PN exam.
It has included the first-time pass rates during the recent years.
Details on South Carolina LPN Schools & Classes
The more options you have, sometimes you feel more confused to choose between them.
But once you know what you want, there's only one choice amid all.
The same is with LPN programs.
Being home to 15 schools, South Carolina offers a promising education to its students.
The typical LPN programs in the state take nearly one-year time to study.
The only exception is the schedule.
Whether the students attend the lessons part-time or full-time.
The schedule is even more flexible, as it allows students to attend class during the daytime and evening.
Both ways, it will be worth it since the programs hold a mixture of courses and labs as well as practice.
From the courses, you may be able to attend the following:
Fundamentals of Nursing
Pharmacology
Medical-Surgical Nursing
Medical Calculations
Maternal, Infant, and Child Nursing
Anatomy & Physiology
Accreditation
Finding an accredited LPN program in the state you're about to study should be the aim of every student.
Accrediting organizations across South Carolina are two.
The first is the Accreditation Commission for Education in Nursing.
While the second is the Commission on Collegiate Nursing Education.
Another third supportive organizations that may help students get in touch with accrediting programs is The South Carolina Board of Nursing.
Admission Requirements
Admission requirements for an LPN program differ from school to school, but the most common are these:
High school graduate or possess a GED
Cumulative GPA of 2.5
SAT/ACT scores
Official transcripts from all high schools/colleges attended
Completion of prerequisite courses
Satisfactory score on TEAS exam
Tuition and Costs
Along with other requirements come time and the money you invest in your LPN education.
The cost of LPN programs in South Carolina differs from the school, place and other additional factors.
But students should keep in mind that paying for tuition, fees, and supplies are always their responsibility.
As long as they can afford the payment.
In case they can't, the state offers loans, financial aids and scholarships to help students make their ends meet.
An illustrative example of the costs is the LPN program of Orangeburg-Calhoun Technical College.
The entire program cost of it is nearly $2,944 per semester.
In this package, both tuition and applicable fees are included.
South Carolina LPN Licensing Requirements
In order to secure an LPN license in South Carolina, one needs to follow an intensive study of nursing courses and examinations approved by the state.
Along with that, the applicant must also take and pass the NCLEX-PN exam.
However, there are other additional requirements that need to be fulfilled in order for the applicant to be eligible for licensing.
These requirements include a criminal background check, fingerprinting card and send them to the board.
While the rest of them include:
Recent headshot (passport-style) photo that is signed and dated.
Copy of birth certificate of a valid passport.
Copy of social security card (or equivalent).
Official transcript with the completion date of all coursework.
South Carolina LPN licenses also have an expiration date.
They usually expire on April 30th every even year.
The process also requires 30+ contact hours of continued education.
NCLEX Exam Information
As soon as LPN lessons are over, the candidate must undertake the examination.
The LPN program in the first place is taught by a certain curriculum.
The NCLEX-PN exam is focused on various aspects of this curriculum.
However, if the students do not feel ready to take it, they can take the practical test first and prepare this way for the final one.
LPN Reciprocity and eNLC
South Carolina is part of the Enhanced Nurse Licensure Compact.
Therefore the state has nothing against other ENLC states coming to work inside the state in hospitals, clinics and so on, without having to take another license there.
Anyway, nurses who come from other states which are not part of the eNLC, need to apply in an LPN program in South Carolina through an endorsement.
As part of the application, they need to send the following documents:
Proof of current license and official transcripts from their state-approved nursing program.
Submitting a passport-style photo.
Submit copies of birth certificates and social security cards.
Proof of residence.
Evidence of continued competence.
Criminal background check.
Additionally, South Carolina feels free to license foreign applicants with an LPN license.
To benefit from this, the applicants, however, need to submit approval from the Commission on Graduates of Foreign Nursing Schools.
Along with that, they should also attach the evaluated transcripts as well as the full course-by-course review.
On the other hand, the English Proficiency test is also a must.
In this case TOEFL.
If the applicant has not yet sat for the NCLEX-PN examination, he or she must do so before submitting the application for the license.
The Best LPN Schools in South Carolina
There are five LPN top-ranked schools across South Carolina.
You can see them posted below and choose the best for you.
However, if you're interested to know more, there are other additional schools too.
| School Name | Address |
| --- | --- |
| York Technical College | 452 S Anderson Rd, Rock Hill, SC 29730 |
| Williamsburg Technical College | 601 Martin Luther King Jr Ave, Kingstree, SC 29556 |
| Trident Technical College | 7000 Rivers Ave, North Charleston, SC 29406 |
| Aiken Technical College | 2276 Jefferson Davis Hwy, Graniteville, SC 29829 |
| Piedmont Technical College | 620 Emerald Road North, Greenwood, SC 29648 |
LPN Salaries in South Carolina
LPN salaries in South Carolina depend on many factors.
They mostly differ from location, work experience, education, and skills.
The more of these qualifications you have, chances are to get better pay!
Annual Salary Range: Annual Salary by Location:
| Location | Avg. Annual Salary |
| --- | --- |
| Columbia | $45,876 |
| Charleston | $46,386 |
| North Charleston | $46,386 |
| Greenville | $47,656 |
| Rock Hill | $48,079 |
| Mount Pleasant | $46,386 |
| Spartanburg | $45,309 |
| Sumter | $43,679 |
| Hilton Head Island | $45,364 |
| Florence | $43,922 |
LPN Programs by State
---