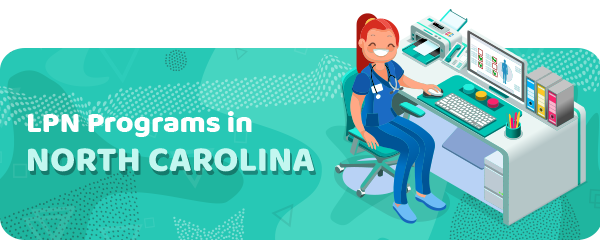 The demand for nurses has spread everywhere in the US.
North Carolina has happened the same.
Apart from that, the state offers high standards of education and practice in its areas.
This way, making the field grow with rapid steps.
Precisely, Licensed Practical Nurses are the most frequently career pursuit.
The Bureau Labor of Statistics has done research in this healthcare field regarding employment.
Popular Programs
It has projected a 12% LPN growth in jobs in 2026, which is to be admired.
However, right now an LPN earns $20.16 per hour.
$41,940 per year.
While $2,090 less per year if we compare with the national US average.
So, if you're thinking of pursuing this career in North Carolina, this article will teach you the right steps to the way.
First and foremost, school is the priority of your entire career.
The school you choose needs to offer approved programs in the first place.
These types of programs are mostly found in community colleges, technical centers, and private career schools.
The state has in total of 38 LPN schools in its entire area.
But only the top-ten programs were chosen for this article.
The choice was done on behalf of the NCLEX-PN exam.
The first-time pass rates were chosen as an object of analysis.
Details on North Carolina LPN Schools & Classes
In North Carolina, you will have plenty of LPN programs available to choose from.
Since you know where you can find them, now you only need to know how and when to attend them.
Well, the attendance is in two shifts.
You can either attend LPN classes part-time and it will take you two years.
Or you can attend them full-time and finish the program in less than one year.
However, online classes have become popular in the state as well.
Whereas, the programs are taught through a curriculum.
This curriculum contains nursing courses, labs and clinical experiences that are supervised.
From the most common courses there, you will find the following:
Intro to Health Concepts
Pharmacology
Anatomy & Physiology
Developmental Psychology
Family Health Concepts
Holistic Health Concepts
Accreditation
Accreditation is the key to an accepted license.
In North Carolina attending an accredited program means that your education is of high standards and worth the time you've spent in.
In the state, three operating organizations will help you find accredited programs.
The first one is the Accreditation Commission for Education in Nursing.
The other is the Commission on Collegiate Nursing Education.
While the third is the North Carolina Board of Nursing.
Admission Requirements
Admission requirements of LPN schools in North Carolina are various.
However, they mainly include the following:
Satisfactory score on the ATI TEAS exam
Submit official transcripts from all high schools and colleges attended (or GED scores)
Completion of all prerequisite courses
Submit application and pay all required fees
Personal essay or statement of goals
Tuition and Costs
Considering the length of an LPN program, the cost of it isn't to complain about.
Take for example the Fayetteville Technical Community College.
Its total LPN cost is considered to be of $2,280.
In this cost, however, fees and supplies do not cover.
On the other hand, the student should expect to pay an amount of money for a particular LPN program.
In this price, tuition, fees, and course materials are included.
Additionally, students who cannot afford to make the payment can benefit from schools' financial aid, loans, and other scholarships.
North Carolina LPN Licensing Requirements
Attending an approved LPN program and taking the NCLEX-PN exam is crucial to licensing.
The exam is usually taken after graduation.
At this step, the student needs to send a copy of the official transcript to the Board of Nursing.
Soon after, the background check also needs to be sent.
However, LPN licenses expire in two years.
But since renewal is possible, we don't make much trouble about it.
To renew the license, the candidate needs to meet a few requirements two years before the license expires.
These requirements include:
640 LPN hours plus 15 hours continued education
30 hours continued education
National certification or recertification
Board-approved refresher course
2+ semester hours of post-licensure nursing academics
15 hours continued education AND completion of a nursing project as the principal or co-investigator
15 hours continued education AND co-authoring a nursing-related published paper
15 hours continued education AND 5 hours developing or teaching a nursing presentation
NCLEX Exam Information
The NCLEX-PN might seem very difficult.
But if the student has studied well, he or she will definitely pass it successfully.
The exam basically contains nursing related questions.
So, no worry, nothing out of context!
The questions are meant to test his or her skills and knowledge in the field.
However, if some students don't feel ready for the final exam, they can undergo the practical one that is available for them.
LPN Reciprocity and eNLC
Just like many US states, North Carolina is also a member of the ENLC.
As such, it makes possible for nurses that are part of the same compact from other states to make their LPN practice without having to gain another license.
In addition, LPNs who have gained their licenses in states out of the compact can apply in North Carolina again by endorsement.
In order to do so, they are allowed to have a temporary license of 6 months validation until they get the state licensure.
However, in the application, they need to send a few documents, such as:
Completion of a state-approved education program comparable to North Carolina's
Passing the NCLEX or SBTPE
Mentally and physically healthy and able to perform LPN tasks
Previous state licensure
Criminal background check
On the other hand, foreign LPN can also apply for a license in North Carolina.
That can happen by taking the NCLEX-PN exam, by submitting the educational documents and English proficiency results.
Apart from that, they also need a valid security card.
While they must also submit a criminal background check as well.
The Best LPN Schools in North Carolina
In North Carolina, you will find many LPN schools.
But you will have to consider many things when choosing one that fits you best.
Thus, you need a school that meets your finances, the program you need and other additional features.
But as long as you seek, it means you know what you want!
And that will help you choose easily.
| School Name | Address |
| --- | --- |
| Cape Fear Community College | 411 N. Front Street, Wilmington, NC 28401 |
| Brunswick Community College | 50 College Road, Bolivia, NC 28422 |
| Rowan-Cabarrus Community College | 1333 Jake Alexander Blvd. South, Salisbury, NC 28146 - |
| Surry Community College | 630 South Main St, Dobson, NC 27017 |
| Edgecombe Community College | 225 Tarboro St., Rocky Mount, NC 27801 - |
| Lenoir Community College | 231 Hwy 58 South, Kinston, NC 28502 |
| James Sprunt Community College | 133 James Sprunt Drive, Kenansville, NC 28349 |
| Gaston College | 201 Highway 321 South, Dallas, NC 28034 |
| Wayne Community College | 3000 Wayne Memorial Drive, Goldsboro, NC 27534 |
| Robeson Community College | 5160 Fayetteville Rd, Lumberton, NC 28360 |
LPN Salaries in North Carolina
LPN salaries vary from many factors.
These factors include place, qualification of the person, skills and so on.
So, the more of these you have, the better the salary you will get.
 Annual Salary Range: Annual Salary by Location:
| Location | Avg. Annual Salary |
| --- | --- |
| Charlotte | $47,933 |
| Raleigh | $46,946 |
| Greensboro | $46,763 |
| Durham | $46,685 |
| Winston-Salem | $46,877 |
| Fayetteville | $44,900 |
| Cary | $46,946 |
| High Point | $47,043 |
| Wilmington | $44,631 |
| Asheville | $44,949 |
LPN Programs by State
---