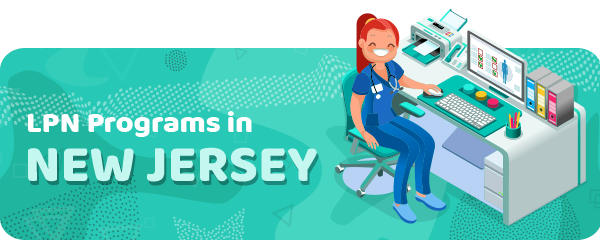 Nursing Career is popular in New Jersey as well.
The state, with all its financial capacities, works in establishing better healthcare standards.
And of course, a better working environment for the nurses.
This progress is achieved by successful leadership, solid education, and understanding between the patient and nurse.
All of this, as a consequence, brings about better work results.
According to the Bureau Labor of Statistics, a 12% employment growth will take place in 2026.
This is another reason to draw more LPN candidates in the field.
However, salaries have done a great part in this aspect.
An LPN in New Jersey earns nearly $25.62 in an hour.
$53,300 in a year.
While the two together make up $9,270 more per year compared to the national average.
Being an LPN in New Jersey is a matter of choosing the right school and meeting a few requirements.
The school especially is the key to quality education.
When choosing it, you need to find an approved program by the state.
These programs can be found in community colleges, technical schools, and private career schools.
The school list is made of 29 LPN schools in total.
While in this article only top-ten programs have been included.
The choice of these programs was done on behalf of the NCLECX-PN exam.
In fact, the first-time pass rates were the main focus of analysis.
Details on New Jersey LPN Schools & Classes
As you could see above, there are nearly 30 LPN schools in New Jersey.
The places you can find LPN programs are either community colleges or trade schools.
The attendance is both part-time and full-time.
While you can attend online and class located lessons too.
The length of a particular LPN program, however, is one to two years long.
The programs are taught by a certain curriculum.
The curriculum contains courses on nursing theory, sciences, humanities and similar.
Through these subjects, the program manages to offer a good education to its students.
In general practice and clinical experiences are part of the courses in these schools.
From the most important ones, you may find these available:
Human Biology
Introduction to Practical Nursing
Basic Microbiology
Mental Health
Maternal/Child Practical Nursing
Adult Health
Pharmacology
Accreditation
Choosing an accredited LPN program is the key to a successful education.
Accredited programs are usually held to high standards, and are therefore worth registering.
In New Jersey, you need help to find an accredited program.
For this reason, you may need to contact two organizations available in the state.
The first is the Commission on Collegiate Nursing Education.
While the other is the New Jersey Board of Nursing.
Admission Requirements
Finding a place in LPN schools in New Jersey is more than just a matter of thinking about it.
You need to apply.
To apply, you need first to meet the school's requirements.
In the state, the following requirements must be met to be admitted:
Minimum overall GPA of 2.5
High school diploma or GED
Be at least 18 years of age
Completion of any and all prerequisite courses
Completion of Accuplacer or college placement exam
Provide proof of immunizations and insurance, pass a drug screen and criminal background check
Tuition and Costs
The cost of an LPN program in New Jersey depends on many factors, but mostly, it depends on the school.
It usually includes tuition, fees, books and other materials needed.
Apart from these students can also benefit from grants, loans, financial aid, and other additional payments.
However, online programs and classroom lessons may have different prices.
To give you an example of the LPN education cost, check Jersey College in the state.
The school is located in Ewing.
The entire LPN program cost there is around $28,300.
In this price, tuition, books, fees, background checks, supplies, and uniforms are covered.
New Jersey LPN Licensing Requirements
From the LPN license requirements, two are at the top of the list.
The first is attending an approved LPN program.
And second, after graduating from it, passing the NCLEX-PN exam is mandatory to licensure.
After that, the candidate needs to apply for licensure by sending the documents to the New Jersey Board of Nursing.
In this application, a photo of passport, certification, authorization form and $200 must be included.
However, getting a license is not the end.
As an LPN, you will have to renew it every two years.
For renewal, 30 hours of education within two years are required.
NCLEX Exam Information
We saw that the NCLEX-PN exam is the key to the door of license.
It generally includes questions related to different topics of nursing.
It aims to test student's understanding of the profession.
Students who are not yet ready for the exam, they can take the practical one first.
LPN Reciprocity and eNLC
ENLC is the compact in which New Jersey is also aiming to be part of in the future.
Being part of it, the state will let nurses work in every state that is a member of the compact without an additional LPN license.
While LPN states who are from states outside the compact can apply in New Jersey for an LPN license by means of an endorsement.
To do so, the candidates should already have finished an LPN program approved by their state.
After that, they can move on with the application.
In it, they have to send the verification of license and necessary fees.
However, foreign applicants who want an LPN license in New Jersey need to take the NCLEX-PN exam.
Part of the exam is also English proficiency tests and official transcripts.
But there's more to the application.
The prospective LPN candidate must pass the TOEFL exam as well as a course-by-course review has to be performed by
The Commission on Graduates of Foreign Nursing Schools.
All of these documents should be attached a few more.
They are the criminal background check, certification, Authorization form and licensure application, and fee.
They need to be sent to the Jersey Board of Nursing altogether.
The Best LPN Schools in New Jersey
The number of LPN programs is as huge as the schools.
However, students should choose the one they think fits them best.
| School Name | Address |
| --- | --- |
| Cumberland County College | 3322 College Drive, Vineland, NJ 08360 |
| Salem Community College | 460 Hollywood Avenue, Carney's Point, NJ 08069 |
| Monmouth County Vocational School District | 4000 Kozloski Road, Freehold, NJ 07728 |
| Holy Name Medical Center | 718 Teaneck Road, Teaneck, NJ 07666 |
| Jersey College - Ewing | 1001 Spruce St., Ewing Township, NJ |
| Lincoln Technical Institute - Paramus | 240 Bergen Town Ctr, Paramus, NJ 07652 |
| Best Care College | 68 South Harrison Street, East Orange, NJ 07017 |
| Jersey College - Teterboro | 546 US-46, Teterboro, NJ 07608 |
| Eastwick College - Hackensack | 250 Moore Street, Hackensack, NJ 07601 |
| Middlesex County Vocational and Technical Schools | 112 Rues Lane, East Brunswick, NJ 08816 |
LPN Salaries in New Jersey
LPN Salaries in New Jersey are quite satisfactory.
They are, however, impacted by many factors.
To begin with, place.
While other factors such as education, skills and work experience are also to be mentioned.
Annual Salary Range: Annual Salary by Location:
| Location | Avg. Annual Salary |
| --- | --- |
| Newark | $55,881 |
| Jersey City | $59,208 |
| Paterson | $56,419 |
| Elizabeth | $55,881 |
| Edison | $54,902 |
| Woodbridge | $54,902 |
| Lakewood | $55,732 |
| Dover | $56,240 |
| Trenton | $55,293 |
| Camden | $56,879 |
LPN Programs by State
---