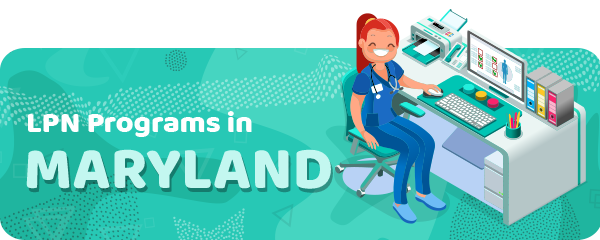 Our worth in life is determined by what we seek.
We tend to always be attracted to the best.
The best love, the best family and the best work.
Why not! As humans, we're created to reach our highest potential in every aspect.
And work is one of them.
But to do great work, we must make sure we have prepared to do it in the first place.
In Maryland, Licensed Practical Nurses are in high demand.
The state offers both a solid education as well as job opportunities for its aspiring candidates.
To say it better, the Bureau Labor of Statistics has projected a 12% employment increase as we enter 2026.
So, in five years, the future of LPNs will be brighter than it actually is.
With an hour work pay of $24.59.
A year work of $51,140.
The total yearly income will be $7,110, which is greater than the national average in the US.
So, if you're in the prime of an LPN career, and you don't know where to start, take a look at the article.
To begin with, find the right school and the program you want.
The program you choose should be state-approved.
You can find these programs in community colleges, technical centers, and private career schools.
So far, 12 of them have been found across the state.
But in this article only the top-five programs have been an object of analysis.
They were chosen in regard to the NCNLEC-PN exam.
Precisely, the first-time pass rates of the past years were selected.
Details on Maryland LPN Schools & Classes
Now you know where to look for the LPN school and program, but that's not all.
You need also to know more about the length of the program and the schedule.
LPN programs in Maryland take 1 to 2 years to complete.
While the length is mostly determined by attendance.
Part-time classes take longer.
While full-time ones shorter.
These programs are usually taught through a curriculum.
The curriculum offers various nursing courses, labs, and electives.
The usually available courses consist of:
Foundations of Practical Nursing Concepts
Introduction to Pharmacology
Mental Health Practical Nursing Concepts
Maternity and Pediatric Nursing Concepts
Human Anatomy & Physiology
Accreditation
Accreditation is highly important to a school.
If you want to choose the best school, choose the one that is accredited.
And secondly, choose the one that offers you what you need in terms of education.
In Maryland, two organizations will make sure you find such a school.
They are the Accreditation Commission for Nursing.
And the Maryland Board of Nursing.
In the meantime, you may also find help from regional accreditation as well.
Admission Requirements
Every aspiring LPN must meet a set of requirements to be admitted to an LPN school.
From them, he or she has to send these documents:
High school diploma or GED
Must have completed all prerequisite courses with a grade of "C" or higher
Overall GPA of at least 2.0
Competency in math, reading, English
Submission of TEAS test scores
Tuition and Costs
The cost of an LPN program is specific.
But that does not mean you have to worry a lot about it.
It usually depends on the school.
However, students should be prepared to pay tuition, course materials, and fees.
An example of the average cost of an LPN program in Maryland is The Community College of Baltimore County.
Its total LPN cost is $2,520.
If we add the registration fees, you will pay $405 more.
And adding the textbooks, $859 more will be taken from your purse.
On the other hand, the school's budget is really wide.
If some students can't afford their payment, the schools offer scholarships and other loans and financial aid options to help them in this direction.
Maryland LPN Licensing Requirements
Gaining the LPN license in Maryland is a step by step procedure.
To begin with, the student needs to attend an approved program first and pass the NCLEX-PN exam at the end of it.
After these steps, the student can apply for a license.
He or she will do so by submitting the application to the board.
This application has to be attached to another declaration that proves his or her primary state of residence as well as a background check.
Along with the application, the candidate may also be asked to go through some physical activities.
These activities may include physical strength for daily activities, standing, squatting, and walking long as well as some endurance for all of these.
Maryland offers license opportunity for out of state nursing graduates as well.
They can get an LPN license in Maryland by completing a clinical rotation with a preceptor.
They can do this regardless of having a similar license to that of Maryland beforehand.
NCLEX Exam Information
The NCLEX-PN exam is a must to LPN license.
The exam contains various 100 nursing questions.
The NCLEX-PN exam can be taken as a practical one if students are not yet ready to take the final exam.
LPN Reciprocity and eNLC
Thanks to being a member of the NLC, nurses who come from other states within the compact, can work in every compact state without another LPN license.
The NLC however, will soon turn into ENLC.
This transformation will give extra protection measures and original mandate to nurses.
For nurses who are not part of the compact, Maryland allows application for License through endorsement.
To do so, they need to send a few documents.
These documents consist of proof of current license, Verification of Licensure form, passport-style photograph as well as a criminal background check.
On the other hand, LPN who have finished their Nursing education in other countries similar to Maryland can also apply for an LPN license in the state.
They can do so by sending an approval from CGFNS International.
This institution will accept their approval by meeting two conditions.
First, they need to have evaluated the official transcripts.
And secondly, they need to have finished a full course-by-course review.
While thirdly, proving their English Proficiency by means of results.
LPN Salaries in Maryland
LPN salaries in Maryland differ from place to place, but also from other crucial factors.
These factors include educational level, additional skills, work experience, and so on.
Annual Salary Range:
Annual Salary by Location:
| Location | Avg. Annual Salary |
| --- | --- |
| Baltimore | $50,122 |
| Frederick | $52,180 |
| Gaithersburg | $53,812 |
| Bowie | $53,845 |
| Rockville | $53,894 |
| Hagerstown | $49,384 |
| Annapolis | $51,529 |
| College Park | $53,959 |
| Salisbury | $51,872 |
| Cumberland | $44,739 |
The Best LPN Schools in Maryland
Maryland offers five LPN schools to its students.
These schools offer an out-of-state license, a certain time frame for course work, and other information related to studies.
They also offer five different LPN programs to study in.
So, students should take that into consideration and choose wisely.
| School Name | Address |
| --- | --- |
| Hagerstown Community College | 11400 Robinwood Dr, Hagerstown, MD 21742 |
| Anne Arundel Community College | 101 College Pkwy, Arnold, MD 21012 |
| Howard Community College | 10901 Little Patuxent Parkway, Columbia, MD 21044 |
| Carroll Community College | 1601 Washington Rd, Westminster, MD 21157 |
| Community College of Baltimore County | 7200 Sollers Point Rd, Dundalk, MD 21222 |
LPN Programs by State
---