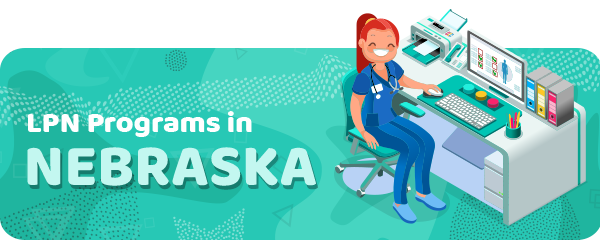 Safety is a feeling we all want to experience in life.
When we're safe, we feel brave and ready to be ourselves.
When we can be that, we're surely going to be productive in all that we do and contribute for the best of our community.
In Nebraska, Nursing is the embodiment of safety and quality in terms of healthcare services that it continually offers to its patients.
At this point, the Bureau Labor of Statistics has made a prediction about LPN employment growth.
According to its results, a 12% growth in jobs will take place as we reach 2026.
This growth has caused a greater interest in becoming an LPN in Nebraska.
The state offers 10 LPN schools with programs in the field.
These programs can be found in community colleges, vocational programs, and private career schools.
However, only the top-three programs have been mentioned in this article.
The selection was done when considering the first-time pass rates of the NCLEX-PN exam over the past previous years.
Apart from education, in Nebraska, you will also find job opportunities.
The hourly wage of an LPN is $19.09.
The annual wage is $39,710.
While the two together make up $4,320 less money yearly compared to the national average.
Details on Nebraska LPN Schools & Classes
The optimal number of LPN schools in Nebraska makes your LPN career choice quite easy.
Most of the programs in these schools take one to two years of completion.
Though part-time programs take longer and vice-versa.
The programs are usually taught by a certain curriculum that offers didactic and clinical learning practice.
From these courses, the following ones are the most frequently found in Nebraska programs:
Human Anatomy & Physiology
Nursing Care Concepts
Holistic Health Concepts
Introduction to Pharmacology
Medical-Surgical Practical Nursing
Maternal-Child Practical Nursing
Psychosocial Concepts in Practical Nursing
Accreditation
Accreditation is the clearest way to a quality program.
In Nebraska, you can access two accrediting agencies to help you find accredited programs in the state.
The first one is the Accreditation Commission for Education in Nursing.
While the second is the Nebraska Board of Nursing.
The latter helps students find programs by means of an endorsement.
Admission Requirements
LPN admission requirements in Nebraska schools are different in each school, but the main requirements will mostly be the ones below:
High school graduate; may need to supply GPA and transcripts
Satisfactory ACT scores
Completion of all prerequisite courses
Personal interview
Background check
Submission of a completed application and associated fees
Tuition and Costs
The cost of an LPN program in Nebraska is to be considered as well.
It is actually one of the secondary, personal requirements a student needs to meet.
In general, an LPN student is responsible for paying for tuition, mandatory expenses, and supplies.
On the other hand, those who cannot afford their LPN program, have various solutions from the school.
These solutions include loans, financial aids, and scholarship options.
The total cost of an LPN program in Nebraska can be seen in the Southeast Community College.
Its campuses are in Beatrice and Lincoln.
Its total LPN price is considered to be $6,000.
In this price, applicable fees and necessary materials are included.
But the room and board are not.
Nebraska LPN Licensing Requirements
The two main Licensing requirements in LPN programs in Nebraska are attendance of an approved LPN program up to one year long.
And secondly, passing the NCLEX-PN exam.
The latter is meant to prove the applicant's proficiency in his or her profession.
However, other additional requirements for licensing are a must.
From them, the following are listed:
Wallet sized photo
Copy of birth certificate or lawful presence
Official transcript from state-approved nursing program (sent directly from education source)
Nebraska LPN licenses expire every year.
They usually expire on October 31st of every odd-numbered year.
However, that's not a concern.
A renewal will soon have to be down the road.
For renewal,  the LPN has to finish 20 contact hours of continued education.
NCLEX Exam Information
The steps to licensure are many, but they don't last long.
However, attending a full LPN program and graduating from it is the first.
I know this is longer than others, but education is essential and the time spent in it is always priceless.
The program, in general, should be a preparation for the last step toward license.
That is the NCLEX-PN examination.
This exam is meant to measure student's knowledge in the profession.
While a practical exam is also available for them in case they are not yet ready for the final one.
LPN Reciprocity and eNLC
Nebraska is a member of the Enhanced Nurse Licensure Compact.
As such, nurses who come from other NLC states can finish their LPN practice within Nebraska without another license in the field.
On the other hand, out of compact nurses can apply for an LPN license in Nebraska through endorsement.
In their application they have to provide the following documents:
Official transcripts from their state-approved nursing program.
Proof of license in another state and having passed the NCLEX.
Proof of age and citizenship.
Must have graduated from a state-approved program within the last 2 years or practiced 500 hours nursing within the past 5 years.
In addition, students who have completed their education abroad must send other documents as well.
These documents consist of the evaluation of a completed course by course review by Commission on Graduates of Foreign Nursing Schools.
And their English Language proficiency results.
The NCLEX-PN exam is also a must if they have not sat for it yet.
The Best LPN Schools in Nebraska
If you decide to study LPN in Nebraska, schools are not a concern.
There are 10 LPN programs available.
However, I believe you would like to choose the best one.
So in this aspect, you have three of them to consider.
| School Name | Address |
| --- | --- |
| Metropolitan Community College | 5300 N 30th S, Omaha, NE 68103 |
| Northeast Community College | 801 East Benjamin Ave, Norfolk, NE 68701 |
| Central Community College - Kearney | 3519 Second Avenue, Kearney, NE 68847 |
LPN Salaries in Nebraska
LPN Salaries in Nebraska so far serve as stimulation to draw more LPNs there.
They do change from place to place.
But they also vary from other factors.
These factors are mainly the responsibility of the LPN.
Hence, education, work experience, and skills are important in having a good salary.
Annual Salary Range: Annual Salary by Location:
| Location | Avg. Annual Salary |
| --- | --- |
| Omaha | $46,262 |
| Lincoln | $46,039 |
| Bellevue | $46,262 |
| Grand Island | $45,403 |
| Kearney | $45,403 |
| Fremont | $45,572 |
| Hastings | $45,403 |
| North Platte | $44,021 |
| Norfolk | $40,271 |
| Columbus | $45,403 |
LPN Programs by State
---