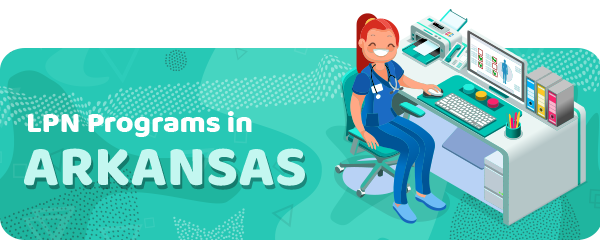 Whenever we commit to a certain job or duty, we want to know about the rewards that come along with it.
The benefits or rewards usually make us accept it.
However, the rewards of following an LPN career path in Arkansas are many.
The Bureau of Labor Statistics has predicted a 12% growth in LPN employment by 2026.
Despite that, the salary sums have also been shown.
Thus, in Arkansas an hour worked as a Nurse is paid $17.49.
The annual salary is $36,370, which means in total less than the national annual average of $7,660.
Being an LPN in Arkansas, however, requires more.
First of all, you must find a proper school.
Which means a school that offers state-approved programs.
These programs can be found mainly in community colleges, technical centers, and private career schools.
To help you out with the choice, by the end of this article I have listed the top ten LPN schools in Arkansas.
The selection has been made after a close review of the NCLEX-PN exam.
The exam covered first-time pass rates of the previous years.
Details on Arkansas LPN Schools & Classes
Once you have decided about the school, you need to think of the program you will attend.
LPN programs in Arkansas, just like in other US countries can be found in colleges and technical schools.
As soon as you graduate from a particular LPN program, you have to undergo the NCLEX-PN exam as well as pass it, so that you can get the license.
LPN classes may contain various nursing categories, which are mainly taught at Arkansas State University.
These categories include the following:
Foundation of Nursing Procedures with Lab
Med-Surg Nursing Concepts
Maternity and Pediatrics
Nursing of Older Adults
Accreditation
Finding the right school is not as hard as finding an accredited program when pursuing an LPN education in Arkansas.
Thus, the Accreditation Commission for Education in Nursing is one of the accrediting institutions you can head at as far as this issue is concerned.
But you can also consider regional accrediting opportunities too.
And finally, the Arkansas State Board of Nursing will help you out as well.
Admission Requirements
To enroll in an LPN program in Arkansas, students must meet these requirements:
Must be a high school graduate or have a GED
Must submit official transcripts from all colleges/universities attended
Hold a current CPR for Health Care Providers certification
Satisfactory TEAS exam score
Tuition and Costs
Everything worth having has a price.
LPN costs in Arkansas differ from many factors.
First from the type of the school, location, mandatory fees, course materials, room, board and so on.
For instance, Northwest Technical Institute in Springdale offers an LPN program that costs under $10,000.
While there are financial aid sectors which will help students if they have problems to afford the payments for their LPN education.
Arkansas LPN Licensing Requirements
Gaining an LPN license in Arkansas has also some set of requirements.
First, the candidate needs to attend a Board-certified nursing school.
Second, he or she needs to pass the state-required test.
Receiving the licensure however, the candidate must send an application form to the state before graduating.
Among the documents need to be included:
Proof of valid social security number
Official transcript from a state-approved nursing program with degree received (must come directly from school).
Verification of graduation date (done by the director of the graduate nursing program via secure electronic process).
Submit to a criminal background check.
Applicants from other states, however, can apply for an LPN license in Arkansas.
The procedure includes sending the transcripts.
And along with that a full course review from the Commission on Graduates of Foreign Nursing Schools, proof of the knowledge of English Language.
And then finally submit the following documents:
Graduated from an approved nursing school equivalent to Arkansas.
Licensed or eligible to be licensed as an LPN in another country.
Submit to a criminal background check.
Passed all required licensure examinations.
What needs to be noted is that Arkansas LPN licenses expire every 2 years on the day license was gained for the first time.
So the license has a birthday too!
NCLEX Exam Information
Before you enter the LPN exam, you need to know a few things related to it.
To begin with, this exam is crucial to get the license.
The exam is made of 85 to 205 nursing questions.
LPN Reciprocity and eNLC
Arkansas is a member of the Nurse Licensure Compact, therefore it allows out-of-state nurses that belong to other NLCs states to work within the state without much licensing requirements to go through.
As decided in January 2018, the Enhanced Nurse Licensure Compact will take place inside Arkansas.
This Compact has additional rules for these nurses, which are more like advantages.
Consequently, Nurses who own an original NLC multistate license will be grandfathered into the eNLC.
Nurses from other states outside the compact need to apply for the LPN license by means of endorsement in order to do the LPN practice in the state.
From the requirements they need to submit:
Proof of having passed the NCLEX.
Proof of state licensure in another state.
Proof of employment as an LPN in another state.
Submit to a criminal background check.
The Best LPN Schools in Arkansas
There are many LPN schools in Arkansas.
But the right school for you will be the one with accreditation and the program you need.
These two issues will help you decide easier.
Otherwise, there are 10 top-ranked schools around the state.
So you can start with these schools first!
| School Name | Address |
| --- | --- |
| University of Arkansas at Monticello | 1609 East Ash, McGehee, AR 71654 |
| Phillips Community College of the University of Arkansas | 1210 Rice Belt, DeWitt, AR 72042 |
| Black River Technical College | 1410 Highway 304 East, Pocahontas, AR 72455 |
| Arkansas Northeastern College | 2501 South Division Street, Blytheville, AR 72315 |
| Northwest Technical Institute | 709 S Old Missouri Rd, Springdale, AR 72764 |
| 5210 Grand Ave, Fort Smith, AR 72904 | 1537 University Blvd, Morrilton, AR 72110 |
| Arkansas State University - Beebe | 1000 W Iowa St, Beebe, AR 72012 |
| University of Arkansas - Fort Smith | 5210 Grand Ave, Fort Smith, AR 72904 |
| North Arkansas College Harrison | 1515 Pioneer Dr, Harrison, AR 72601 |
| Arkansas Tech University - Ozark | 1700 Helberg Lane, Ozark, AR 72949 |
LPN Salaries in Arkansas
A good salary is what we run after all our lives.
But that does not always depend on the company we work for.
Most of the time, it is our qualifications and quality of work that determine it.
Similarly, LPN salaries in Arkansas depend on the educational level, skills as well as work experience of the employee.
But the location has also a significant role in the payment.
Annual Salary Range: Annual Salary by Location:
| Location | Avg. Annual Salary |
| --- | --- |
| Little Rock | $45,398 |
| Fort Smith | $42,476 |
| North Little Rock | $45,398 |
| Fayetteville | $44,024 |
| Jonesboro | $44,923 |
| Pine Bluff | $43,717 |
| Springdale | $44,024 |
| Conway | $44,958 |
| Rogers | $43,761 |
| Hot Springs | $44,958 |
LPN Programs by State
---