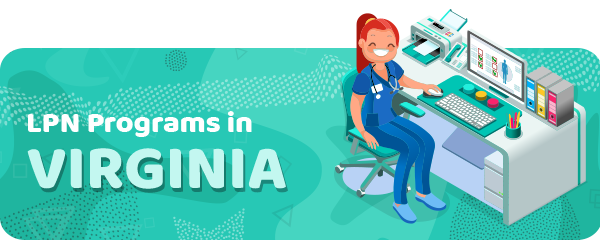 "The more you have, the pickier you get".
So take this chance to choose the best school!
Virginia is home to 50 Practical Nursing programs.
These programs are taught at community colleges, vocational schools and private colleges around the state.
Obviously, there's a solution for everyone who aims to become an LPN inside the state.
With so many choices to consider, LPN students can surely find what they need in terms of budget and schedule.
Along with that, salary estimates are shown as well.
The hourly salary for an LPN student is $19.80.
The annual salary is $41,190.
All this in total means $2,840 less money yearly than the US national average.
Seeing these multiple LPN programs, have you made your mind to attend any of them?
Well, you can think as much as you want, but you better start thinking about finding the right school first.
Then you check for approved programs.
If you look for these programs, make sure to take a visit to community colleges, technical centers, and private career schools.
As you saw above, the number of LPN programs is huge, but in this article, I have made sure to list only the top-ranked programs in Virginia.
The listing has been done in regard to the review of the NCLEX-PN exam.
The exam first-time pass rates have been considered.
And all these done over the past several years.
Details on Virginia LPN Schools & Classes
The huge number of LPN programs in Virginia makes it easy for students to choose to attend programs in different areas.
Almost all programs take one to two years of completion.
But that is mostly a matter of schedule, whether they are part-time or full-time.
A basic LPN course in Virginia includes clinical learning experiences and lectures in class.
From the course titles, however, you can check the following:
Body Structure and Function
Nursing Fundamentals
Drug Dosage Calculations / Pharmacology
Care of Maternal, Newborn and Pediatric Patients
Principles of Psychology
Child Psychology
Medical-Surgical Nursing
Trends in Practical Nursing
Accreditation
LPN Education programs in Virginia are approved by the Virginia Board of Nursing.
The programs function in the Commonwealth of Virginia.
But that's not everything.
Prospective LPNs must also check the school's accreditation.
Accreditation is a volunteer and peer review process wherein the school's educational program is estimated in terms of particular standards.
These standards imply that the program offers a high-quality education that will help the students prepare for the final exam at the time of graduation.
Admission Requirements
Being admitted to a particular LPN program in Virginia means you need to fulfill a few requirements in the first place.
Though these requirements differ from the school, they usually include these documents:
Completion of high school or GED program (including transcripts)
Cumulative GPA of 2.5 in all relevant coursework including prerequisite courses
Completion of all prerequisite courses, such as college-level Math, English I and Basic Physiology & Human Anatomy
Standardized test scores, if necessary, such as the ATI Test of Essential Academic Skills (TEAS) exam
Background check, drug screen and proof of required immunizations
Submission of the completed application and associated fees
Tuition and Costs
They say "money makes the world go round"- and it is oftentimes true.
You need a considerable amount of money to pursue any kind of education.
And nursing is nothing different.
In Virginia, aspiring LPNs need to fit the school's set of fees.
So before applying to any program, I advise you to check the total cost of education first.
As a student, you will usually have to pay for tuition mandatory school course fees and supplies which include the necessary equipment at work.
Despite that, housing and commuting to classes have a certain price as well.
So students should not neglect that either.
In other cases,  students may have problems afford the payment.
Fortunately, the schools may offer them additional help.
This help will include financial aid, loans, and scholarships in order to facilitate their LPN program.
An example of the LPN school cost in Virginia Beach technical & Career Education Center, whose price is $5,915.
This cost includes tuition, textbooks and other necessary materials.
Here, room and commuting expenses are not included.
Virginia LPN Licensing Requirements
The LPN licensing requirements in Virginia ask for completing a nursing program approved by the state.
This program needs to offer 400 hours of direct client care in a lifetime.
As soon as the student finishes that, he or she must undergo the NCLEX-PN exam.
This exam is under the responsibility of the state and is taken in order to show how proficient a nurse is.
For him or her to get the license, an application must be submitted to the Virginia Board of Nursing, including these set of documents:
Official transcript from the state-approved nursing program
Proof of passing score of the NCLEX exam
Complete fingerprint-based criminal background check
Application fee of $170
It should be noted that LPN licenses in the state of Virginia expire every two years.
So you have to consider doing a renewal when the time comes to.
NCLEX Exam Information
NCLEX-PN exam is a must for gaining an LPN licensure.
In fact the LPN program the student takes beforehand, containing the coursework should prepare the student for this exam.
But students can have an idea of the final exam by preparing and study with the NCLEX-PN practice test first.
LPN Reciprocity and eNLC
The state of Virginia is part of the Enhanced Nurse Licensure Compact.
This compact makes possible for the nurses to work in various states.
These states, of course, need to be in the same are.
And this way, they can work without needing an additional license.
However, LPNs there can also apply by the mean of endorsement.
To do so they need to offer proof of their current license and the passing of the NCLEX exam.
From the required documents, these are to be mentioned:
Fingerprint-based criminal background check
Clinical Hours Form completed by the nursing employer if the applicant graduated from a nursing education program with fewer than 400 clinical nursing hours.
Nurses coming from other states can also apply for a license in Virginia.
Before doing so, they need to submit approval from the Commission on Graduates of Foreign Nursing Schools (CGFNS).
Following up with that, they need also to send a complete course-by-course transcript review as well as English proficiency results.
The NCLEX exam is also necessary to send.
The Best LPN Schools in Virginia
I know it will be a challenge for the student to find a school in this state.
Not because of the lack of them, but because of so many of them to consider!
However, figure out what type of program you want.
Then match it with the school, and if it's an accredited one.
| School Name | Address |
| --- | --- |
| Virginia Beach Technical and Career Education Center | 2925 North Landing Road, Virginia Beach, VA 23456 |
| Chesapeake Career Center | 1617 Cedar Rd, Chesapeake, VA 23322 |
| Page County Technical Center | 40 Eagle Way, Luray, VA 22835 |
| Henrico Adult Education | 3751-C Nine Mile Road, Henrico, VA 23223 |
| Fortis College - Norfolk | 6300 Center Dr #100, Norfolk, VA 23502 |
| Reynolds Community College | 1851 Dickinson Rd, Goochland, VA 23063 |
| 1851 Dickinson Rd, Goochland, VA 23063 | 820 Bruce St, South Boston, VA 24592 |
| Eastern Shore Community College | 29300 Lankford Hwy, Melfa, VA 23410 |
| Germanna Community College | 10000 Germanna Point Dr., Fredericksburg, VA 22408 |
| Virginia Western Community College | 3094 Colonial Ave, Roanoke, VA 24015 |
| 3094 Colonial Ave, Roanoke, VA 24015 | 12745 College Drive, Glenns, VA 23149 |
| 12745 College Drive, Glenns, VA 23149 | 35 Vista Links Drive, Buena Vista, VA 24416 |
| Loudoun County School of Practical Nursing | 21000 Education Court, Ashburn, VA 20148 |
| Valley Career and Technical Center | 49 Hornet Rd, Fishersville, VA 22939 |
| Massanutten Technical Center | 325 Pleasant Valley Rd, Harrisonburg, VA 22801 |
| Danville Community College | 1008 S Main St, Danville, VA 24541 |
| Riverside College of Health Careers | 316 Main Street, Newport News, VA 23601 |
| Global Health College | 25 South Quaker Lane, Alexandria, VA 22314 |
| Chesterfield County Public Schools | 10101 Courthouse Road, Chesterfield, VA 23832 |
| Fortis College - Richmond | 2000 Westmoreland Street, Suite A, Richmond, VA 23230 |
LPN Salaries in Virginia
LPN salaries in Virginia change from the working place.
Initially, they vary from many factors.
These factors include skills, work experience, education and similar.
Annual Salary Range: Annual Salary by Location:
| Location | Avg. Annual Salary |
| --- | --- |
| Virginia Beach | $46,696 |
| Norfolk | $45,993 |
| Chesapeake | $45,934 |
| Richmond | $48,954 |
| Newport News | $45,758 |
| Hampton | $45,758 |
| Alexandria | $54,057 |
| Portsmouth | $45,993 |
| Roanoke | $45,112 |
| Lynchburg | $44,991 |
LPN Programs by State
---