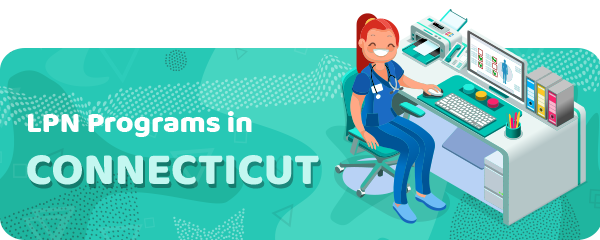 In life, we are constantly asked to make choices.
And whether a choice is wise or not, it is usually a matter of time.
Thus, choosing to pursue a LPN career in Connecticut may be considered wise due to the many reasons.
First of all, the state offers many LPN schools and programs.
Through them, patient outcomes will be better, so it's a nice move.
Secondly, the Bureau Labor of Statistics has also done a project, wherein it foresees a 12% growth of employment as far as LPNs are concerned by 2026.
Thirdly, LPNs across Connecticut earn an hourly salary of $26.74, an annual salary of $55,630, while the total of the two is $11,600 bigger than the annual national average.
So, reading these benefits, are you still considering becoming a LPN in Connecticut?
If yes, you should take into consideration the school you attend in the first place.
You may wonder why?
Well, it is important because you will get a license from there.
But before you reach that stage, the program you enroll has to be approved from the state as well.
In Connecticut, these programs are offered at institutions such as community colleges, technical centers as well as private school career schools.
To be more exact, below I have listed 3 top-ranked programs.
The listing has been made after a careful review of the NCLEX-PN test first time pass rated made these past years.
Details on Connecticut LPN Schools & Classes
To find the right LPN programs, you need to know where to look at.
To help you out with that, you can look for them in places such as community colleges, technical schools and similar.
The average program will usually take 1 to 2 years of study.
But that mainly depends on whether the program is part-time or full-time.
After graduation, however, the students will be finally equipped with the license after finishing the NCLEX-PN in the first place.
Connecticut LPN programs offer a certain curriculum, which includes courses on areas such as:
Human Anatomy & Physiology
Nursing Fundamentals
Pharmacology
Mental Health Nursing
Medical-Surgical Nursing
Accreditation
One of the key reasons a LPN program is considered of high reputation is accreditation.
Usually, these programs receive accreditation with the help of organizations such as The Accreditation Commission for Education in Nursing.
While you can also check for regional accrediting organizations too.
For instance, The Connecticut Board of Nursing can be one of these.
Admission Requirements
For every door, there is a key to open it.
Similarly, in order to be admitted at an LPN program you need to fulfill a list of requirements, which mainly consist of these documents:
High school diploma or GED
Minimum GPA of 2.5
Completion of any prerequisite courses
Must be 18 or older
Tuition and Costs
The cost of studying in an LPN program, just like the salary differs from place to place.
But it also differs from the school you attend as well as other additional factors.
However, students should be prepared to take financial responsibility for tuition, fees, and textbooks.
To be mentioned is Porter and Chester Institute, wherein an LPN program costs nearly $29,900.
Here are included tuition, fees while $2,700 will be needed to buy the books.
But if the student does not manage to make these payments, he may benefit from other sources.
These sources include financial aid, student loans as well as scholarships which the schools may offer to those who are in need of these.
Connecticut LPN Licensing Requirements
Being a LPN in Connecticut isn't that simple.
To do so, you need to meet the educational requirements first of all.
This means following an approved program that has in total 1,500 hours of theory.
The lessons must be taught in 10 months' time-frame.
If the student has a lack of theory hours, he or she is allowed to make a substitute for the clinical work experience for the missing hours.
As soon as the coursework is finished, the candidate will have to undergo the NCLEX-PN exam.
Then comes licensure.
To receive it, the candidate must send an application to the state.
He also needs to send pas passing exam scores, along with the official transcripts that come from a state-approved LPN program.
The license, however, has an expiration date.
This happens annually and it can be repeated within 60 days before the expiration.
NCLEX Exam Information
In the end of the nursing program, students must take the NCLEX-PN exam.
This exam is made of a variety of nursing questions which are split into different categories.
LPN Reciprocity and eNLC
Connecticut, unfortunately, is not part of the National Licensure Compact, therefore the regulations of the Enlc are completely disregarded here.
For LPNs who come from different states other than Connecticut, there is a solution.
They can take the license by means of an endorsement.
The procedure means the applicant must send the application form notarized, along with these documents:
Official transcript from a state-approved nursing program.
Verification of Theory and Clinical Instruction form submitted by the dean of the above school.
Whereas, foreign applicants pursuing a license in Connecticut must also meet a condition.
They usually must submit approval from the Commission on Graduates of Foreign Nursing Schools (CGFNS) after completing a full course-by-course review.
The Best LPN Schools in Connecticut
LPN schools in Connecticut are relatively enough.
However, the 3 top-ranked schools have been chosen for this article.
| School Name | Address |
| --- | --- |
| Porter & Chester - Rocky Hill | 30 Waterchase Dr, Rocky Hill, CT 06067 |
| Porter & Chester - Enfield | 33 Palomba Drive, Enfield, CT 06082 |
| Lincoln Tech - New Britain | 200 John Downey Dr, New Britain, CT 06051 |
LPN Salaries in Connecticut
LPN salaries in Connecticut vary from place to place.
But they also vary from work experience, skills and education of the candidate.
The more qualified, the better the salary you will get.
 Annual Salary Range: Annual Salary by Location:
| Location | Avg. Annual Salary |
| --- | --- |
| Bridgeport | $55,132 |
| New Haven | $53,958 |
| Hartford | $52,779 |
| Stamford | $55,630 |
| Waterbury | $52,656 |
| Norwalk | $56,308 |
| Danbury | $54,227 |
| New Britain | $52,754 |
| West Hartford | $52,779 |
| Greenwich | $56,308 |
LPN Programs by State
---