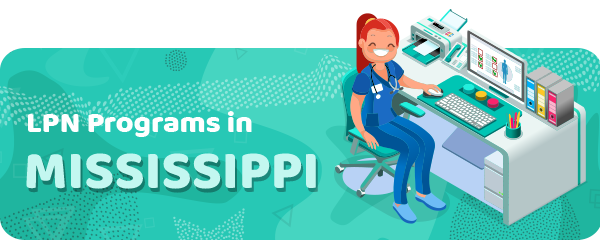 One of the US states where you can find favorable healthcare is at Mississippi.
The field of nursing, in particular, is in constant growth there.
Along with this growth, the Bureau Labor of Statistics has come up with a 12% prediction of LPN employment.
This employment growth is expected to happen in 2026.
Near enough, for everyone aspiring to become a Licensed Practical Nurse to decide which school to choose for his studies.
Since Nurses are lacking in the state, the motivation is even greater to become one of them.
Furthermore, the salary numbers are made public.
Thus, the hourly wage per LPN is considered to be $17.66.
The annual one $36,730.
While the two of them make up $7,300 less in a year compared with the national average in the US.
Details on Mississippi LPN Schools & Classes
To become an LPN, you need to undergo a few steps.
The first one is school choice.
Right away, you have to look for the school that offers approved programs, and consequently, the one you're interested in.
All in all, approved programs can be accessed at community colleges and trade schools.
The length of a particular program is estimated to be two years.
That is, of course, a matter of attendance.
Part-time programs are shorter.
While full-time ones take longer.
In other cases, students can also attend weekend or evening courses, if they can't manage in the standard schedule.
All LPN programs in the state are offered through a certain curriculum.
This curriculum generally strives to teach the students the entry-level nursing duties.
However, students may be able to choose other courses, specialized courses as well as electives.
However, the common courses held in the class include:
Nursing Fundamentals
Medical/Surgical Nursing Concepts
IV Therapy and Pharmacology
Maternal-Child Nursing
Mental Health Nursing
Accreditation
Accreditation is a jewel every school must-have when it comes to pursuing a high-quality education.
Specifically, accredited programs should be the top priority for every future LPN student.
A common way to find that out is to seek the help of the organizations.
In Mississippi, a student may contact first the Accreditation Commission for Education in Nursing.
And secondly, the Mississippi Board of Nursing.
The latter is a good organization to consider.
It will help the student find an approved program by endorsement.
Admission Requirements
Applying to an LPN school is a must. Admission is always a matter of meeting the requirements.
However, a future LPN student, you must make sure to meet these ones:
Submit validation of high school graduation via official high school transcript, GED equivalency transcript, or college transcript
Submit program application
Official SAT/ACT/Accuplacer scores may be required
TEAS-V test scores at a proficient level or higher
Tuition and Costs
The cost of an LPN program isn't something to complain about.
But it is not something to not consider either.
In life everything matters.
And especially your education.
In general, an LPN student will have to pay for tuition, fees, textbooks, and other obligatory expenses.
One school to consider the price is the Hinds Community College.
Its entire LPN program cost is $3,451.
Along with books and supplies attached, the cost will increase to another $560.
However, in this price room and board expenses are not considered.
While the LPN schools, in general, will offer additional help to students who can't afford their education.
This help will consist of financial aid, scholarships, and similar payments.
Mississippi LPN Licensing Requirements
Pursuing an LPN career in Mississippi will make you go through a few journeys.
In the long run, you will have to attend an approved program.
The program should definitely be in accordance with the education and practice requirements the state seeks.
Shortly after that, you need to prove the time you've invested in this education.
You will do that by entering the NCLEX-PN exam.
The big step then will come.
And that is licensure.
To get it, you need to apply or it beforehand.
In your application, you have to make sure you're attaching the following documents:
Official transcript from state-approved school showing graduation date and degree earned.
NCLEX registration—authorization to test for the NCLEX.
Criminal background check.
NCLEX Exam Information
I warned you about this exam, didn't I?
Well you know it is a must.
So you have no choice.
Take it or take it.
If you still do not feel ready to sit for it, you can have the practical one first as a preparation phase for the final.
LPN Reciprocity and eNLC
Mississippi is part of the ENLC.
This membership makes it possible for an LPN to make known the place of residence, as well as work in other states part of the compact without needing another license.
However, the case is not lost for other states LPNs either.
They can apply for an LPN license through endorsement.
To do so, they need to send an application along with these documents:
Proof of valid license in another state equivalent to the state of Mississippi.
Verification of licensure.
Headshot (passport-style) photograph—signed and dated.
Official transcript from a state-approved nursing program.
Notarized Authorization to Release Information.
LPNs outside USs need to send the above and more.
From them, NCLEX-PN is a must.
While a full course-by-course review of official transcripts is necessary as well.
The latter has to be assigned from the Commission on Graduates of Foreign Nursing Schools.
The last thing to send is proof of a valid security number.
LPN Salaries in Mississippi
With an average of $42418 per year, LPNs are to be envied!
The average, of course, shifts from the minimum to its maximum.
But if you're interested to know why does this happens.
Well, you should know that salary depends on a few factors.
So, if you can make the most of these factors, the salary will follow the same as well.
Usually, these factors include work experience, educational level, additional skills, location, and so on.
Annual Salary Range:
Annual Salary by Location:
| Location | Avg. Annual Salary |
| --- | --- |
| Jackson | $43,604 |
| Gulfport | $42,871 |
| Biloxi | $43,213 |
| Hattiesburg | $42,603 |
| Greenville | $43,344 |
| Meridian | $43,206 |
| Tupelo | $41,131 |
| Southaven | $45,114 |
| Vicksburg | $43,165 |
| Pascagoula | $42,867 |
The Best LPN Schools in Mississippi
There are 14 LPN schools located throughout Mississipi.
With such a potential of schools, there are also a variety of programs.
So, it is upon you to check them solely and find what works best for you.
| School Name | Address |
| --- | --- |
| Coahoma Community College | 3240 Friars Point Rd, Clarksdale, MS 38614 |
| East Central Community College | 275 W Broad St, Decatur, MS 39327 |
| East Mississippi Community College | 1512 Kemper St, Scooba, MS 39358 |
| Hinds Community College | 3925 Sunset Dr, Jackson, MS 39213 |
| Holmes Community College | 1 Hill St, Goodman, MS 39079 |
| Itawamba Community College | 602 W Hill St, Fulton, MS 38843 |
| Jones County Junior College | 900 S Court St, Ellisville, MS 39437 |
| Meridian Community College | 910 Hwy 19 N, Meridian, MS 39307 |
| Mississippi Delta Community College | Hwy 3 & Cherry St., Moorhead, MS 38761 |
| Mississippi Gulf Coast Community College | Old Highway 49, Perkinston, MS 39573 |
| Northeast Mississippi Community College | 101 Cunningham Blvd, Booneville, MS 38829 |
| Northwest Mississippi Community College | 4975 Hwy 51, Senatobia, MS 38668 |
| Pearl River Community College | 5448 Highway 49 South, Hattiesburg, MS 39401 |
| Southwest Mississippi Community College | 1156 College Dr, Summit, MS 39666 |
LPN Programs by State
---