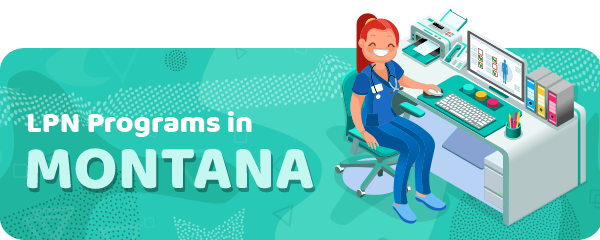 To do things right, means you have to follow the rules.
That might take you longer but it will definitely bring you to the right place.
The state of Montana also is trying to establish its healthcare through rules, policies, and procedures.
Consequently, the best healthcare services are given to patients.
In particular, Nursing has achieved great progress in Montana.
The Bureau Labor of Statistics suggests a 12% employment growth in the LPN field by the beginning of 2026.
This is not a surprise, considering the nice salaries in the state so far.
Hence the hourly salary per LPN there is #18.98.
The annual salary of $39,490.
While in total, there will be $4,540 less per year compared to the national US average.
Details on Montana LPN Schools & Classes
Montana offers high-quality nursing programs to its students.
The average time frame for a particular program is 1 to 2 years.
It is only the attendance that determines the length.
Part-time programs will usually take longer.
While full-time programs will generally take a short amount of time to complete.
However, 3 semesters will be required for both parties.
Attending an LPN program means you have to study and take courses on different topics.
These courses and labs are all part of the curriculum set by the state.
The main ones include:
Fundamentals of Nursing
Nursing Pharmacology
Gerontology and Community Nursing
Adult Health Nursing
Nursing Care of Women and Children
Leadership Issues for Practical Nurses
Accreditation
In the wide range of LPN study requirements is also the school and its accreditation.
Accreditation always but always ensures a high-quality program.
There are some sets of standards a school has to meet and accreditation is crucial.
In Montana, two organizations will be in charge of that.
Through the Accreditation Commission for Education in Nursing and Montana Board in nursing, you will have access to these schools.
Admission Requirements
The program you choose to study as an LPN is a personal matter.
However, you have to meet a few standards to be admitted to it.
From the requirements you need to meet while applying are these:
High school diploma/GED
Completion of any/all prerequisite courses
Previous hands-on healthcare experience in the last 5 years
Letters of recommendation
Copy of TEAS test
Personal interview with nursing faculty/staff
Tuition and Costs
Nothing is as hard as we think it will be.
We usually fear something because we're afraid we can't manage it.
But the cost of an education should not be one of these fears.
Let me tell you why.
Well, in Montana, like in other US states, you as a student have to pay a set of expenses.
These include tuition, mandatory fees, and other learning materials.
However, if you think you're broke and cannot manage to pay the cost at all, the schools may offer help to you.
They will usually do that through loans, scholarships, and similar financial aids.
An example of the general cost of an LPN program in Montana is MSU Billings City College.
To go there for nursing you have to pay $6,653.
This price is considered to be for the residents.
In this price, the cost of supplies and housing is not included.
Montana LPN Licensing Requirements
Getting the license is the culmination of your LPN studies.
To reach that point, the student has to send an application to the state.
He or she can do so after having finished the LPN program and applied for the NCLEX-PN exam as well.
Along with the application, the applicant must send also the following documents:
Official transcript from state-approved nursing program sent directly from the school
Proof of registration (ATT) for the NCLEX
Every LPN license has its own end.
They expire every year, on December 31.
To make a renewal, 24 hours of added education must be taken.
This has to be done every two years.
NCLEX Exam Information
NCLEX-PN exam is a must to LPN license. Though, students can take the practical test before taking the final one, of still not ready.
LPN Reciprocity and eNLC
Montana is a member of the ENLC.
The compact is so flexible that it makes it possible for the LPNs to finish their nursing practice in a particular state that is also a member of the compact.
They can do so without needing another license whatsoever.
For those nurses who are from states outside the compact, the state of Montana offers a solution to apply for an LPN license.
They can do so by endorsement.
In the application form, they have to attach the following documents:
Proof of current license in another US state for at least the last 2 years
Official transcripts from the state-approved nursing program
Proof of having passed the NCLEX exam
Course-by-course review (foreign applicants)
English proficiency (foreign applicants)
LPN Salaries in Montana
LPN Salaries in Montana differ mostly from the location.
Other factors such as work experience, education as well as additional skills are to be mentioned too.
Normally, the more qualified, the higher the salary you get.
Quality always pays!
Annual Salary Range:
Annual Salary by Location:
| Location | Avg. Annual Salary |
| --- | --- |
| Billings | $46,693 |
| Missoula | $40,297 |
| Great Falls | $42,272 |
| Butte-Silver Bow | $40,297 |
| Bozeman | $40,297 |
| Helena | $41,028 |
| Kalispell | $43,271 |
| Havre | $41,540 |
| Anaconda-Deer Lodge County | $40,297 |
| Miles City | $45,962 |
The Best LPN Schools in Montana
There are five LPN Schools across Montana.
With such a small number, it could be easier for you to choose.
However, take a close look at them below!
| School Name | Address |
| --- | --- |
| Blackfeet Community College | 504 SE Boundary St, Browning, MT 59417 |
| City College of Montana State University - Billings | 1500 University Dr, Billings, MT 59101 |
| Flathead Valley Community College | 777 Grandview Dr, Kalispell, MT 59901 |
| Great Falls College | 2100 16th Ave S, Great Falls, MT 59405 |
| Helena College | 1115 N Roberts St, Helena, MT 59601 |
LPN Programs by State
---