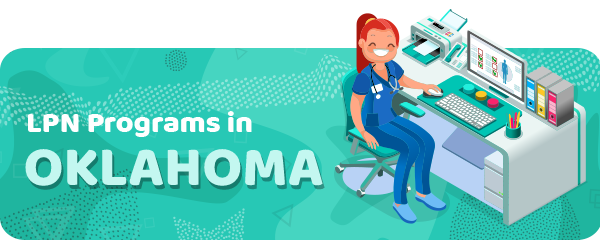 If you're looking for quality healthcare that ensures continual growth and progressive education, check Oklahoma LPN schools.
The Bureau Labor of Statistics has so far foreseen a 12% LPN employment growth by 2026.
So, if you're one of those who are looking for job opportunities in this state, you've got a promising future there.
To motivate you more, the hourly wage per LPN there is $18.55.
The annual one $38.590.
While in total, you will earn $5,440 less yearly than the compared national average in the US.
However, before being hired, you need a solid education first.
Or to say better, you need to attend a school that offers approved programs by the state.
These programs can be found in community colleges, technical centers, and private career schools.
There are plenty of LPN schools in Oklahoma.
In total 43 of them are located in different areas of the state.
But in this article, only the top-twenty program has been listed.
Details on Oklahoma LPN Schools & Classes
With such a big number of schools, students have many educational options to consider.
LPN programs in the state can be found in Technology centers.
The length of the programs will be one to two years' time.
One year for Full-time students.
And part-time for part-time ones.
Fair enough.
Apart from this flexible attendance, students may also find online classes, as well as in-class lessons.
Effective nursing techniques are offered through classroom lectures, labs, simulations, and clinical experiences.
From the most common courses you will find the following:
Fundamentals of Nursing
Pharmacology & Intravenous Therapy Skills
Medical-Surgical Nursing
Nursing Specialties
Maternal/Newborn Nursing
Mental Health Nursing 
Accreditation
Accreditation is a must for successful and high-quality LPN schools.
To find accredited programs you will need help.
This help will be offered to you as an LPN student through accrediting organizations.
The first organization to consider is the Accreditation Commission for Education in Nursing.
The second is the Commission on Collegiate Nursing Education.
While the third body will surely be the Oklahoma Board of Nursing.
The latter is, in fact, the main Nursing body to consider in the state.
Admission Requirements
LPN admission requirements vary from school to school.
But the most important ones are usually the following:
Official high school transcript with graduation date or GED equivalency
Completion and submission of application before the deadline
Satisfactory scores on pre-entrance exams
Personal interview by faculty/staff
Completion of any prerequisite courses
Tuition and Costs
The cost of an LPN program in Oklahoma is of two categories.
The first category includes tuition, mandatory fees, and materials.
These are the responsibility of the student.
The other cost category includes other expenses such as transportation fees, room, and board.
On the other hand, there are other payments that will be offered for free from LPN schools.
These are meant to be an additional help to those students who can't afford to pay the LPN cost at all.
These payments include scholarships, financial aid, and loans.
However, you can have an idea of the total LPN program cost by considering the Metro Technology Centers in Oklahoma.
The total LPN cost there is nearly $3,360.
In this price book, costs will take $1,002 more from your pocket.
While supplies will take you somewhere $784.
Oklahoma LPN Licensing Requirements
LPN licensing requirements in Oklahoma are similar to those of other US states.
They usually include attending a Board-approved program, as well as passing the NCLEX-PN exam.
However, other licensing documents may be needed as well.
From them are to be mentioned:
Official transcripts from the state-approved nursing program
Proof of eligibility to work in the US
Proof of passing the NCLEX
Oklahoma LPN licenses expire every 2 years.
For renewal, continuing qualifications are needed.
Licensees must complete one or more of the following requirements.
These requirements have to be met within the 2-year licensing period:
Employed in a nursing position and work at least 520 hours as a practical nurse
Complete at least 24 contact hours of approved continued education
Certify in a nursing specialty area
Complete a board-approved refresher course
Complete at least 6 academic semester credit hours in nursing (at or above current nursing level)
NCLEX Exam Information
The NCLEX-PN exam is a must to LPN license.
The exam measures the student's knowledge and skills in nursing.
So, they should really take is easy.
The exam will surely be made of questions related to the program they've attended school.
In addition, a practical NCLEX-PN exam is available for those who are not ready to take the final one.
LPN Reciprocity and eNLC
Oklahoma is waiting to soon be part of the Enhanced Nurse Licensure Compact that is operating for many US states already.
As you already know, this compact lets nurses finish their practice in states within the compact without having to obtain another license.
But the same offer does not stand for out of state nurses.
The latter can apply for an LPN license in Oklahoma only by endorsement.
The foreign applicant must send an application wherein he or she needs to attach the following documents:
Licensing verification and proof of continued competency by taking a refresher course or completing 6 academic hours or 105 contact hours
Submit an employment verification form that proves licensure in another state with at least 520 hours worked over the last 2 years
Official transcripts from the state-approved nursing program
Proof of passing the NCLEX-PN or the State Board Test Pool Examination (SBTPE)
The fore-mentioned applicants need also to submit other documents despite the above.
These documents include a full course by course review of their official transcripts.
They can send them through the Commission on Graduates of Foreign Nursing Schools.
They can attach to that also the results of the English skills.
The Best LPN Schools in Oklahoma
The number of LPN schools in Oklahoma is indeed huge.
But so is the number of programs in them.
So, you will have to choose between the program you need and the right school.
However, you will not be alone.
Accrediting organizations will help you all the time to choose an approved program.
All you need is to meet the requirements and focus on studying.
| School Name | Address |
| --- | --- |
| Kiamichi Technology Center - Hugo | 107 S 15th Street, Hugo, OK 74743 |
| Kiamichi Technology Center - Poteau | 1509 S McKenna St, Poteau, OK 74953 |
| Kiamichi Technology Center - Atoka | 1301 W Liberty Road, Atoka, OK 74525 |
| Kiamichi Technology Center - Durant | 810 Waldron Road, Durant, OK 74701 |
| Central Technology Center - Sapulpa | 1720 S Main St, Sapulpa, OK 74066 |
| Northeast Technology Center - Pryor | 6195 W. Hwy 20, Pryor, OK 74361 |
| Chisholm Trail Technology Center | 283 Oklahoma 33, Omega, OK 73764 |
| Canadian Valley Technology - El Reno | 6505 East Highway 66, El Reno, OK 73036 |
| Canadian Valley Technology - Chickasha | 1401 Michigan Ave., Chickasha, OK 73018 |
| Northeast Technology Center - Claremore | 1901 N. Hwy 88, Claremore, OK 74017 |
| Mid-Del Technology Center | 1621 Maple Dr, Midwest City, OK 73110 |
| Pioneer Technology Center | 2101 N. Ash, Ponca City, OK 74601 |
| Great Plains Technology Center - Lawton | 4500 SW Lee Blvd, Lawton, OK 73505 |
| Moore Norman Technology Center | 4701 12th Avenue NW, Norman, OK 73069 |
| Metro Technology Centers | 1901 Springlake Drive, Oklahoma City, |
| Meridian Technology Center | 1312 S Sangre Rd, Stillwater, OK 74074 |
| Mid-America Technology Center | 27438 Oklahoma 59, Wayne, OK 73095 |
| Kiamichi Technology Center - Idabel | 3205 Lincoln Road NE, Hwy 259 N & 70 Bypass, Idabel, OK 74745 |
| Kiamichi Technology Center - Talihina | 13739 SE 202 Road, Talihina, OK 74571 |
| Northeast Technology Center - Afton | 19901 U.S. 69, Afton, OK 74331 |
LPN Salaries in Oklahoma
With so many schools and programs in the state, Nursing is really a favorable career.
However, most of the times the salary will be a reflection of your qualifications and work.
So, you will have to shine in both to get a satisfying salary.
Annual Salary Range:
Annual Salary by Location:
| Location | Avg. Annual Salary |
| --- | --- |
| Oklahoma City | $46,402 |
| Tulsa | $46,946 |
| Norman | $46,109 |
| Lawton | $41,641 |
| Broken Arrow | $46,799 |
| Edmond | $46,256 |
| Enid | $45,962 |
| Stillwater | $45,962 |
| Muskogee | $46,505 |
| Bartlesville | $46,505 |
LPN Programs by State
---