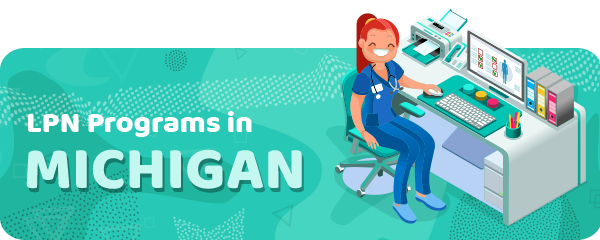 The role of nursing in any US state is crucial.
And that's justifiable because health is the most necessary bounty a population may cherish.
When that is okay, all else is possible to attain.
In Michigan, for instance, LPNs have a major impact in shaping the healthcare wellbeing.
The Bureau Labor of Statistics has predicted a 12% growth in LPN employment by 2026.
Seeing this growth, the rise of aspiring nurses is a normal reaction.
However, being part of the nursing workforce requires a solid education first.
Other than that, the salaries are to be admired too.
The hourly wage per LPN in Michigan goes to $21.89.
The annual wage is $45,530.
This means $1,500 more money per year, compared to the national US average.
So if you're reading this article and you've got a keen interest in becoming an LPN in the near future, make sure you choose a good school.
A good school is the one that offers approved programs by the state.
These programs are not hard to find.
You can search them in community colleges, technical centers, and private career schools.
Michigan, in fact, is home to 21 LPN schools.
However, only ten of them were chosen as the top-ranked programs available there.
The choice was done in regard to the NCLEX-PN exam.
The first-time pass rates of these past years were specifically considered.
Details on Michigan LPN Schools & Classes
In Michigan aspiring LPNs have multiple schools to check for a successful nursing career.
The schools offer programs that can be finished in one to two years.
The length of the program, however, depends on the attendance.
The full-time program usually takes faster to finish.
Whereas part-time attendance always takes longer.
Both ways, the advantages of following such programs in that they don't last like a 4-year bachelor in nursing.
LPN programs in Michigan offer nursing courses, electives, and other labs.
From them you can consider attending:
Foundations of Nursing and Critical Thinking
Pharmacology
Nutrition in Nursing
Nursing of Adults
Maternal and Child Nursing
Geriatrics and Mental Health
Accreditation
Having a lot to choose from, most of the time makes it harder to decide.
Hence, choosing between various LPN schools is easy only because of the criteria.
This main criterion is accreditation.
Accredited schools function by high academic standards and therefore make students feel like their education matters.
Accreditation is done with the help of accrediting bodies.
The one organization to check for accreditation in Michigan is the Accreditation Commission for Education in Nursing.
The next accrediting institution is the Michigan Board of Nursing.
While the students can also check for other regional accreditations if they want.
Admission Requirements
Finding the right LPN program is not the end.
The school you want to apply for a nursing education requires the student to meet a set of requirements.
From them, you must consider the following ones:
High school diploma/GED
Minimum cumulative GPA of 3.0
Personal statement (essay)
Letters of recommendation
Completion of the ATI TEAS exam
Criminal background check and drug screen
Tuition and Costs
The cost of education is always a challenge for students.
But it is always a matter of a few factors.
The main factor that determines the cost of education in Michigan is the type of school, the need for room or board and so on.
However, the student is for sure asked to pay for tuition, mandatory fees, and course materials.
In Kirtland Community College, for instance, the total cost of a program is $9,300.
This is for the students within the area.
While $11,250 for non-district ones.
In this cost, other prerequisite courses are also included.
Students who cannot manage to pay the price of a program, the schools also offer additional help.
This help includes scholarships, loans, and financial aids.
Michigan LPN Licensing Requirements
The LPN licensing steps are many.
First, you need to complete an approved program.
This program should be offered by a curriculum as well as practical experience and patient interaction.
The program length is one to two years.
After that comes the NCLEX-PN exam which the graduate student must sit and pass to go in the way of the LPN license.
The LPN should also meet a number of physical requirements as part of the job application.
Such actions as lifting patients, moving machinery, long periods of standing and similar.
After that, the LPN should also consider LPN license expiration.
Usually, it expires every two years.
The renewal means doing 25 hours of board-approved education.
And so it goes every time.
NCLEX Exam Information
The path to an LPN license is somehow long, but in the end, it is all worth it.
At this point, the NCLEX-PN exam is a must to pass.
The exam consists of 100 questions nursing-based and of different aspects of the field.
However, there are students who are always hesitating to take the exam.
For them, it is possible to take the practical test first, then enter the final one.
LPN Reciprocity and eNLC
The Enhanced Nurse Licensure Compact is a compact that most of the US states are part of.
This time, Michigan is not a member of it, but it is pending.
Through the compact, nurses can have a multistate license.
This means they can make their LPN practice in any of the states that are a member of the compact, and they don't need a new license to do so.
In addition, foreign state nurses are also allowed to apply for an LPN license in Michigan.
They can do so by means of an endorsement.
But they have to meet a few criteria first:
Must currently be licensed as an LPN in another state
If education was obtained outside of the U.S., must have a Professional Report evaluation of education completed by the Credentials Evaluation Service (CES) of CFGNS, or have a full course-by-course credential evaluation completed
Submit the LPN by Endorsement license online application
A fingerprint report and criminal background check are required
LPN Salaries in Michigan
LPN salaries in US Michigan are quite satisfactory.
Above, I have taken note of the hourly& yearly salary in this state.
But the thing is the salary shifts in three levels constantly.
From minimum to the maximum, as well as the average.
So, in order to get better pay, you should pay attention to your education, skills, work experience and so on.
Annual Salary Range: Annual Salary by Location:
| Location | Avg. Annual Salary |
| --- | --- |
| Detroit | $50,047 |
| Grand Rapids | $47,659 |
| Warren | $50,047 |
| Flint | $45,312 |
| Sterling Heights | $49,891 |
| Lansing | $47,825 |
| Ann Arbor | $50,755 |
| Livonia | $49,891 |
| Dearborn | $50,047 |
| Westland | $50,206 |
The Best LPN Schools in Michigan
There are over 20 LPN Schools across Michigan.
However, I have carefully ranked here only the top-ranked ones.
Which means they have the best standards of education to offer to you as a future LPN student.
Check and make your choice!
| School Name | Address |
| --- | --- |
| Muskegon Community College | 221 Quarterline Rd, Muskegon Township, MI 49442 |
| West Shore Community College | 3000 N Stiles Rd, Scottville, MI 49454 |
| Lansing Community College | 515 N. Washington Square, Lansing, MI 48933 |
| Gogebic Community College - Ironwood | E4946 Jackson Rd, Ironwood, MI 49938 |
| Schoolcraft College | 1751 Radcliff St, Garden City, MI 48135 |
| Glen Oaks Community College | 62249 Shimmel Rd, Centreville, MI 49032 |
| Grand Rapids Community College | 143 Bostwick Ave NE, Grand Rapids, MI 49503 |
| Gogebic Community College | 47420 Highway M-26 #10, Houghton, MI 49931 |
| Delta College | 1961 Delta Rd, University Center, MI 48710 |
| Monroe County Community College | 1555 S Raisinville Rd, Monroe, MI 48161 |
LPN Programs by State
---