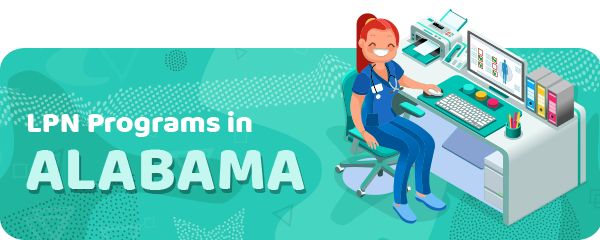 Nowadays Healthcare has improved a lot.
But the need for those who pursue a career in this profession is always huge.
So, if you're one of those who is planning to get an education in Nursing, you should definitely consider Alabama.
Alabama is one of the first US states listed in those states that offer a promising career in Nursing.
Since the nurses are in lack these days, the need for them is sure.
As the Bureau Labor Statistics projects a 12% increase of Nurse Employment will occur as we reach 2026.
Just to give you a hint of the wages, the hourly wage for nurses is $17.36.
The annual one $36,100.
While the two together make up $7,930 less yearly compared to the national US average.
From several steps, you need to follow as an aspiring LPN is choosing the right school.
The school should also offer approved programs.
These programs can be accessed at community colleges, technical centers, and private career schools.
The state is in fact home to 20 LPN schools.
The five top programs have been listed in this article.
The listing has been done in regard to the NCLEX-PN exam.
Precisely, the first-time pass rates of the past years were the object of analysis.
Details on Alabama LPN Schools & Classes
Attending an LPN approved program in Alabama is not as hard as you may think.
You just have to check for it in the right places.
Thus, you can find them in educational institutions, including community colleges and technical trade schools.
The graduation soon takes over with the NCLEX-PN exam.
After that, you can count on gaining licensure in the program.
LPN programs offer different classes and labs in Nursing.
In Lawson State Community College, for instance, you can find the following courses:
Fundamentals of Nursing
Human Anatomy & Physiology
Psychosocial Nursing
Introduction to Pharmacology
Accreditation
The element that determines whether an LPN program is of high-quality is accreditation.
Accrediting bodies to consult for these programs in Alabama are two.
The first is The Accreditation Commission for Education in Nursing.
This is a national accrediting organization.
While the second is The Southern Association of Colleges and Schools Commission on Colleges.
This is in the range of regional accreditations.
Additionally, the Alabama Board of Nursing helps also students with finding a properly accredited program.
It does that through endorsement.
 Admission Requirements
The requirements of being admitted to an LPN school include:
Minimum ACT scores
Minimum 2.5 GPA cumulative high school GPA (or GED if applicable)
Gain admission to the college
Fill out and submit an official application
Tuition and Costs
The cost of an LPN program is to be discussed when making the decision to study nursing in Alabama.
However, the student should be prepared to pay for tuition, additional program fees, course materials and similar.
The cost, however, is different in every school.
For instance, in Trenholm Community College in Montgomery, you will have to pay $7,000 for tuition only.
While textbooks, mandatory fees, and additional expenses are not part of the cost.
Alabama LPN Licensing Requirements
License is the dream of every aspiring LPN student because it is somehow the fruit of their entire education.
Obtaining it requires some criteria.
The most important ones are attending a State-Board approved LPN program and finishing the NCLEX-PN exam.
In the variety of other requirements, you must also send:
Office transcript from a state-approved nursing program.
Proof of US citizenship or lawful presence.
Receipt of NCLEX exam registration
The state of Alabama offers Nursing opportunities for all kinds of students.
As such, students who have finished their studies abroad can apply for the license by fulfilling a few conditions.
First, the candidate must pass the Nursing exam and submit the official transcripts for the Commission on Graduates of Foreign Nursing Schools.
This means performing a full course-by-course review and check the credentials.
Prior, the candidate must have finished their LPN education in an approved program in their state.
The nursing program should match Alabama's and be attached to a social security number with it.
License Expiration
They say: ''Nothing lasts forever'', and so does Licensing.
The LPN licenses expire every even-numbered year, on December 31.
For this reason, a renewal is needed.
The renewal can be done from September 1 to November 30.
The act must be done in the year of expiration.
If the candidate postpones it between December 1 and 31, a fee will be required from him.
Along with that, 24+ of contact hours of continued education approved by the Board of the state.
They have to be finished during the 2nd year of having the license.
NCLEX Exam Information
You may have ended all the education for LPN, but the exam will determine how much of the knowledge you've acquired.
The NCLEX-PN exam is made of 112 questions in different nursing categories.
These categories include health promotion, maintenance, safety, and infection control.
However, if a student still is hesitant to take the test, he or she can take the practical one first as a preparation measure.
LPN Reciprocity and eNLC
Alabama, unlike other US states, is not part of the ENLC.
This means that the rules of the compact are not available here.
So, a candidate who is licensed in LPN in 1 of the 50 other US states, is allowed to apply for a license in the state of Alabama through an endorsement.
The required documents for this application include:
Proof (verification) of license from another state.
Office school transcripts in a sealed envelope from a state-approved school.
Proof of completion of 24 contact hours of continued education.
Proof of US citizenship or lawful presence.
LPN Salaries in Alabama
LPN salaries in Alabama vary from place to place.
But they also depend on other secondary factors.
These include educational level, additional skills, and work experience.
Also, the salary shifts in minimum, maximum.
While the average is always constant.
So, you need not worry about the downs–as long as the ups are sure!
Annual Salary Range: Annual Salary by Location:
| Location | Avg. Annual Salary |
| --- | --- |
| Birmingham | $46,247 |
| Montgomery | $43,805 |
| Mobile | $45,215 |
| Huntsville | $46,207 |
| Tuscaloosa | $45,795 |
| Hoover | $46,304 |
| Dothan | $43,218 |
| Decatur | $44,795 |
| Auburn | $43,788 |
| Gadsden | $45,837 |
The Best LPN Schools in Alabama
Alabama is home to many LPN schools.
But only the top-ranked ones have been included in this article.
After all, the best things are always rare.
| School Name | Address |
| --- | --- |
| Lawson State Community College | 3060 Wilson Rd SW, Birmingham, AL 35221 |
| Wallace State Community College | 801 Main Street N.W., Hanceville, AL 35077-2000 |
| Central Alabama Community College | 1675 Cherokee Rd, Alexander City, AL 35010 |
| Northwest Shoals Community College | 800 George Wallace Blvd, Muscle Shoals, AL 35661 |
| Herzing University | 280 W Valley Ave, Birmingham, AL 35209 |
LPN Programs by State
---