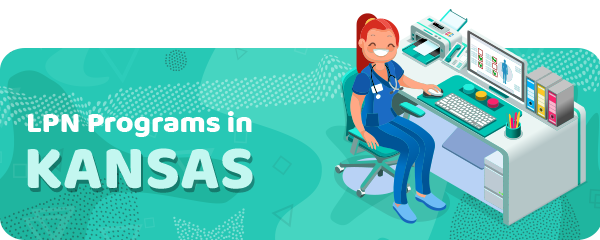 LPN programs in Kansas are becoming each day more frequently studied these days.
In the following years, a 12% employment growth is foreseen in Kansas in 2026.
This prediction was done from the Bureau Labor of Statistics.
If you decide to become an LPN in this state, you will benefit a nice pay as well as other rewards.
The hourly salary for an LPN is $19, 25.
The annual salary is $40,040.
While in total makes $3,990 less per year compared to the national US average.
Being an LPN licensed requires an education first.
LPN programs can be found in several LPN schools around the state.
Specifically, you can search for them in community colleges, technical schools, and private career schools.
In general, there are 19 LPN schools in Kansas as a source of knowledge for students.
However, in this article, I have made sure to listen to only five top-ranked programs first.
The listing was done on behalf of the NCLEX-PN exam first-time pass rates.
The results were considered for the past several years.
Details on Kansas LPN Schools & Classes
LPN programs are scattered everywhere around Kansas.
The most popular ones are colleges and technical schools.
They are also very easy to attend.
In general, a particular LPN program is one to two years long.
The length of it is always a matter of attendance.
Whether you take it part-time or full-time.
LPN classes, however, are taught through a curriculum.
From them, you can find courses.
The following ones are the main course titles taught there:
Human Development
Anatomy & Physiology
Foundations of Nursing
Medical-Surgical Nursing
Maternal Child Nursing
Gerontology
Accreditation
In the wide range of the essentials when it comes to choosing a proper LPN school is accreditation.
In Kansas, like in other US states, accrediting bodies make sure to check the issue for the students.
Accrediting organization there are The Accreditation Commission for Education in Nursing.
While the second is The Kansas Board of Nursing.
In addition, students can also check for regional accreditations to, if they're willing to do so.
Admission Requirements
To do a certain job, you need to qualify for it first.
Similarly, in the LPN industry, you need the right education to be a good fit for an employee.
The requirements for entering an LPN school depend on the school type.
But in general, you will be asked to meet the following ones:
High school diploma or GED (must submit transcripts or scores)
Complete all prerequisites with a grade of "C" or better
CNA certification may be required
Satisfactory score on the ATI TEAS Assessment
CPR certification may be required
Tuition and Costs
The more we invest money in something, the more important it is to us.
Because we tend to give the best in only what we want most to have.
LPN programs in Kansas are cheaper than Nursing bachelor's and master's degrees.
However, students should know they will be responsible to pay for tuition, fees and course materials needed in the lessons.
In Coffeyville Community College, the credit hour is $140.
This applies to Kansas residents.
While a bigger sum is needed for those who do not live in Kansas.
The program fees and books also need to be paid.
The school asks the student to pay an amount of $1,184.95 for an LPN program.
Kansas LPN Licensing Requirements
LPN license comes as a result of attending an approved program in the state first.
After that, the NCLEX-PN exam is the following step to take towards the license.
However, receiving the license officially, the candidate has to send an application to the state.
The application must be sent within two years of graduation.
It has to include the following documents:
Official transcript from the state-approved nursing program.
Valid photo.
Fingerprint card with a signed waiver.
NCLEX registration.
LPN licenses expire in every US state.
Whether you think it to be a disadvantage or not, know that there's a chance for renewal.
Since the license expires every two years, 30 hours of education are needed to substitute for renewal.
NCLEX Exam Information
After graduating from a particular LPN program, you will need to focus on the last thing required from you to prove the quality of your education.
That thing is the NCLEX-PN exam.
Through taking this exam, you will officially be LPN licensed.
Students who don't feel ready for the exam should consider taking the practical NCLEX-PN first.
LPN Reciprocity and eNLC
Kansas is legally part of the Enhanced Nurse Licensure Compact.
The implementation will be done on July 1, 2019.
Through membership in this compact, the LPN student can finish their LPN practice in every state that is part of the compact, without needing another license.
On the other hand, states that don't belong to the compact, cannot apply the same for the LPN license in Kansas.
They should do so by endorsement.
And by sending the following documents to the state:
Official transcript from the state-approved nursing program.
Criminal background check.
The fingerprint card and signed waiver.
Verification of licensure in another state.
Completion of an approved refresher course if the applicant hasn't practiced as an LPN in the past 5 years.
Things are even more different for foreign applicants.
For them to apply for an LPN license in Kansas, two documents are needed.
These documents include a course by course evaluation from the Commission on Graduates of Foreign Nursing Schools.
And secondly, English proficiency results.
LPN Salaries in Kansas
LPN Salaries, as in all US countries depend on a few factors.
But first is surely the location.
Then, there's work experience, education, skills and so on..
So, if you're aiming high in your qualification, the salary will follow..
Annual Salary Range: Annual Salary by Location:
| Location | Avg. Annual Salary |
| --- | --- |
| Wichita | $47,038 |
| Overland Park | $47,805 |
| Kansas City | $47,952 |
| Topeka | $45,666 |
| Olathe | $47,675 |
| Lawrence | $46,402 |
| Shawnee | $47,805 |
| Salina | $46,550 |
| Manhattan | $45,177 |
| Hutchinson | $46,550 |
The Best LPN Schools in Kansas
Here are the five best LPN schools in Kansas.
Depending on where you want to locate, you can choose among them.
There's an address provided for each of them below.
Check and see!
| School Name | Address |
| --- | --- |
| Garden City Community College | 801 Campus Dr, Garden City, KS 67846 |
| NCK Tech | 3033 US Hwy 24, Beloit, KS 67420 |
| Manhattan Area Technical College | 3136 Dickens Ave, Manhattan, KS 66503 |
| Barton County Community College | 245 NE 30th Rd, Great Bend, KS 67530 |
| Washburn Tech University | 5724 SW Huntoon St, Topeka, KS 66604 |
LPN Programs by State
---