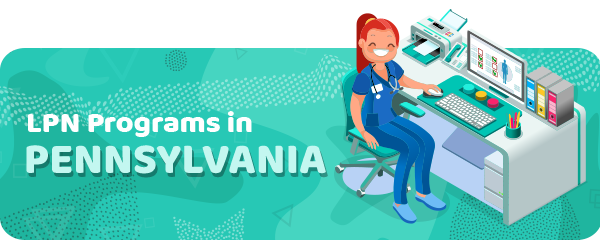 Pennsylvania offers professional nursing services by improving knowledge and skills in the field.
The state does that by establishing rules in order to impact healthcare workers and patients.
In general, LPNs here are experiencing significant growth.
This growth is seen with the percentage of %12 of future employment by 2026, as the Bureau of Labor Statistics suggests.
So, the way to become an LPN is first to attend a practical nursing program anywhere across the state.
In addition, LPNs in Pennsylvania earn $21.43 per hour.
To go further, they earn $44,570 per year.
These two in total make up $540 more yearly, compared to the national US average.
With this information given, would you consider pursuing an LPN in Pennsylvania?
If yes, I will kindly ask you to consider choosing the right school for you.
By that, I mean one that offers approved programs.
These schools can mainly found in community colleges, technical centers, and private career schools.
In total there are 53 LPN schools across the state.
But I have only listed the top-20 programs available in this country.
The listing has been made after a close review of the NCLEX-PN exam.
In this exam, the first-time pass rates of these previous years have been the focus of analysis for the article.
Details on Pennsylvania LPN Schools & Classes
Pennsylvania offers many nursing educational schools to interested students.
But of course, high-quality programs can be found only in certain areas.
These areas can be community colleges, trade schools, and similar places.
Attending a nursing program takes one year and less.
It all depends on whether the program is part-time or full-time.
Usually, 50 credits are the optimal number to reach in every LPN program that you take.
As the program starts, nursing theory along with other similar topics will be taught.
While students will also need to take lab studies or take part in clinical at local medical centers.
From the course titles you will find include the following:
Human Anatomy & Physiology
Human Growth and Development
General Psychology
Concepts in Practical Nursing
Basic Microbiology
Accreditation
The key element in a nursing program is accreditation.
Accredited programs are considered as of high academic standards and will elevate the resume of the student in the future too.
In Pennsylvania, accrediting organizations such as the Accreditation Commission for Education in Nursing (AECN) and the Commission on Collegiate Nursing Education (CCNE) are in charge of the issue.
But students may also benefit from the Pennsylvania State Board of Nursing as an accrediting body in the state.
Admission Requirements
Different LPN schools have different admission requirements for the students.
The most common, however, include these:
Documented high school diploma or GED
Minimum GPA of 2.5
Satisfactory TEAS score
Personal interview with staff/faculty
Tuition and Costs
Attending LPN programs takes both time and money.
Though the costs differ from school to school, tuition and additional fees such as application and graduation fees, along with other materials are in the responsibility of the student.
However, students who cannot manage to make these payments, the schools offer financial aid, loans, and scholarships.
As far as cost is concerned, the LPN program through the Pennsylvania Institute of Technology in Media goes around $24,000 in total.
This includes tuition, fees, and supplies.
Pennsylvania LPN Licensing Requirements
From the LPN requirements in Pennsylvania are to be mentioned the high school diploma or an equivalent GED, a complete board-approved program, which needs to have 1500 hours, along with less than a year of coursework.
As soon as the candidate finishes coursework, as a graduate student, he or she must submit the Pennsylvania Exam/TTP application to the Board of Nursing.
The next step is registering for and taking the NCLEX exam.
As soon as he or she passes it, the applications have been accepted, as well as the criminal background check has been submitted, the candidate will be given the license.
LPN licenses, however, do not last forever.
In Pennsylvania, they usually expire on June 30th of even-numbered years.
Unlike other US countries, renewal is not applicable here.
NCLEX Exam Information
NCLEX-PN exam is a must for graduate LPN licensure.
The exam is meant to measure the student's understanding of the practical nursing curriculum as part of the LPN program.
Before taking this exam, students can also take the NCLEX-PN practice test, as a preparation test for the final one.
LPN Reciprocity and eNLC
Pennsylvania is not yet part of the Enhanced Nurse Licensure Compact (eNLC).
The compact, in essence, is an agreement between states that allows license between them.
Out-of-state LPNs can apply for licensure by endorsement.
They can do so as long as they submit the following documents:
Proof of licensure from another state with an education equivalent to Pennsylvania
Hasn't allowed their most current license to lapse more than 5 years and have fulfilled continuing competency requirements
Passed the NCLEX
LPN's that come from other countries, must verify their educational courses through the Board.
This verification is based on the Commission of Graduates of Foreign Nursing Schools (CGFNS) evaluation.
The Best LPN Schools in Pennsylvania
There are 50 LPN schools across Pennsylvania.
However, in this article, I have listed only the top-twenty of them.
The reason behind this selection lies in the fact that these offer both approved and accredited programs.
| School Name | Address |
| --- | --- |
| Pennsylvania Institute of Health & Technology | 1015 Industrial Park Drive, Mt Braddock, PA 15465 |
| Community College of Beaver County | 1 Campus Drive, Monaca, PA 15061 |
| Crawford County Career & Technical Center | 860 Thurston Road, Meadville, PA 16335 |
| Indiana County Technology Center | 441 Hamill Road, Indiana, PA 15701 |
| Chester County Intermediate Unit | 443 Boot Road, Downingtown, PA 19335 |
| Fortis Institute - Erie | 5757 West 26th Street, Erie, PA 16506 |
| Harrisburg Area Community College | One HACC Drive , Harrisburg, PA 17110 |
| Career Technology Center of Lackawanna County | 3201 Rockwell Avenue, Scranton, PA 18508 |
| Lehigh Carbon Community College | 4525 Education Park Drive, Schnecksville, PA 18078 |
| Franklin County Career & Technology Center | 2463 Loop Road, Chambersburg, PA 17202 |
| Greene County Career & Technology Center | 60 Zimmerman Drive, Waynesburg, PA 15370 |
| Bucks County Community College | 275 Swamp Road, Newtown, PA 18940 |
| Central Susquehanna Intermediate Unit | 1339 Saint Mary Street Suite 2, Lewisburg, PA 17837 |
| Mercer County Career Center | 776 Greenville Rd., Mercer, PA 16137 |
| Huntingdon County Career & Technology Center | 13221 Big Valley Pike, Mill Creek, PA 17060 |
| Lancaster County Career & Technology Center | 1730 Hans Herr Drive, Willow Street, PA 17584 |
| Northern Tier Career Center | 120 Career Center Lane, Towanda, PA 18848 |
| Greater Altoona Career & Technology Center | 1500 4th Ave, Altoona, PA 16602 |
| Fortis Institute - Scranton | 517 Ash Street, Scranton, PA 18509 |
| Wilkes-Barre Area Career & Technical Center | 350 Jumper Road, Wilkes-Barre, PA 18705 |
LPN Salaries in Pennsylvania
LPN Salaries, on the other hand, are not bad either.
As usual, you will get the payment according to the work you do.
The salary varies from different factors.
To be mentioned are work experience, skills, education, and place.
Annual Salary Range: Annual Salary by Location:
| Location | Avg. Annual Salary |
| --- | --- |
| Philadelphia | $52,470 |
| Pittsburgh | $48,113 |
| Allentown | $48,669 |
| Erie | $45,119 |
| Upper Darby | $52,470 |
| Reading | $48,450 |
| Scranton | $45,084 |
| Bethlehem | $48,669 |
| Lower Merion | $52,470 |
| Bensalem | $55,163 |
LPN Programs by State
---