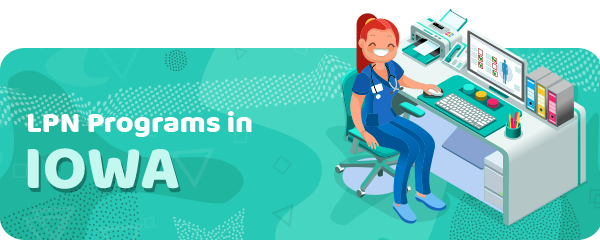 Have you been looking for a Nursing career in Iowa?
Well, you could've not gone to a better place.
Becoming a licensed practical nurse there ensures you a rewarding and promising LPN career.
As announced by the Bureau of Labor Statistics (BLS) there will be a growth of nearly 12% for this industry through the year 2026.
So basically, those who are eager to pursue their dream in Nursing should research and enroll in an LPN program in the state.
Despite the fact that it is a human activity to work in Nursing, it is also rewarding financially.
Here's why…
Iowa LPNs earn around an hourly wage of $19.10.
An annual salary of $39,730.
Which together makes $4,300 less per year than the national average.
Becoming an LPN in Iowa also has a few conditions.
And the first is the school choice.
This is highly important when it comes to getting your license.
The school would not be much without the programs that offer to students.
Approved programs by the state in Lowa can be accessed at community colleges, technical centers, and private career schools.
To be clearer, there are 11 LPN schools across the state.
However, I have chosen only 5 top-programs as part of this article.
The programs were chosen on behalf of the NCLEX-PN exam.
The results of this exam were the first-time pass rates done over the past several years.
Details on Iowa LPN Schools & Classes
LPN schools that offer programs to LPN students are many.
They usually take one to two years to finish.
But the length is usually a matter of attendance.
Attendance can be part-time or full-time, depending on the student's choice.
The programs there are held by a particular curriculum.
The curriculum offers mainly a mixture of labs and nursing courses.
From the most common, can be these:
Fundamentals of Nursing in Health Care
Developmental Psychology
Nutrition
Medication Administration for Nurses
Life Span Health Care
Accreditation
If you're a seeker, you have to make sure you're a real one.
So, when it comes to the school's credibility and standards that work with, accreditation is on the top of the list.
In Iowa however, there are accrediting bodies that will ensure this issue to students.
They just have to contact them.
These are organizations that offer accreditation.
The first one is the Accreditation Commission for Education in Nursing.
This stands for high and academic standards in terms of accreditation.
The second is the Iowa Board of Nursing.
This one may easily help students get into approved programs by the state.
Lastly, students can also check for regional accrediting organizations as well.
Admission Requirements
To enter a house, you need a door to go through it.
Similarly, when it comes to being admitted to an LPN school, you need to meet a few requirements.
Though they vary from the type of school, they usually include the basics:
High school graduate or GED
Minimum GPA of 2.5
Official transcripts from high school and/or any colleges attended
Two letters of reference
Personal essay
Tuition and Costs
The shorter a school's program is, the less you have to pay for it.
This is how LPN programs in Iowa work.
Anyway, the payment is not excluded.
Students have to consider paying for tuition, mandatory fees, books, and other expenses.
An example of the cost in Northwest Iowa Community College in Sheldon is nearly $10,150.
This is the cost for residents.
While $10,510 is for non-resident ones.
The case is different for students who cannot manage to pay the cost of education.
The schools offer additional help such as loans, financial aids and scholarships to offer them an opportunity to study well.
Iowa LPN Licensing Requirements
Attending an LPN program that is certified by the state is a requirement of licensing.
As soon as the coursework has been finished, the student must undergo the NCLEX-PN exam.
However, receiving the license is a matter of fulfilling some other criteria as well.
From them, to be mentioned are:
Official transcript of state-approved nursing program.
Completed fingerprint cards and signed waiver.
Information regarding criminal offenses—submit a criminal background check.
NCLEX registration.
An LPN license is not impossible, but maintaining it requires effort.
Since the LPN license expires every three years, renewal is necessary.
In this process, the owner of the license should complete 36 contact hours of LPN education.
NCLEX Exam Information
NCLEX-PN exam is a consequent step of graduation and it is prior to taking the LPN license.
This exam has 100 nursing-related questions to respond to.
Iowa encourages LPN students to take the practical NCLEX-PN exam first if they feel they're not ready for the final one.
LPN Reciprocity and eNLC
There is a number of US states that are a member of the NLC compact.
Iowa is one of them.
By this compact, nurses are allowed to register in a state while working in others that are part of the compact area.
They can do so without having to obtain another LPN license.
The ENLC compact seems to have started in January 2018.
The new compact offers more protection in comparison to the first.
Consequently, nurses who belong to the NLC turn into ENLC.
While nurses who belong to other states have to apply for an LPN license in Iowa through endorsement.
The application requires submitting the following documents:
Official transcripts from the state-approved nursing program.
Verification of original license.
Completed fingerprint cards and signed waiver.
Information regarding criminal offenses—submit a criminal background check.
Graduate LPN students who have finished their nursing education elsewhere other than the US, but have a license from another state, can apply for an LPN license in Iowa as well.
They can do so by submitting an evaluation of their official transcript to the Commission on Graduates of Foreign Nursing Schools.
Attached to it has to be also proof of English proficiency.
And here they are being considered.
LPN Salaries in Iowa
I talked so much about Nursing in Iowa, and now here we go to the salary.
Normally, the most commonly interesting aspect of work.
However, the salary in this state depends on a few factors.
These factors include education, skills, work experience and so on.
The more qualified, the better pay you'll get.
As simple as that!
Annual Salary Range: Annual Salary by Location:
| Location | Avg. Annual Salary |
| --- | --- |
| Des Moines | $47,253 |
| Cedar Rapids | $46,345 |
| Davenport | $46,134 |
| Sioux City | $40,639 |
| Waterloo | $44,156 |
| Iowa City | $45,964 |
| Council Bluffs | $46,180 |
| Dubuque | $45,799 |
| Ames | $46,813 |
| West Des Moines | $47,253 |
The Best LPN Schools in Iowa
There are 5 LPN school programs to consider in Iowa.
At the same time, they are the top-ranked ones as well.
| School Name | Address |
| --- | --- |
| Southeastern Community College | 1500 W Agency Rd, West Burlington, IA 52655 |
| Iowa Valley Community College District | 3702 S Center St, Marshalltown, IA 50158 |
| North Iowa Area Community College | 500 College Dr, Mason City, IA 50401 |
| Northeast Iowa Community College District | 1625 Hwy. 150, Calmar, IA 52132 |
| Iowa Central Community College | 1 Triton Cir, Fort Dodge, IA 50501 |
LPN Programs by State
---