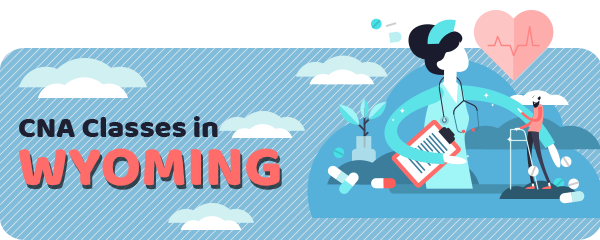 If you want to become a Certified Nurse Aide (CNA) in state Wyoming, then keep reading to find out what it takes to accomplish it!
The first step is to start and complete a nurse aide training program.
After you finish it, you will have to take the exam and pass it.
The certified nurse in Wyoming mustn't have a criminal background, so you will have to pass the check as well.
The laws and rules of the state's Department of Health apply to the CNAs in Wyoming.
Training – State Programs and Alternatives
Wyoming requires the nurses to take a program approved by the state.
The website of the state's Department of Health includes the list of all approved programs.
Make sure to check it when you are ready to start a program because programs can change and update.
On the other hand, if you aren't from Wyoming, you can still get a certificate if you have two-year experience working as a CNA out of the state.
The Test – Necessary Information
If you want to get a certificate in Wyoming, you have to pass the National Nurse Aide Assessment Program (NNAAP).
The NNAAP is the result of the American Red Cross and Pearson VUE cooperation.
The test fee is $98 and the deadline to complete the test is one year after completing the program.
The final test includes a knowledge check and skills demonstration.
To pass the skills part, you have to perform all the key steps in nursing activities.
For the knowledge test, you have two options – written or oral test and you can choose which way suits you more.
You can find guidelines with all necessary information on the Pearson VUE website.
You can take a test on different locations across the state as well.
If you by any chance fail the first time, you can retake the test after some time.
In case you fail again, you must take the course again.
How to Apply?
The process is simple for any state-approved program.
Your mentor or instructor will inform you about the steps, documentation, and the process itself.
The procedure is somewhat different for out-of-state applicants, people who apply after alternative training.
In that case, you should research what the requirements are on the Pearson VUE website.
Most likely, you will have to bring the various documentation, according to your professional experience and formal education.
The process may vary for training application and exam registration.
The most common documents you would have to bring are nursing school recommendation letter, verified past CNA certificate from, copy of nursing diploma, copies of other relevant out-of-state certificates, etc.
Available Schools
Based on the current situation, it is safe to conclude that every state will need more CNAs, including Wyoming.
If it seems like something you are interested in, make sure to consider the challenges of the profession before you apply.
You can find more information about free CNA training programs in Wyoming here:
| School Name | Address |
| --- | --- |
| Life Care Center of Casper | Casper, WY 82601 |
| Wyoming Medical Center Transitional Care Unit | Casper, WY 82601 |
| American Red Cross of Wyoming | Cheyenne, WY 82003 |
| College Of America, Cheyenne, Wyoming | Cheyenne, WY 82009 |
| Douglas Care Center | Douglas, WY 82633 |
| Castle Rock Medical Center | Green River, WY 82935 |
| Castle Rock Convalescent Center | Green River, WY 82935 |
| Ivinson Memorial Hospital Extended Care Facility | Laramie, WY 82072 |
| Weston County Health Services | Newcastle WY 82701 |
| Sublette Center | Pinedale, WY 82941 |
| Powell Valley Healthcare | Powell, WY 82435 |
| Carbon County Higher Education Center | Rawlins, WY 82301 |
| Wind River Healthcare Rehabilitation | Riverton, WY 82501 |
| Sage View Care Center | Rock Springs, WY 82901 |
| Western Wyoming Community College | Rock Springs, WY 82901 |
| Westview Health Care Center | Sheridan, WY 82801 |
| Westward Heights Care Center | Waylander, WY 82520 |
Wage
How much money you can earn as CNA in Wyoming depends on your education, city, experience, certificates, and other factors.
An average yearly salary of a Certified Nurse Aide in Wyoming is $28462.
For more details, check the list.
Annual Salary Range:
Annual Salary by Location:
| Location | Avg. Annual Salary |
| --- | --- |
| Cheyenne | $29,012 |
| Casper | $29,792 |
| Laramie | $29,357 |
| Gillette | $28,294 |
| Rock Springs | $29,349 |
| Sheridan | $30,147 |
| Green River | $29,349 |
| Evanston | $29,592 |
| Riverton | $29,313 |
| Cody | $30,147 |
CNA Classes by State
---