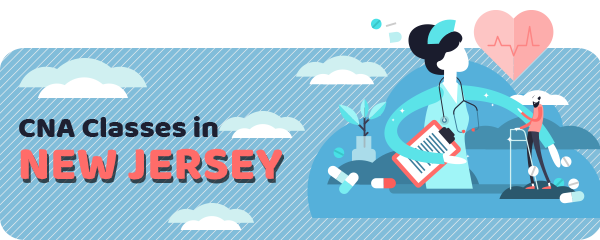 Certified Nursing Aide program in New Jersey is the jurisdiction of the state's Department of Health.
To get all certificates, you will need to complete the official training program, pass the final test, and to pass the criminal background check.
To find out what it takes to become a Certified Nurse Aide (CNA).
Training Requirements
The first step is to pick the official state-approved program.
Both pieces of training for Nurse Aide in Long Term Care Facilities Training and Competency Evaluation Programs last for 90 hours.
To make sure you know all information, check the website of the Department of Health.
However, some people can sign for the test without taking the course.
Those are nursing students, graduate nurses, military nurses,homemaker-home health aide, etc.
Final Test
All candidates must pass the test to earn the certificate.
The final test has two components – the skills demonstration and the knowledge test.
During the skills check, you will be asked to perform all key nursing duties – four random skills and hand hygiene.
You can take the knowledge test in written or in an oral format, it is up to you.
You can take the knowledge test only after you successfully pass the skill demonstration check.
You should contact PSI to schedule your written or oral examination.
People who fail the test the first time have a few more attempts to make in limited time.
If they fail again, they need to take the course again.
Application
People enrolled in official programs can rely on their course instructors to take care of all application steps.
Other candidates can find the necessary information on the website of the Department of Health or request materials from PSI.
Some candidates will be asked to submit additional documentation.
It may include instructor signature, copies of past and expired licenses, out-of-state CNA, copy of diploma from nursing school, recommendation letter, etc.
The candidate also needs to fulfill the criminal background checks, which may take up to 12 weeks.
Schools
There is more and more need for nurses around the world and state.
You should acknowledge all advantages and disadvantages of the nursing profession before you sign up for the course.
Here is a list of all free training programs in New Jersey.
| School Name | Address |
| --- | --- |
| Absecon Manor | Absecon, NJ 08201 |
| Andover Subacute & Rehab Centers | Andover, NJ 07821 |
| Crystal Lake Healthcare and Rehabilitation | Bayville, NJ 08721 |
| Cumberland Manor Nursing & Rehabilitation | Bridgeton, NJ 08302 |
| Arbor Glen Center | Bridgewater, NJ 08807 |
| Abigail House for Nursing and Rehabilitation | Camden, NJ 08102 |
| Avista Healthcare | Cherry Hill, NJ 08002 |
| Franciscan Oaks | Denville, NJ 07834 |
| Gateway Care Center | Eatontown, NJ 07724 |
| Galloway Nursing & Rehabilitation | Galloway, NJ 08205 |
| Arcadia Nursing & Rehabilitation Center | Hamilton Square, NJ 08690 |
| Bayshore Community Hospital | Holmdel, NJ 07733 |
| Forest Manor | Hope, NJ 07844 |
| Concord Healthcare & Rehabilitation Center | Lakewood, NJ 08701 |
| Delaire Nursing & Rehabilitation Center | Linden, NJ 07036 |
| The Gardens at Monroe | Monroe Twp., NJ 08831 |
| Children's Specialized Hospital | Mountainside, NJ 07092 |
| Doctors Subacute Care | Paterson, NJ 07522 |
| Amboy Nursing & Rehabilitation Center | Perth Amboy, NJ 08861 |
| AristaCare at Whiting | Road Whiting, NJ 08759 |
| Bey Lea Village Care Center | Toms River, NJ 08753 |
| Christian Health Care Center | Wyckoff, NJ 07481 |
Salary
An average salary on a yearly basis for nurses in New Jersey is $35357.
The numbers depend on education level, professional experience, location, licenses, etc.
Annual Salary Range:
Annual Salary by Location:
| Location | Avg. Annual Salary |
| --- | --- |
| Newark | $36,521 |
| Jersey City | $37,122 |
| Paterson | $35,374 |
| Elizabeth | $35,036 |
| Edison | $34,423 |
| Woodbridge | $34,423 |
| Lakewood | $34,943 |
| Dover | $35,262 |
| Trenton | $34,668 |
| Camden | $32,956 |
CNA Classes by State
---