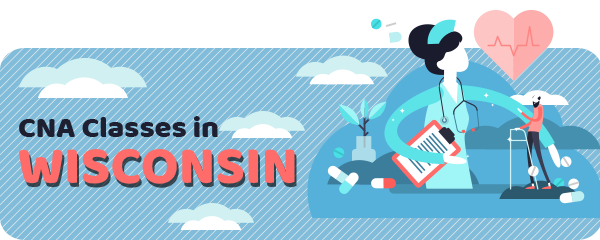 Learn what it takes to become a Certified Nurse Aid in Wisconsin state with our short guide!
There are two steps – a training program and a final test.
The training program, as well as the examination test in Wisconsin, are in the jurisdiction of the state's Department of Health Services.
Training Programm – Requirements
Wisconsin residents who want to get a certification in nurse aide, must complete the program approved by the state.
Each course lasts for 120 hours, and you find the complete list of appropriate programs on the state's Department of Health Services.
On the other hand, student nurses and graduate nurses can take the final test without attending the course.
The same applies to home health aides and military nurses.
Military nurses, however, have to demonstrate at least 32 hours of clinical training to be eligible to take the final test.
The Test – Necessary Information
If you have completed all 120 hours of training or you are eligible on some other way, the next step is the final exam – the NNAAP test.
NNAAP test stands for the National Nurse Aide Assessment Program and is created by Pearson VUE and the American Red Cross.
The final exam consists of two parts – a knowledge test and a skill demonstration and cost 115$ in Wisconsin.
You can pick an oral or written knowledge test according to your preferences.
All guidelines and handbooks for course participants can be found on the Pearson VUE website.
Across the state, there are many locations where you can take the test, so you can research and find the nearest location.
If you fail the test,, you can retake it after a short time.
Candidates who fail the test both times must start the course from the beginning.
The Application
The applications for a course and exam are separate.
Nurses from Wisconsin can find out all necessary information from their instructor, including the steps and requirements.
Out-of-state nurses have a slightly different procedure.
You can find all information on the Pearson VUE website, including necessary information.
However, you will most likely have to submit a nurse school recommendation letter, copies of other certificates you have, including past CNA certificate, and out-of-state relevant certifications.
Schools
The growing need for nurses in Wisconsin determines a large number of available schools.
Before you start researching your options, try to fully understand the pros and cons of the nursing profession.
Check the list for more free CNA training options in Wisconsin.
| School Name | Address |
| --- | --- |
| Baldwin Care Center | Baldwin, WI 54002 |
| Beaver Dam Care Center | Beaver Dam, WI 53916 |
| CNA Professional Services, L.L.P | Boyceville, WI 54725 |
| Willowfield Nursing & Rehabilitation | Delavan, WI 53115 |
| The Clairemont | Eau Claire WI 54701 |
| Grace Lutheran Foundation | Eau Claire WI 54701 |
| Chippewa Valley Technical College | Eau Claire WI 54701 |
| Dove Healthcare – West | Eau Claire, WI 54703 |
| Glenhaven, Inc. | Glenwood City, WI 54013 |
| Bornemann Nursing Home, Inc. | Green Bay, WI 54302 |
| Clement Manor Health Center | Greenfield, WI 53228 |
| Christian Community Homes & Services, Inc. | Hudson, WI 54016 |
| Alden Estates of Jefferson | Jefferson, WI 53549 |
| Kenosha Estates Living & Care Center | Kenosha, WI |
| Gundersen Health System | La Crosse, WI 54601 |
| Western Technical College | La Crosse, WI 54601 |
| Geneva Lake Manor | Lake Geneva, WI 53147 |
| Madison Area Technical College, Madison | Madison, WI 53704 |
| Belmont Nursing and Rehabilitation Center | Madison, WI 53714 |
| Oakridge Gardens Nursing Center, Inc | Menasha, WI 54952 |
| Sarah ChudnowCommunity | Mequon, WI 53092 |
| Wellspring of Milwaukee | Milwaukee, WI 53225 |
| Ingleside Manor | Mt. Horeb, WI 53572 |
| North point Medical and Rehabilitation Center | Oshkosh, WI 54901 |
| Rocky Knoll Health Care Center | Plymouth, WI 53073 |
| Heritage Nursing & Rehabilitation | Port Washington, WI 53074 |
| Divine Savior Healthcare Inc. | Portage, WI 53901 |
| Door County Memorial Hospital | Sturgeon Bay, WI 54235 |
| Rest Haven Health Care Center | Verona, WI 53593 |
| Waukesha Springs Health & Rehabilitation Center | Waukesha Springs, WI 53188 |
| The Christian Home and Rehabilitation Center, Inc | Waupun, WI 53963 |
| Fairhaven Senior Services | Whitewater, WI 53190 |
| Park View Community Campus | Woodville, WI 54028 |
Salary
In Wisconsin, nurses earn approximately $31500 per year.
However, the salary depends on several factors, including education, experience, the city where you work, skill, and certifications.
Check the table for more information.
Annual Salary Range:
Annual Salary by Location:
| Location | Avg. Annual Salary |
| --- | --- |
| Milwaukee | $31,650 |
| Madison | $31,468 |
| Green Bay | $30,678 |
| Kenosha | $31,353 |
| Racine | $31,353 |
| Appleton | $30,658 |
| Waukesha | $31,530 |
| Oshkosh | $30,486 |
| Eau Claire | $29,599 |
| La Crosse | $28,769 |
CNA Classes by State
---