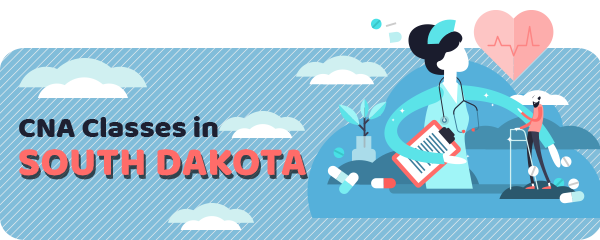 Learn what it takes to become a Certified Nurse Aide (CNA) in South Dakota.
CNA procedures consist of attending a course and successfully passing the examination test.
In South Dakota, the Department of Health and Board of Nursing regulate CNAs.
Training Requirements
Those who want to become CNA in South Dacota must take the state-approved training program.
There are various programs across the state, with a minimum duration of 75 hours.
However, there are exceptions.
Nursing students LPN, and LR are allowed to take the exam without the course.
You might need to take basic hours of nursing coursework, but it all depends on your previous professional background.
Final Test
In South Dakota, Headmaster carries out testing and the following procedure.
The final test consists of two parts, one is theoretical and the other is practical.
The practical part includes skills check and you will be asked to perform all key nursing duties to pass the test successfully.
You can pick how you will take the knowledge exam – in written or in oral form.
Either way, you can find all the learning materials on the Headmaster website.
Also, you can pick the place where you want to take the test from the list of available locations.
You have a limited number of attempts to pass the test in limited time.
If you are unsuccessful, you will have to take the course from the beginning.
The price for the test is $89, and the knowledge test fee for the written test is $70.50, while for the oral test you have to pay $80.50.
Application
Attendees of the state-approved program can turn to their instructor for understanding the application procedure.
Other candidates, nursing students, or anyone eligible to take the test without the course, can find all necessary information on the Board of Nursing website.
The documentation depends on your eligibility route.
Some candidates will be asked to provide copies of the nursing school diploma, past CNA and out-of-state certificates, licenses, etc.
Schools
Due to the rising demand for Certified Nursing Aides across the world,
more and more programs are available.
Before you apply to any program, make sure that you are ready to take all challenges of the nursing profession.
Check the list of available, state-approved training courses in South Dakota.
| School Name | Address |
| --- | --- |
| Belle Fourche Health Care Center | Belle Fourche, SD 57717 |
| Diamond Care Center | Bridgewater, SD 57319 |
| Brookview Manor | Brookings, SD 57006 |
| Parkview Care Center | Bryant, SD 57221 |
| Faulkton Healthcare Center | Faulkton, SD 57438 |
| Riverview Health Services Inc. | Flandreau, SD |
| Riverview Manor | Flandreau, SD 57028 |
| Bethel Lutheran Home | Madison, SD 57042 |
| Bennett County Hospital & Nursing Home | Martin, SD 57551 |
| Boxelder Job Corps Civilian Conservation Center | Nemo, SD 57759-0110 |
| Avera Prince of Peace Ret Community | Sioux Falls, SD 57103 |
| Southridge Healthcare | Sioux Falls, SD 57105 |
| Bethany Lutheran Home | Sioux Falls, SD 57105 |
| Bethany Home Sioux Falls | Sioux Falls, SD 57105 |
| Northern Hills Program Center | Spearfish, SD 57783 |
| Pioneer Memorial Hospital & Health Services | Viborg, SD 57070 |
| Jenkins Living Center | Watertown, SD 57201 |
| Winner Regional Healthcare Center | Winner, SD 57580 |
Salary
Salary is formed according to several factors – education level, licenses and skills, experience, and geographic location.
The average yearly salary of a nurse in South Dakota is $27375.
Check the table for more information on salaries.
Annual Salary Range:
Annual Salary by Location:
| Location | Avg. Annual Salary |
| --- | --- |
| Sioux Falls | $28,027 |
| Rapid City | $27,755 |
| Aberdeen | $26,064 |
| Watertown | $27,547 |
| Brookings | $27,547 |
| Mitchell | $27,547 |
| Pierre | $26,543 |
| Yankton | $26,933 |
| Huron | $26,805 |
| Vermillion | $26,319 |
CNA Classes by State
---