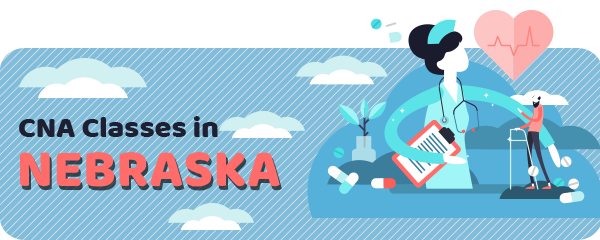 If you want to know what the requirements for the Certified Nurse Aide (CNA) in Nebraska are, keep reading!
In Nebraska, the Department of Health and Human Services maintains the CNA program.
It includes training and final exam, but to start a program in the first place, you need to be at least 16 years old.
Training Requirements
Nebraska residents must complete the official training course approved by the state.
The minimal duration of official programs is 75 hours.
You can find a complete list of updated programs on the state's Department of Health and Human Services website.
But, there are some alternative ways to get the certificate.
Foreign nurses, the military nursing assistants, lapsed U.S. nurses can also start the procedure.
Also, out-of-state nurses with certificates can get on the Nebraska registry after at least 75 hours of training.
Nurses who haven't work actively for two years must take the exam again.
Final Test
The final test in Nebraska is held in the Nebraska Health Care Learning Center or the Providence Health Care Institute.
The test always has two obligatory part – skills check and knowledge check.
If you are interested in the upcoming dates, you can find the on the Nebraska Health Care Learning Center website.
Also, candidates who fail the test the first time have two more attempts in limited time.
If they are unsuccessful again, candidates must complete the course again.
In Nebraska, the test fee is $20 for the written test and $32 for the skills test.nd $32 for the skills test.
Application
Candidates in official training courses can rely on their instructors to take care of the procedure.
Other candidates, out of state, or anyone applying due to alternative training, can apply for the test online.
Usually, candidates are asked to submit some documentation.
Required documentation varies for the candidates, and depends on their eligibility route.
They might ask you to provide copies of the out-of-state certificate, nursing school diploma, instruction signature, recommendation letter, etc.
Schools
In Nebraska, there is a higher need for CNAs across the state.
The nursing career is rewarding, but it has negative aspects as well.
Check the list of free CNA training courses in the state of Nebraska.
| School Name | Address |
| --- | --- |
| Ashland Care Center | Ashland, NE 68003 |
| Jennie M. Melham Memorial Medical Center | Broken Bow, NE 68822 |
| Crest View Care Center | Chadron, NE 69337 |
| Pine Ridge Job Corps Civilian Conservation Center | Chadron, NE 69337 |
| Creighton Area Health Services | Creighton, NE 68729 |
| Life Care Center of Elkhorn | Elkhorn, NE 68022 |
| Elwood Care Center | Elwood, NE 68937 |
| Jefferson Community Health Center | Fairbury, NE 68352 |
| Fremont Health | Fremont, NE 68025 |
| Heritage Crossings | Geneva, NE 68361 |
| Kimball County Manor and Assisted Living | Kimball, NE 69145 |
| Countryside Home | Madison, NE 68748 |
| Oakland Heights | Oakland, NE 68045 |
| Skyline Retirement Community | Omaha, NE 68134 |
| Alegent Health Memorial Hospital Ltc. | Schuyler, NE 68661 |
| Alpine Village Retirement Center | Verdigre, NE 68783 |
Salary
A CNA in Nebraska earns averagely $29325 per year.
The salary depends on location, education, experience, additional skills, and certificates, etc.
Check the list for more information on salaries.
Annual Salary Range:
Annual Salary by Location:
| Location | Avg. Annual Salary |
| --- | --- |
| Omaha | $30,235 |
| Lincoln | $28,866 |
| Bellevue | $29,006 |
| Grand Island | $28,486 |
| Kearney | $28,486 |
| Fremont | $28,573 |
| Hastings | $28,486 |
| North Platte | $27,601 |
| Norfolk | $25,249 |
| Columbus | $28,486 |
CNA Classes by State
---