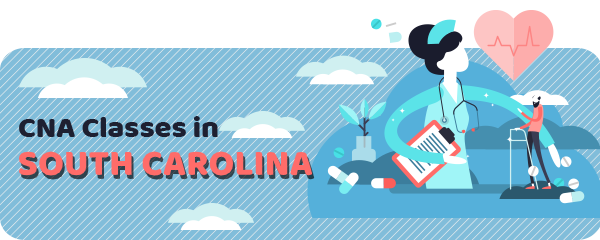 If you want to become a Certified Nursing Assistant (CNA) in South Carolina, there are a few things to understand.
You will have to take the training program and pass the final exam.
The South Carolina Department of Health and Human Services holds jurisdiction over CNAs.
Training Requirements
Any person who wants to get a certificate in nursing must attend the state-approved program.
The Pearson website contains the list of all suitable programs across South Carolina.
The minimal duration of the training is 100 hours.
However, there are some exceptions.
Military nursing assistants or anyone who passed military nursing training can apply directly for taking the test.
The same applies to LPN and RN students.
Final Test
In South Carolina, you have to take the NNAAP test.
NNAAP test stands for National Nursing Aide Assessment Program and has two integral parts.
Those are the knowledge test and skills demonstration.
The skills check requires you to perform all key nursing activities and duties properly, to be able to continue with testing.
You can pick how to take the knowledge test – in written form or in oral.
For all learning materials, you can consult the Pearson VUE website.
Candidates are allowed to take a test a few times, and if they are unsuccessful, they must take the course again.
The test fee is $101.
Application
Candidates who take the state training program can turn to their instructors to guide them through the application procedure.
Other candidates can find the necessary information on the Person VUE website.
The required documentation varies for different candidates and can include some of the following documents: nursing school diploma, recommendation letter, expired licenses or out of state certificates, etc.
NACES Plus Foundation carries out all application materials.
Schools
The state needs more nurses and there are more and more eligible training options available.
Before you take any, consider all aspects of the nursing profession – both positive and negative.
Check the list of all state-approved training CNA programs in South Carolina.
| School Name | Address |
| --- | --- |
| NHC Bluffton | Bluffton, SC 29910 |
| Cheraw Healthcare | Cheraw, SC 29520 |
| Chester County Nursing Center | Chester, SC 29706 |
| The Department of Mental Health | Columbia, SC 29202 |
| SC Department of Social Services | Columbia, SC 29202 |
| Edgefield Health Care Center | Edgefield, SC 29824 |
| Paxen Learning Corporation | Florence, SC 29501 |
| Fountain Inn Nursing and Rehabilitation Center | Fountain Inn, SC 29644 |
| Fountain Inn Nursing Home | Fountain Inn, SC 29644 |
| Georgetown Healthcare and Rehabilitation | Georgetown 29440 |
| Magnolia Manor Inman | Inman, SC 29349 |
| NHC HealthCare, Laurens | Laurens, SC 29360 |
| Charleston Nursing Center | Mt. Pleasant, SC 29464 |
| Myrtle Beach Manor | Myrtle Beach, SC 29572 |
| Trident One Stop Career System | North Charleston 29406 |
| Carolina Village Health Care Center | Rock Hill, SC 29732 |
| N Greenville Hospital Sac | Travelers Rest, SC 29690 |
| Agape Nursing and Rehabilitation Center | West Columbia, SC 29169 |
| Woodruff Manor | Woodruff, SC 29388 |
Salary
Salary is based on your skills set, city, formal education, and professional experience.
The average nurse salary in South Carolina is $29933 per year.
Annual Salary Range:
Annual Salary by Location:
| Location | Avg. Annual Salary |
| --- | --- |
| Columbia | $30,035 |
| Charleston | $30,369 |
| North Charleston | $30,369 |
| Greenville | $31,201 |
| Rock Hill | $31,478 |
| Mount Pleasant | $30,369 |
| Spartanburg | $29,664 |
| Sumter | $28,598 |
| Hilton Head Island | $29,700 |
| Florence | $28,756 |
CNA Classes by State
---