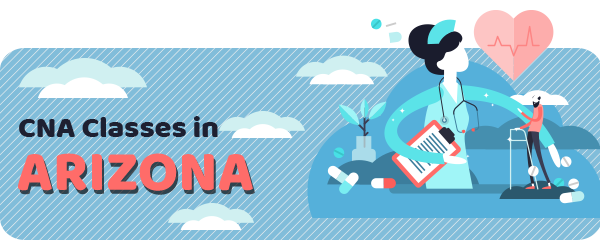 If you want to become a Certified Nursing Assistant (CNA) in the state of Arizona, there are a few things you should now.
You will have to spend time learning and acquiring the necessary skills, gather some document, and pass the final exam.
In Arizona, the CNA program is under the jurisdiction of the State Board of Nursing.
Keep reading, to find out more information.
Training Requirements
There are a few ways to earn your nursing certificate.
The first way is to attend a training course, approved by the board.
Research well and consider only official programs you can find on the Arizona State Board of Nursing's official website.
The minimal duration of the program is 120 hours.
Candidates who have completed training programs in other states can qualify for the final test without attending the program, but only if they submit proves about program duration.
Those who have completed a nursing course with at least 40 hours of patient care and education in long-term care can also become eligible to take the test.
In that case, you have to submit the instructor sign on the waiver form.
Also, military assistance with at least 100 hours of healthcare training in the past two years are also allowed to take the test.
Final Test
The final step for aspiring CNAs in Arizona is passing an exam.
The exam has two sections – a knowledge test and skills demonstration check.
Candidates can choose how they want to take the knowledge test – written or audio format.
The deadline for passing both sections is two years after the training completion.
If you can provide documents that you have been employed in the nursing sphere after completion of training, it may help you to extend the deadline.
Also, remember that in Arizona you need to pass the fingerprint criminal background check.
The test fee for the written knowledge is $28, the fee for oral test is $38, and the skills test is $85.
Application
The application materials are available on the official website.
You will be asked to fill out the forms in black ink, to document your citizenship and to provide a valid photograph.
You can mail the document or hand-deliver them.
Expect around two months for your application to be processed.
Schools
In Arizona, there is a growing need for CNAs because the population is aging.
That is why there are more and more free training across the state.
Check the list of all free training options in Arizona and choose the one that is most convenient for you.
| School Name | Address |
| --- | --- |
| Silver Ridge Village | Bullhead City, AZ 86442 |
| Chandler Health Care Center | Chandler, AZ 85224 |
| Fountain View Village | Fountain Hills, AZ 85268 |
| Gardens Care Center | Kingman, AZ 86401 |
| Gila River Indian Care Center | Laveen, AZ 85339 |
| Arizona Medical Training Institute | Mesa, AZ 85201 |
| Banner Baywood Medical Center | Mesa, AZ 85206 |
| Carondelet Holy Cross Hospital | Nogales, AZ 85621 |
| Good Shepherd Retirement Ctr. | Peoria, AZ 85345 |
| Forum At Desert Harbor | Peoria, AZ 85381 |
| Cactus Wren Training Program LLC | Phoenix, AZ 85029 |
| Brighton Gardens Of Scottsdale | Scottsdale, AZ 85251 |
| Life Care Center Of Sierra Vista | Sierra Vista, AZ 85635 |
| Boswell Extended Care Center | Sun City, AZ 85351 |
| Catalina Health Care Center | Tucson, AZ 85719 |
| Life Care Center Of Yuma | Yuma, AZ 85364 |
Salary
In Arizona, a CNA ears averagely $31559 per year.
Your salary can differ, based on skills, education, experience, location, etc.
Annual Salary Range:
Annual Salary by Location:
| Location | Avg. Annual Salary |
| --- | --- |
| Phoenix | $31,630 |
| Tucson | $29,993 |
| Mesa | $31,027 |
| Glendale | $30,348 |
| Scottsdale | $29,770 |
| Chandler | $29,770 |
| Tempe | $29,770 |
| Gilbert | $27,329 |
| Peoria | $30,287 |
| Yuma | $31,394 |
CNA Classes by State
---