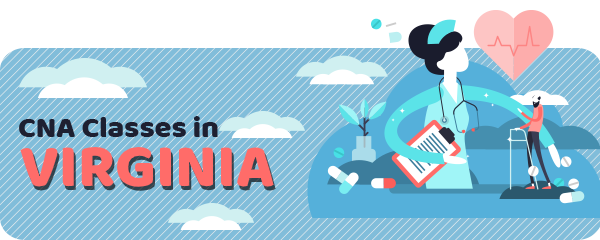 If you want to know how to get a certificate in Nurse Aide in Virginia, then keep reading to find everything about the procedure.
Certified Nurse Aide (CNA) in Virginia are regulated by the Board of Nursing.
There are two steps to becoming a CNA – taking the course and successfully passing the final test.
You can also earn an additional credential in the state.
Training Requirements
The first step is to pick a state-approved program.
You can find the list of appropriate programs on the Board of Nursing website.
However, if you are a nursing student or a nurse graduate, you can apply for the test without the course.
LRN and LN students who have completed at least one clinical course can also take the final test.
Final Test
The test you take is the NNAAP – National Nurse Aide Assessment Program, regulated by the Pearson VUE and NACES Plus Foundation in the state of Virginia.
To qualify for a certificate, you must pass both knowledge and skills demonstration.
In the skills demonstration part of the test, you will be asked to d demonstrate all key nursing activities and duties successfully.
You can pick how to take the knowledge test – in written or oral form.
The Pearson VUE website has all handbooks and necessary information about the test.
Across the state, there are numerous locations where you can take the test.
You have a limited number of chances to take the test.
If you fail every time, you will be asked to attend the course from the beginning.
The test fee in Virginia is $94
Application
Instructors in state-approved programs will guide the candidates who attend the course through steps, documentation, and procedure.
Other people, who are eligible to take the test can find more information on the Pearson VUE website.
Additionally, you can call the NACES Plus Foundation to clear any misunderstandings.
The documentation is obligatory, but it depends on your eligibility route.
Therefore, some candidates may be asked to provide copies of the nursing school diploma, recommendation letters, copy of past licenses and certificates, etc.
Schools
Due to the demanding need for nursing aide, there are plenty of available schools in Virginia.
The nursing profession has both advantages and disadvantages.
Make sure to know what you are getting into before you apply for any program.
Here is the list of all available and approved schools in Virginia.
| School Name | Address |
| --- | --- |
| The Fountains at Washington House | Alexandria, VA 22311 |
| Amelia Nursing and Rehabilitation Center | Amelia, VA 23002 |
| Leewood Healthcare Center | Annandale, VA 22003 |
| Appomattox Health & Rehabilitation Center | Appomattox, VA 24522-8721 |
| Heritage Hall -Big Stone Gap | Big Stone Gap, VA |
| Heritage Hall -Blacksburg | Blacksburg, VA |
| Heritage Hall -Blackstone | Blackstone, VA |
| Berry Hill Health & Rehab Center | Boston, VA 24592 |
| The Laurels of Charlottesville | Charlottesville, VA 22901 |
| Heritage Hall -Clintwood | Clintwood, VA |
| Westmoreland Rehabilitation & Healthcare | Colonial Beach, VA 22443 |
| The Glebe | Daleville, VA 24083 |
| Piney Forest Health & Rehabilitation Center | Danville, VA 24540-4099 |
| Kissito Healthcare – The Brian Center Botetourt | Fincastle, VA 24090 |
| Carriage Hill Health and Rehab Center | Fredericksburg, VA 22407 |
| Bowling Green Health & Rehabilitation Center | Green, VA 22427-0967 |
| Gretna Health & Rehabilitation Center | Gretna, VA 24557-4157 |
| Heritage Hall -Grundy | Grundy, VA |
| Blue Ridge Job Corps Centre | Marion, VA 24354 |
| Blue Ridge Village | Martinsville, VA 24112 |
| Old Dominion Job Corps Centre | Monroe, VA 24574 |
| Heritage Hall -Nassawadox | Nassawadox, VA |
| Lake Taylor Transitional Care Hospital | Norfolk, VA 23502 |
| Friendship | North West Roanoke, VA 24012 |
| Dogwood Village of Orange County | Orange, VA 22960-1096 |
| Radford Health & Rehab Center | Radford, VA 24141 |
| Heritage Hall -Rich Creek | Rich Creek, VA |
| Beaufont Health & Rehabilitation Center | Richmond, VA 23225-4048 |
| Raleigh Court Health & Rehabilitation Center | Southwest Roanoke, VA 24015 |
| Heritage Hall -Tazewell | Tazewell, VA |
| Kindred Transitional Care and Rehabilitation – Bay Pointe | Virginia Beach, VA 23454-2426 |
| Oak Springs of Warrenton | Warrenton, VA 20186-2110 |
| Waverly Health & Rehabilitation Center | Waverly, VA 23890-0641 |
| Shenandoah Valley Westminster-Canterbury | Winchester, VA 22603 |
| Heritage Hall -Wise | Wise, VA |
Salary
The nurses' salary in Virginia depends on the city, formal education, experience, licenses, and certificates.
State-wise, the average yearly salary for nurses in Virginia is $31788.
Find more information in the table below.
Annual Salary Range:
Annual Salary by Location:
| Location | Avg. Annual Salary |
| --- | --- |
| Virginia Beach | $30,573 |
| Norfolk | $30,112 |
| Chesapeake | $30,074 |
| Richmond | $32,051 |
| Newport News | $29,959 |
| Hampton | $29,959 |
| Alexandria | $35,392 |
| Portsmouth | $30,112 |
| Roanoke | $29,536 |
| Lynchburg | $29,456 |
CNA Classes by State
---