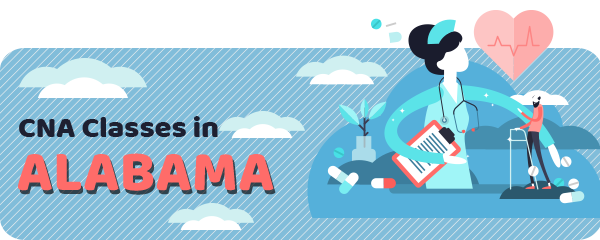 Becoming a Certified Nursing Assitant  (CNA) in Alabama is a great career choice!
CNAs provide direct patent care in several settings – hospitals long-term care, nursing homes, etc.
To earn your certificate, you will have to complete training and pass the evaluation.
In Alabama, there is a growing need for CNAs because the population is aging, so more people need CNAs.
After you earn your certificate, you can continue your education and there are plenty of carrier options in the nursing profession.
The training requirements in the USA differ from state to state slightly.
Popular Programs
In Alabama, you don't have to have a high school diploma or GED to start training.
Training Requirements
High school students can enroll in training programs before they graduate.
However, you can work as a CNA in Alabama after you reach the age of 18.
Across Alabama, there are several training institutions that are accredited for the certification process.
In some nursing homes, you can attend the training through a work agreement.
Before you start any program, make sure to check if the facility is approved by the state.
Final Test
The next step after completing training is passing an exam.
The exam can be in written $100 or oral format (S120).
In Alabama, the State Departement of Public Health maintains the CNA program but doesn't issue paper certificates.
Those who have completed programs in other states can work as a CNA in Alabama when they have their status transferred from the institutions where the training was held.
It applies to those who want to work in a nursing home.
Other candidates who are interesting to work in home health would have to re-enroll in the training courses.
After they complete the program, they can acquire a CNA status in the state of Alabama.
Schools
You can find the state-approved facilities for CNA training programs in Alabama on the list below.
There are different facilities that offer training such as nursing homes.
You can also find free classes in Montgomery, Mobile, Huntsville, and Birmingham.
Below are the accredited training facilities that offer CNA training in Alabama.
| School Name | Address |
| --- | --- |
| Central Alabama Community College Alexander City Campus | Alexander City, AL 35011-0699 |
| Brown Nursing Home | Alexander City, AL 35010 |
| Limestone Health Facility | Athens, AL 35611 |
| Birmingham Nursing And Rehabilitation | Birmingham, AL 35214 |
| Bibb Med Center Hospital & NH | Centreville, AL 35042 |
| Wallace Community College | Dothan, AL 36303 |
| Reid State Technical College | Evergreen, AL 36401 |
| Glenwood Center | Florence, AL 35630 |
| Gadsden State Community College | Gadsden, AL 35903 |
| Gadsden State Community College | Gadsden, AL 35903 |
| Haleyville Health Care Center | Haleyville, AL 35565 |
| Hanceville Nursing Home | Hanceville, AL 35077 |
| Hartford Health Care | Hartford, AL 36344 |
| Big Springs Specialty Care Center | Huntsville, AL 35801 |
| Lineville Health And Rehabilitation | Lineville, AL 36266 |
| Luverne Health And Rehabilitation | Luverne, AL 36049 |
| Valley View Health And Rehabilitation | Madison, AL 35757 |
| Sea Breeze Health Care Center | Mobile, AL 36603 |
| Lynwood Nursing Home | Mobile, AL 36693 |
| Trenholm State Technical College | Montgomery, AL 36108 |
| Bevill State Community College Fayette Campus | North Fayette, AL 35555 |
| Drake State Technical College | North Huntsville, AL 35811 |
| J.F. Drake State Community & Technical College | North Huntsville, AL 35811 |
| Easter Seals Alabama, Inc. | Opelika, AL 36801 |
| South Hampton Nursing And Rehab | Owens Cross Roads, AL 35763 |
| Greenbriar At The Altamont | South Birmingham, AL 35205 |
| Southern Union Community College Wadley Campus | Wadley, AL 36276 |
Salary
The average yearly salary of a CNA in Alabama is $29.910.
The minimal recorded annual salary is $27259, and the maximal is $33024.
The salary depends on location, skills, education, experience, and other factors.
Annual Salary Range:
Annual Salary by Location:
| Location | Avg. Annual Salary |
| --- | --- |
| Birmingham | $28,998 |
| Montgomery | $27,466 |
| Mobile | $28,351 |
| Huntsville | $28,973 |
| Tuscaloosa | $28,714 |
| Dothan | $27,099 |
| Decatur | $28,088 |
| Auburn | $27,456 |
| Gadsen | $28,741 |
| Madison | $28,973 |
CNA Classes by State
---