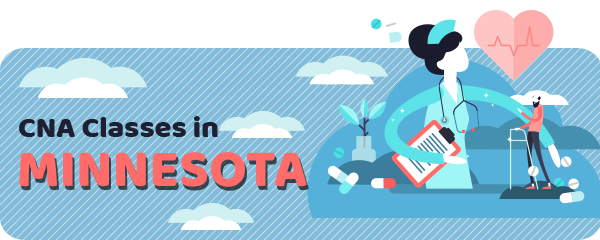 There is a procedure you have to fulfill to become a Nursing Assistant (NA) in Minnesota?
The Minnesota Department of Health maintains the procedure and nurses registry.
In Minnesota, you can choose to become a Nurse Aide or a Home Health Aide.
Your choice will determine the correct procedure, but you will have to pass the exam and complete the training.
Training Requirements
Minnesota residents who want to become nursing assistants have to complete an official training program.
The Department of Health website is where you can find the current list of state-approved programs.
Popular Programs
However, for some people, it is possible to take the final exam without taking the program.
For example, nurse students, graduate nurses or anyone who has complete some kind of nursing training in other states might be able to apply for the final test.
Final Test
In Minnesota, you will have to pass the official NNAAP test – National Nurse Aide Assessment Program.
The Pearson VUE administers the test.
The test includes two obligatory parts – skills check and knowledge check.
During the skills check, you will have to demonstrate five nursing assistant duties properly to pass.
The second part is a knowledge test, which you take in a written or an oral format.
You can find all the learning materials and more useful information on the Pearson VUE website.
In Minnesota, candidates can take the test on several locations across the state.
Check the website to find your preferred location and schedule a testing date when you are ready.
Candidates are allowed to take a test three times in limited time.
After that, if they fail, they must attend the training program from the beginning.
The basic test fee in Minnesota is $64 for Person VUE costs and the additional fee which depends on the testing location.
Application
Candidates who participate in the official training programs can rely on their mentors to help them with the application procedures.
Other candidates can find the necessary information on the Pearson VUE website.
Candidates will be asked to submit some documentation.
It varies for candidates, because of their differences in eligibility routes.
However, some of the most common required documents are nursing school diploma, copies of other past and expired, out-of-state licenses and certificates, training instructor signature on the application form, etc.
Schools
Despite the fact that the nursing assistant profession is challenging, there is more need for the NA across the state.
Make sure you are fully aware of all pros and cons of this profession before you start a program.
You can find the list of free training programs for NA in Minnesota here.
| School Name | Address |
| --- | --- |
| Adams Health Care Center | Adams, MN 55909 |
| Anoka Technical College | Anoka, MN 55303 |
| Apple Valley Medical Center | Apple Valley, MN 55124 |
| Appleton Area Health Services | Appleton, MN 56208 |
| Parmly LifePointes | Chisago City, MN 55013 |
| Bayshore Residence and Rehabilitation Center | Duluth, MN 55802 |
| Benedictine Health System | Duluth, MN 55805 |
| Fairfax Community Home, Inc. | Fairfax, MN 55332 |
| Birchwood Senior Living | Forest Lake, MN 55025 |
| Glenwood Retirement Village | Glenwood, MN 56334 |
| Grand Village | Grand Rapids, MN 55744 |
| Gundersen Harmony Care Center | Harmony, MN 55939 |
| Augustana Care Hastings | Hastings, MN 55033 |
| Augustana Care Minneapolis | Minneapolis, MN 55404 |
| Crystal Care Center | Minneapolis, MN 55422 |
| GracePointe Crossing | NorthCambridge, MN 55008 |
| St. William's Living Center | Parkers Prairie, MN 56361 |
| Hubert H. Humphrey Job Corps Center | St. Paul, MN 55108 |
| Country Manor Campus | Sartell, MN 56377 |
| Augustana Care Moose Lake | Moose Lake, MN 55767 |
| Benedictine Living Community | St. Peter, MN 56082 |
| Fair Oaks Lodge | Wadena, MN 56482 |
Salary
A nursing assistant in Minnesota earns  $32715 per year on average.
The data varies, and the salary depends on location, education, experience, additional certificates, skills, etc.ce level,
Annual Salary Range:
Annual Salary by Location:
| Location | Avg. Annual Salary |
| --- | --- |
| Minneapolis | $34,011 |
| St. Paul | $34,011 |
| Duluth | $30,333 |
| Rochester | $30,972 |
| St. Cloud | $30,166 |
| Lakeville | $33,799 |
| Eden Prairie | $33,953 |
| Burnsville | $33,915 |
| Minnetonka | $34,011 |
| Moorhead | $30,033 |
CNA Classes by State
---