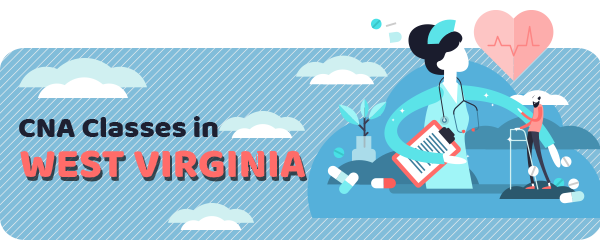 Those interested in getting a certificate in Nurse Aid in West Virginia have to complete two steps.
You will need to take and complete a state-approved training program and to pass the examination test.
Human Service and the state's Department of Health regulate this field in West Virginia.
Training Requirements
People who want to get a certification in West Virginia must take the approved course.
The state's Office of Health Facility Licensure & Certification website includes the list of all training options across West Virginia.
However, taking the course is not the only way to get the Nurse Aide certificate.
LRN and LN students are eligible to take the examination test without the course, but only after they spend at least 32 hours
in a nursing facility.
The regular courses last for 120 hours.
Final Test
After you complete the training, you can apply for the examination test.
To get the certificate, you have to successfully pass both parts – skill test and knowledge test.
Knowledge tests can be taken in written or oral form.
You can find more information as well as the sample test on the Professional Healthcare Development, LLC website.
You have two chances to pass the test.
If you fail both times you have to take the training again.
The fee depends on the way you choose to take the knowledge test.
It is $125 for the written examination and $160 if you choose an oral test.
There are plenty of available places where you can take the final exam in West Virginia.
The Application
West Virginia nurses in official programs will get all necessary information from the instructor, including the required documentation list.
Out-of-state nurses can research their options and requirements on PHD website.
The same goes for people who decide to apply for the test on their own.
Candidates must submit some documents, which depends on their eligibility route.
The most common documents are nurse school recommendation letter, copies of previous and out-of-state CNA certificates, copy of diploma from nursing school, other relevant licenses, etc.
Schools
The nursing field is rapidly developing and bringing more challenges to the nurses.
Before you apply for a CNA certificate, be fully aware of the advantages and drawbacks of the nursing profession.
There are more and more available schools across the State, and you can find a free CNA course here.
| School Name | Address |
| --- | --- |
| Ansted Center | Ansted, WV 25812 |
| Jackie Withrow Hospital | Beckley, WV 25801 |
| The Maples | Bluefield, WV 24701 |
| Cameron Nursing & Rehab Center | Cameron, WV 26033 |
| Charleston Job Corps Centre | Charleston, WV 25311 |
| Clarksburg Nursing & Rehab Center | Clarksburg, WV 26301 |
| Dunbar Care & Rehab Center | Dunbar, WV 25064 |
| Nellas Nursing Home | Elkins, WV 26241 |
| Elkins Rehabilitation & Care Center | Elkins, WV 26241 |
| Lincoln Nursing And Rehabilitation Center | Hamlin, WV 25523 |
| Cabell Huntington Hospital | Huntington, WV 25701 |
| Logan Center | Logan, WV 25601 |
| Mound View Health Care, Inc. | Moundsville, WV 26041 |
| New Martinsville Care & Rehab | New Martinsville, WV 26155 |
| Princeton Health Care Center | Princeton, WV 24740 |
| Eldercare Health and Rehabilitation | Ripley, WV 25271 |
| Roane General Hospital | Spencer, WV 25276-1060 |
| Braxton Health Care Center | Sutton, WV 26601 |
| Weirton Medical Center | Weirton, WV 26062 |
| Trinity HealthcareServices of Mingo | Williamson, WV 25661 |
Salary
Nurses in West Virginia earn approximately $28334 per year.
The yearly salary depends on formal education level, licenses, experiences, and other demographic factors such as the city.
Annual Salary Range:
Annual Salary by Location:
| Location | Avg. Annual Salary |
| --- | --- |
| Charleston | $29,130 |
| Huntington | $28,245 |
| Parkersburg | $28,398 |
| Wheeling | $31,308 |
| Morgantown | $31,308 |
| Weirton | $31,196 |
| Fairmont | $31,308 |
| Beckley | $28,875 |
| Clarksburg | $28,142 |
| Martinsburg | $35,232 |
CNA Classes by State
---