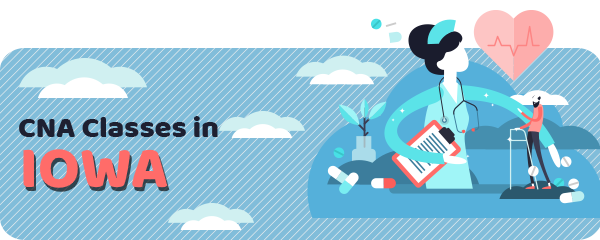 If you want to become a Certified Nursing Assistant (CNA) in Iowa, you will need to complete training and to pass the exam.
Candidates in Iowa will have their background checked upon employment.
Keep reading to find out more about the CNA program in Iowa.
Training Requirements
People who live in Iowa will have to sign up for and complete an official nurse aide training program.
Approved programs last at least 75 hours with 30 hours of practical clinical training.
If you have completed nursing training programs in another state that meets all federal requirements you can be eligible to take the test without completing the course.
In Iowa, RN and LPN licensed workers can be on the registry without the course as well.
Final Test
In Iowa candidates have to pass two tests – one if skill-related and the other one is knowledge check.
During the skills demonstration part, you will have to perform  the actual duties of nursing assistants.
Knowledge can be taken in written or oral form.
Iowa offers several locations across the state, where you can take the test and schedule for the next available date.
Further information about the test can be found on the websites of official institutions cush as a Direct Care Worker.
Candidates have three attempts and a deadline to pass the test.
Those who fail will have to take the training course again.
The test fee is $50 for the knowledge test and $85 for the skills demonstration.
Application
Before you start with the procedure, check the Direct Care Worker  Home Page to find out all requirements.
You can find all the application materials on the same website.
Also, have in mind that you will have to provide documentation.
The list of required documentation depends on your eligibility route and isn't the same for all candidates.
Some may be asked to provide copies of out-of-state certificates, copy of the nursing school diploma, verification of past certificates, etc.
The Iowa CareGiver Association has online databases that can be helpful for your application.
If you succeed, you won't receive your registry card in the mail, like in the past.
Candidates who succeed must perform nursing activities for at least one 8-hour shift every two years to maintain their status.
Schools
In Iowa, institutions need more CNAs across the entire state.
The nursing profession is rewarding, but also very challenging.
Before you check the list of all free training programs in Iowa, make sure to understand all aspects of this profession.
| School Name | Address |
| --- | --- |
| Friendship Home | Audubon, IA 50025 |
| Kirkwood Community College | Cedar Rapids, IA 52404 |
| Nursing Home & West Winds Villa | Clarence, IA 52216 |
| Iowa Western Community College | Council Bluffs, IA 51503 |
| Eastern Iowa Community College | Davenport, IA 52801 |
| Denison Job Corps Center | Denison, IA 51442 |
| Nelson Manor | East Newton, IA 50208 |
| Fort Madison Health Center | Fort Madison, IA 52627 |
| Franklin General Hospital | Hampton, IA 50441 |
| Westview Acres Care Center | Leon, IA 50144 |
| Monticello Nursing and Rehabilitation Center | Monticello, IA 52310 |
| Montrose Health Center, Inc. | Montrose, IA 52639 |
| Ottumwa Job Corps Center | Ottumwa, IA 52501 |
| Fountain West Health Center | West Des Moines, IA 50265 |
| Wheatland Manor Care Facility | Wheatland, IA 52777 |
Salary
In Iowa, a CNA makes $30548 per year averagely.
But, bear in mind that a salary is calculated with several different factors – education level, professional experience, skills, certifications, location, etc.
Annual Salary Range:
Annual Salary by Location:
| Location | Avg. Annual Salary |
| --- | --- |
| Des Moines | $30,880 |
| Cedar Rapids | $30,287 |
| Davenport | $30,149 |
| Sioux City | $26,558 |
| Waterloo | $28,857 |
| Iowa City | $30,038 |
| Council Bluffs | $30,179 |
| Dubuque | $29,930 |
| Ames | $30,593 |
| West Des Moines | $30,880 |
CNA Classes by State
---