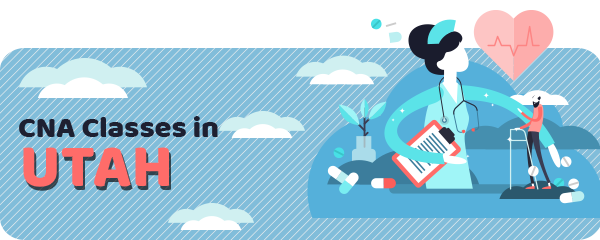 If you want to become a Certified Nursing Assistant in Utah, there are a few things you should now.
First of all, you have to take a training course and after you complete it, you need to pass the examination exam.
The state's Nursing Assistant Registry (UNAR) regulates the field of nursing in Utah.
Training Requirements
The first step is to pick the nursing program.
Choose only programs that are approved by the state.
You can find the complete lists of appropriate programs with more information on the Nursing Assistant Registry website.
The minimal duration of each program is 80 hours.
However, if you have an expired license, you can take the test without attending the course.
You will have only one attempt and if you fail, you will have to take the program from the beginning.
Nursing students are also allowed to take the test in Utah.
Final Test
Utah has its own CNA test, unlike other states.
Similar to other CNA tests, the Utah test consists of theoretical tests
and skills demonstration.
The knowledge test is taken on the computer.
You will listen to the audio samples on the headphones and then pick one of the answers.
The skills demonstration part will require you to perform all crucial nursing activities.
If you successfully pass all the steps, then you will get your license.
Candidates who fail the first time, can retake the test after a certain time with a few attempts.
Those who are unsuccessful must take the course again.
After you complete the course, you one year to pass the test in Utah.
The final test fee is $75 in Utah.
Application
Candidates in state-approved programs will be guided through the application process by their mentors.
Those who are eligible to take the test without the course can find all necessary information on the Nursing Assistant Registry website.
You will have to submit documentation as well.
The list of required documentation can be found on the same website.
It can include copies of previous CNA certificates, copies of nursing school diploma and other licenses, recommendation letters, etc.
Schools
The nursing profession is rewarding, but also challenging for many people.
Before you sign for any of the programs, make sure that you are completely aware of all the positive and negative aspects of the profession.
You can find the list of approved programs in Utah here.
| School Name | Address |
| --- | --- |
| Life Care Center of Bountiful | Bountiful, UT 84010 |
| Thatcher Brook Rehabilitation and Care Center | Clearfield, UT 84015 |
| Draper Rehabilitation and Care Center | Draper, UT 84020 |
| Highland Care Center | Holladay, UT 84124 |
| Copper Ridge Health Care | Jordan, UT 84088 |
| ccCNA | Midvale, UT 84047 |
| Pinnacle Nursing and Rehabilitation | NorthPrice, UT 84501 |
| Mt. Ogden Health and Rehab Center | Ogden, UT 84405 |
| Iron County Nursing Home | Parowan, UT 84761 |
| Legacy Village of Taylorsville | Taylorsville, UT 84129 |
| Hurricane Health and Rehabilitation | Hurricane, UT 84737 |
| Parkdale Health & Rehab | NorthPrice, UT 84501 |
| Logan Nursing and Rehabilitation Center | Logan, UT 84341-7525 |
| Arlington Hills Healthcare Center | Salt Lake City, UT 84102 |
| Clearfield Job Corps Center | Clearfield, UT 84016-0070 |
| Four Corners Regional Care Center | West Blanding, UT 84511 |
Salary
There are many factors that affect the nursing salary in every state.
Those include formal education, experience, license, but also location.
An average salary in Utah is $30299 per year.
Annual Salary Range:
Annual Salary by Location:
| Location | Avg. Annual Salary |
| --- | --- |
| Salt Lake City | $29,155 |
| Provo | $28,087 |
| Sandy | $29,075 |
| Orem | $28,087 |
| Ogden | $28,422 |
| West Jordan | $29,049 |
| Layton | $28,315 |
| St. George | $31,339 |
| South Jordan | $29,022 |
| Lehi | $27,954 |
CNA Classes by State
---