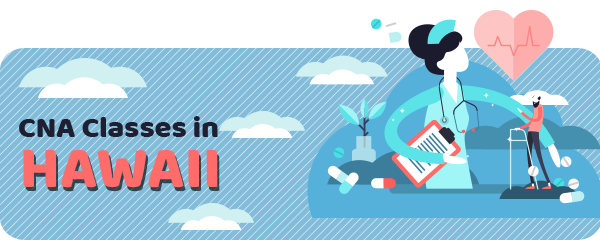 In Hawaii, you have to finish the official nurse training and pass the exam to become a Certified Nurse Aide (CNA).
The Department of Commerce and Consumer Affairs maintains the CNA program in Hawaii.
Keep reading to learn what it takes to become a CNA!
Training Requirements
Hawaii citizens must enroll and complete any of the state-approved training programs.
You can find more information about programs and duration on the Prometric website.
The final exam is the step after the training completion.
However, if a person completes an equivalent program who meets the federal requirement in another state, he or she can sign up for the final exam without going to the course in Hawaii.
Final Test
To become a CNA in Hawaii, you have to pass the Nurse Aide Competency Exam (NACE).
Similar to the tests in other states, the NACE test has two parts.
The first part is s knowledge test and you can pick how to take it – written or oral.
The second, skills demonstration part, it is expected for the candidate to interact with resident actors, to assist the patient.
Some of the skills which will be evaluated are hand hygiene, indirect care, and some of the other randomly selected skills.
Those can be helping people to walk, putting a patient in the bead, taking and recording breathing measurements, etc.
In Hawaii, there are six regional testing centers and you can choose your preferred location.
After that, you will get a testing date.
The Prometric website is in charge of all useful information and learning materials.
You can take the test three times in two years.
If you fail, you can take only the unsuccessful part again.
The fees are different, but the initial test fee is $200 or $210.
If you have to take the skills test again, it will cost you $150 and if you need to retake the knowledge test, it is $50 for written form and $60 for oral test.
Application
To check if you meet all requirements to apply for the final test, you can consult the Prometric website.
Also, make sure to study all learning materials and useful information you can find there.
Candidates have to submit supporting documents, but the documents list depends on their eligibility route.
The list may include a nursing school diploma, copies of previous and out-of-state certifications, instructors' signature on the application form, etc.
Schools
Hawaii needs more CNA each year.
It is why more training programs are updating to meet federal standards.
Check the list of all free training courses for CNA in Hawaii.
| School Name | Address |
| --- | --- |
| Health Care School of Hawaii | Aiea, HI 96701 |
| Hale Anuenue Restorative Care Center | Hilo, HI 96720 |
| The Queen's Medical Center | Honolulu, HI 96813 |
| Hawaii State Chapter | Honolulu, HI 96816 |
| Kapiolani Community College | Honolulu, HI 96816 |
| CareGiver Training School Corporation | Honolulu, HI 96817 |
| Professional Healthcare Educators | Honolulu, HI 96817 |
| St. Francis Healthcare System of Hawaii | Honolulu, HI 96817 |
| The Care Center of Honolulu | Honolulu, HI 96817 |
| St. Francis Healthcare System of Hawaii | Honolulu, HI 96817 |
| Healthcare Training – Career Consultants, Inc. | Honolulu, HI 96819 |
| Arcadia Family of Companies | Honolulu, HI 96822-4754 |
| Oahu Care Facility | Honolulu, HI 96826 |
| Hale Ola Kino- The Health Center at One Kalakaua | Honolulu, HI 96826-9951 |
| Kahuku Medical Center | Kahuku, HI 96731 |
| Castle Medical Center | Kailua, HI 96734 |
| Aloha Nursing & Rehab Centre | Kaneohe, HI 96744 |
| Windward Community College | Kaneohe, HI 96744 |
| Mahelona Medical Center | Kapaa, Kauai, HI 96746 |
| Kohala Hospital | Kapaau, HI 96755 |
| Kona Community Hospital | Kealakekua, HI 96750 |
| Wilcox Medical Center | Lihue, HI 96766 |
| Maui Job Corps Center | Makawao, HI 96768 |
| Ka'u Hospital | Pahala, HI 96777 |
| Leeward Community College | Pearl City, HI 96782 |
| Pearl City Nursing Home | Pearl City, HI 96782 |
| Advanced Care Training School | Wahiawa, HI 96786 |
| Hale Makua Wailuku | Wailuku, HI 96793 |
| Hawaii Job Corps Center | Waimanalo, HI 96795 |
| Kauai Care Center | Waimea, HI 96796 |
| West Kauai Medical Center | Waimea, Kauai, HI 96796 |
Salary
A nurse in Hawaii can earn averagely $33492 per year.
The salary of a nurse depends on education, experience, skills, certificates but also the location.
Annual Salary Range:
Annual Salary by Location:
| Location | Avg. Annual Salary |
| --- | --- |
| Honolulu | $33,281 |
| Hilo | $33,057 |
| Kailua | $33,281 |
| Kaneohe | $33,281 |
| Waipahu | $33,266 |
| Pearl City | $33,281 |
| Mililani | $31,875 |
| Kahului | $31,718 |
| Kihei | $31,718 |
| Wahiawa | $31,832 |
CNA Classes by State
---