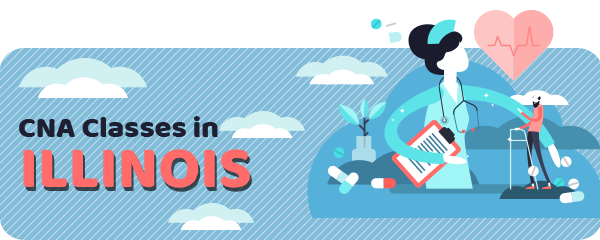 If you want to know how to get the certificate in nurse aide in Illinois, keep reading to find all everything about steps and requirements.
The basic procedure consists of completing the official training program and passing the final test.
Training Requirements
Residents of Illinois should complete official nursing training programs approved by the state to become suitable candidates for the certificate.
You can find the complete list of approved programs on the website of the Department of Public Health.
Each approved program have at least 80 hours of theoretical classes and 40 hours of clinical training.
People who completed similar programs in other states can be eligible to take the exam, but only if their programs meet all federal standards.
Also, not everyone in Illinois needs to go to the official course to the certificate.
Military nursing assistants can take the test without course, as well as nursing students with at least 40 hours of clinical praxis.
You can address any questions to the Health Care Worker Registry to check your eligibility.
Final Test
In Illinois, SIU-C administers the final test – Nurse Aide Competency Exam.
You can pick one of the available locations across the state where you want to take the test.
The next step is to get your testing date.
Official websites have plenty of learning materials and sample tests for you to practice.
Candidates can retake the test in limited time if they fail the first time.
In that case, retaking will cost you $35, while the first examination fee is $65.
Application
Before you start a procedure, make sure that you need all requirements.
For example, nurses have to clear a criminal background check.
The application materials and forms are available on the website of the Department of Public Health.
Pay attention to the forms, because the application forms are different for military personnel, students, out-of-state nurses, etc.
All candidates will be asked to submit some documentation.
It can include a nursing school diploma, a copy of expired certificates, an instruction signature on the application, etc.
However, Illinois doesn't issue licenses.
Schools
In Illinois, there is a need for more CNA across the state.
Luckily, there are enough training programs for this challenging and rewarding profession.
If you are ambitious, you can continue your medical education and explore other possibilities in medicine.
Check the list of free CNA training courses in the state of Illinois.
| School Name | Address |
| --- | --- |
| Care Center of Abingdon | Abingdon, IL 61410 |
| Paul Simon Chicago Job Corps Center | Chicago, IL 60623 |
| Norwood Crossing | Chicago, IL 60631 |
| TTI Medical Program | Chicago, IL 60656 |
| Adult Education and Program Centre | Forsyth, IL 62523 |
| Joliet Job Corps Center | Joliet, IL 60433 |
| Hamilton Memorial Hospital District | McLeansboro, IL 62859 |
| Momence Meadows Nursing & Rehabilitation Center | Momence, IL 60108 |
| Oaklawn Respiratory & Rehabilitation Center | Oak Lawn, IL 60453 |
| LaSalle County | Ottawa, IL 61350-1047 |
| Whitehall of Deerfield Healthcare Center | RoadDeerfield, IL 60015 |
| Lemont Nursing and Rehabilitation Center | RoadLemont, IL 60439 |
| International Program Academy | Schaumburg, IL 60173 |
| Alden North Shore | Skokie IL 60077 |
| Evenglow Lodge | Street Pontiac, IL 61764 |
| Capitol HealthCare and Rehabilitation Centre | Street Springfi­eld, IL 62702 |
Salary
Nurses in Illinois can make averagely  $32783 per year.
Their salary depends on their education, experience, skills, certificates, cities, etc.
Annual Salary Range:
Annual Salary by Location:
| Location | Avg. Annual Salary |
| --- | --- |
| Chicago | $33,836 |
| Rockford | $31,599 |
| Aurora | $33,537 |
| Naperville | $33,152 |
| Peoria | $30,833 |
| Springfield | $29,463 |
| Joliet | $32,879 |
| Elgin | $33,291 |
| Waukegan | $31,910 |
| Cicero | $33,836 |
CNA Classes by State
---