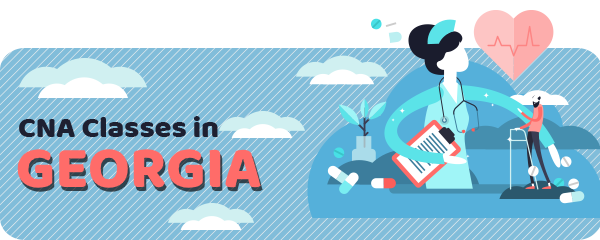 If you have wanted to become a Certified Nurse Aide (CNA) and you live in Georgia, there is a procedure you have to fulfill.
The first step is nursing training and the next one is passing the exam.
However, in Georgia, some facilities will ask for a criminal background check before they offer you a job.
Training Requirements
Georgia citizens must complete an official nurse training program to become eligible for the certification in nurse aide.
The information about suitable programs is available on the  Georgia Medicaid Management Information System website.
You can find the complete list of approved-programs and their curriculums.
The programs focus on six areas – respecting patient rights, infection control, etc.
In Georgia, if you are a student you can be in contact with patients under supervision after only 16 hours of training.
Nurses who finished the programs in other states can be eligible to take the test if the program meets all federal requirements.
Also, Registered nurses and Licensed Practical Nurses can take the test without attending a course.
Final Test
In Georgia, the final test is NNAAP – the National Nurse Aide Assessment Program test.
The NNAAP test has two parts – theoretical and practical skills tests.
You can pick the format in which you can take the knowledge test – written or oral.
The written test is available in English, while candidates who prefer oral examination can choose English or Spanish oral test.
The skills test will consist of interaction with resident actors, so you will have to assist the patients and perform key nursing assistant duties.
Georgia has several testing locations available across the state, and you can schedule for the next available testing date as well.
You can find more information on the Pearson VUE website, including a description of CNA skills in Spanish.
Candidates have three attempts to pass the test.
IF the fail, they can retake only the failed part again.
The complete test fee is $122.
If you have to retake skills test it is $85, while the knowledge test costs $27.
Application
Before you start a procedure, check the Pearson VUE website to find out if you meet all the requirements.
You can find all the application forms and materials on the same website.
Usually, candidates are asked to provide some documentation.
It is different for candidates, based on their eligibility route.
However, some people are asked to provide recommendation letters, copies of previous certificates, verification of out-of-state CNA, expired licenses, instructors' signature on the application, etc.
Schools
In the future, we will need more and more CNAs.
Therefore it is a growing profession, but also a challenging one.
Check the list of all free official nurse training programs in Georgia.
| School Name | Address |
| --- | --- |
| Flint River Chapter | Americus, GA 31709 |
| Magnolia Manor | Americus, Georgia 31709 |
| East Georgia Chapter | Athens, GA 30601 |
| Metropolitan Atlanta Chapter | Atlanta, GA 30324 |
| Covenant CNA School | Atlanta, GA 30303 |
| Murray Career Institute | Atlanta, GA 30303 |
| Westminster Commons | Atlanta, GA 30308 |
| A.G. Rhodes Home Wesley Woods | Atlanta, GA 30329 |
| Augusta Chapter | Augusta, GA 30901 |
| Tender Care Training School | Augusta, GA – 30904 |
| Park Springs | CircleStone Mountain, GA 30087 |
| First Step Health Agency | Columbus, GA 31906 |
| West Central Georgia Chapter | Columbus, GA 31904 |
| Afria Medical Institute, Inc. | Decatur, GA-30035 |
| American Red CrossFort Stewart | Fort Stewart, GA 31315 |
| Northeast Georgia Chapter | Gainesville, GA 30501 |
| American Red Cross | Gordon, GA 30905 |
| Altamaha Technical College | Hazlehurst, GA 31539 |
| Georgia Three Rivers Chapter | Lagrange, GA 30240 |
| West Georgia Technical College | LaGrange, GA 30240 |
| Life Care Center of Gwinnett | Lawrenceville, GA 30044 |
| COBB Medical Institute | Mableton, GA 30126 |
| American Red Cross of Central Georgia | Macon, GA 31201 |
| A.G. Rhodes HOME, INC – COBB | Marietta, GA 30067 |
| Park Place Nursing & Rehab Facility | Monroe, GA 30656 |
| Village Samaritan Program Institute | Newnan, GA 30265 |
| Bell Minor | Northeast,Gainesville, GA 30507 |
| Grace Healthcare of Tucker | RoadTucker, GA 30084 |
| Northwest Georgia Chapter | Rome, GA 30165 |
| NHC Healthcare, Rossville | Rossville, GA 30741 |
| Southeast Georgia Chapter | Savannah, GA 31405 |
| Dominion Health Care Solutions | Savannah, GA 31406 |
| Pinewood Manor & Pinewood Retirement Villa | StreetHawkinsville, GA 31036 |
| Emanuel County Nursing Home | Swainsboro, GA 30401 |
| South Georgia Chapter | Valdosta, GA 31601 |
| Southeastern Technical College | Vidalia, GA 30474 |
| Southeastern Technical College | Vidalia, GA 30474 |
| Warm Springs Medical Center Nursing Home | Warm Springs, GA 31830 |
Salary
The nurse salary in Georgia depends on several factors such as education level, professional experience, institution, additional skills, and the location where the nurse does its job.
The average nurse salary per year in Georgia is $30884.
Annual Salary Range:
Annual Salary by Location:
| Location | Avg. Annual Salary |
| --- | --- |
| Atlanta | $31,576 |
| Augusta | $29,679 |
| Columbus | $28,839 |
| Savannah | $29,839 |
| Athens | $31,352 |
| Macon | $29,651 |
| Roswell | $31,457 |
| Albany | $29,342 |
| Marietta | $30,210 |
| Warner Robins | $28,363 |
CNA Classes by State
---