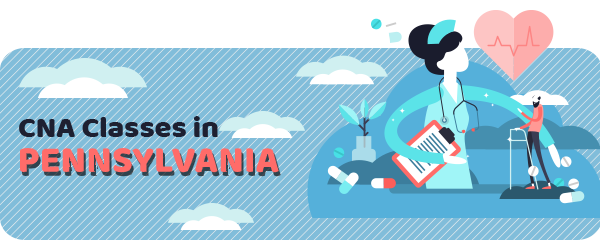 If you want to learn how to become a Certified Nurse Aide in Pennsylvania, keep reading to find more useful information and all the steps.
You will have to complete a training program, pass the final exam, and the criminal background check.
The nursing program in Pennsylvania is under the jurisdiction of Pearson VUE.
Training Requirements
Aspiring nurses in Pennsylvania have to sign up for the training program approved by the state.
You can find all about approved programs on the website of the Department of Education, including the updated list and duration.
The minimal duration of each program is 80 hours.
However, not everyone needs to take the program to be able to take the CNA test.
Nursing students and recently graduated nurses can take the test without attending the coarse.
In Pennsylvania, you need to be at least 16 years old to sign for the CNA.
Final Test
If you want to earn a certificate in the state of Pennsylvania, you will have to take the NNAAP test – National Nursing Aide Assessment Program.
The NNAAP test consists of two parts – the knowledge test and the skills demonstration check.
You will be asked to demonstrate all key nursing activities to be able to continue with the test.
Knowledge tests can be taken in either an oral or written format.
You can find all the necessary information and learning materials on the Pearson VUE website.
Candidates are allowed to take the exam a few times at a certain time.
If you by any chance fail to complete the test at a suitable time, you will have to take the course again.
The fee in Pennsylvania for the test is $102.
Application
Candidates enrolled in the state-approved program can rely on their instructors to take care of all necessary procedures.
Other candidates can consult the Pearson VUE website to find all information, including forms and required documentation.
You can also request access from the American Red Cross.
As for documentation, it will vary for different candidates, because of different eligibility route.
You might have to submit a copy of the nursing school diploma, copies of out-of-state certificates, past CNA certificates, recommendation letters from nursing school, etc.
In Pennsylvania aspiring nurses must pass the fingerprint-based criminal background checks.
Schools
The growing need for nurses determines the number of available training programs across the state.
However, before you start a training program, please consider all benefits and drawbacks of the stressful nursing profession.
If you are still up to it, check the list of available state-approved schools in Pennsylvania.
| School Name | Address |
| --- | --- |
| Altoona Center for Nursing Care | Altoona, PA 16601 |
| Centre Crest Home | Bellefonte, PA 16823-2128 |
| Harmar Village Care Center | Cheswick, PA 15024 |
| Grandview Nursing & Rehabilitation | Danville, PA 17821 |
| Keystone Job Corps Center | Drums, PA 18222-2410 |
| Edinboro Manor | Edinboro, PA 16412 |
| Saint Mary's Home of Erie | Erie, PA 16504 |
| The Village of Laurel Run | Fayetteville, PA 17222 |
| The Caring Place Nursing | Franklin, PA 16323 |
| Malta Home Retirement Community | Granville, PA 17029 |
| Redstone Highlands Communities | Greensburg, PA 15601 |
| Homewood Retirement Center | Hanover, PA 17331 |
| Nugent's CCRC, Memory Support Center | Hermitage, PA 16148 |
| Arbutus Park Retirement Community | Johnstown, PA 15904 |
| Attleboro Community | Langhorne, PA 19047 |
| Cedar Haven Healthcare Center | Lebanon, PA 17042-9154 |
| Landis Homes Retirement Community | Lititz, PA 17543-9206 |
| Homewood Retirement Center | Martinsburg, PA 16662 |
| Fox Subacute at Mechanicsburg | Mechanicsburg, PA 17055 |
| Belle Reve Senior Living | Milford, PA 18337 |
| Valley View Nursing Center | Montoursville, PA 17754 |
| Avalon Nursing Center | New Castle, PA 16101 |
| Garden Spot Village | New Holland, PA 17557 |
| Ware Presbyterian Village | Oxford, PA 19363 |
| Philadelphia Job Corps Center | Philadelphia, PA 19145-5001 |
| The Angela Jane Pavilion | Philadelphia, PA 19152 |
| Windy Hill Village | Philipsburg, PA 16866 |
| Spring Mill Senior Living | Phoenixville, PA 19460 |
| Canterbury Place | Pittsburgh, PA 15201 |
| Pittsburgh Job Corps Center | Pittsburgh, PA 15206 |
| Harlee Manor | Springfield, PA 19064 |
| Sunbury Community Hospital | Sunbury, PA 17801 |
| Hometown Nursing & Rehabilitation Center | Tamaqua, PA 18252 |
| Fellowship Community | Whitehall, PA 18052 |
| Saunders House | Wynnewood, PA 19096 |
Salary
Nurses in Pennsylvania can make the average yearly salary of $31916.
Factors such as experience, education level, location, and additional certificates and licenses determine the salary.
Annual Salary Range:
Annual Salary by Location:
| Location | Avg. Annual Salary |
| --- | --- |
| Philadelphia | $34,353 |
| Pittsburgh | $31,500 |
| Allentown | $31,884 |
| Erie | $29,540 |
| Upper Darby | $34,353 |
| Reading | $31,721 |
| Scranton | $29,517 |
| Bethlehem | $31,884 |
| Bensalem | $36,116 |
| Lancaster | $31,331 |
CNA Classes by State
---