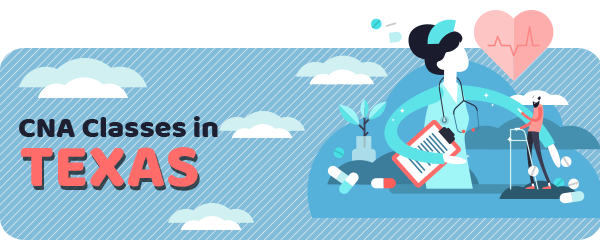 Becoming a Certified Nurse Aide (CNA) in Texas means taking a course and passing the final exam.
In Texas, the CNAs are in the state's Department of Aging and Disability Services jurisdiction.
To find out more about the program, the test, and other useful information about CNAs in Texas, keep reading.
Training Requirements
Those who want to get a certification in Nurse Aide, the first step is picking the training program.
The suitable programs are approved by the state and last for a minimum of 100 hours.
The Department of Aging and Disability Services has the current updated list of suitable programs, state wise.
However, not everyone needs to take the course.
The nurses who had completed the course in other states which lasted at least 100 hours might be able to take the test.
Also, LPN and RN who had completed military aide training are eligible to take the CNA test in Texas.
Final Test
The test you have to pass is the NNAAP test or the National Nurse Aide Assessment Program.
There are two components of the test – knowledge, and skills check.
To pass the skills check, you will have to properly demonstrate all key nursing duties.
You can pick how to take the knowledge test – in written or oral form.
Candidates must pass both parts to get the certificate.
Those who fail, can retake the test after a certain time and will have a few attempts.
If they fail again, they must take the course again.
You can consult the Pearson VUE website to find appropriate handbooks and guidelines.
The test fee in Texas is $70 for the skills test and $25 for the knowledge test.
Application
Candidates enrolled in the state-approved program can get all required information related to the application from their program mentors.
Nurse students and others who don't have to take the course can find all necessary information on the Department of Aging and Disability Services or the Pearson VUE website.
That way, you can learn what documents you have to provide upon application which will depend on your eligibility route.
The required documentation may include a letter of recommendation from nursing school, copies of diplomas and certificates, expired of out-of-state, etc.
Schools
Working as a nurse is rewarding on so many levels, but can be stressful as well.
Before you apply for a CNA program, make sure to consider the pros and cons of the nursing profession.
Here is the list of all nursing programs approved by the state of Texas.
| School Name | Address |
| --- | --- |
| The Legacy Campus | Bay City, TX 77414 |
| St. James House | Baytown, TX 77520-1694 |
| Beaumont Healthcare Center | Beaumont, TX 77707 |
| Winnie L. Nursing & Rehabilitation | Cameron, TX 76520 |
| Alameda Oaks Nursing Center | Corpus Christi, TX 78404 |
| Hill Country Care Healthcare and Rehabilitation | Dripping Springs, TX 78620 |
| Providence Memorial Hospital | El Paso, TX 79902 |
| David L. Carrasco Job Corps Center | El Paso, TX 79935 |
| Franklin Nursing Home | Franklin, TX 77856 |
| Friendship Haven Healthcare and Rehabilitation Center | Friendswood, TX 77546 |
| Georgetown Nursing & Rehabilitation Center | Georgetown, TX 78626 |
| Afton Oaks Healthcare and Rehab Center | Houston, TX 77087 |
| Lampasas Nursing and Rehab Center | Lampasas, TX 76550 |
| Laredo Job Corp Center | Laredo, TX 78041 |
| Castle Pines Health And Rehabilitation | Lufkin, TX 76902 |
| North Texas Job Corp Center | McKinney, TX 75069 |
| Mission Nursing & Rehabilitation Center | Mission, TX 78572 |
| Cartmell Home | Palestine, TX 75801 |
| Hearthstone Health Center | Round Rock, TX 78681 |
| Alamo Heights Health and Rehabilitation Center | San Antonio, TX 78209 |
| Hays Nursing & Rehab Center | San Marcos, TX 78666 |
| Gary Job Corp Center | San Marcos, TX 78667 |
| Nesbit Living & Recovery Center | Seguin, TX 78155 |
| Silsbee Oaks Health Care, L.L.P. | Silsbee, TX 77656 |
| Uvalde Health Care & Rehabilitation Center | Uvalde, TX 78801 |
| Citizens Medical Center | Victoria, TX 77901 |
| Twin Pines Nursing & Rehabilitation Center | Victoria, TX 77904 |
| Whitesboro Health & Rehabilitation Center | Whitesboro, TX 76273 |
| Dogwood Trails Manor | Woodville, TX 75979 |
| Yorktown Nursing and Rehab Center | Yorktown, TX 78164 |
Salary
There are some factors that can determine the nurse's salary.
Those are location, experience, education, certificates, etc.
Texas nurses make approximately $31403 per year.
Annual Salary Range:
Annual Salary by Location:
| Location | Avg. Annual Salary |
| --- | --- |
| Houston | $32,779 |
| Dallas | $31,671 |
| San Antonio | $31,097 |
| Austin | $31,452 |
| El Paso | $27,972 |
| Fort Worth | $31,161 |
| Arlington | $31,110 |
| Corpus Christi | $29,658 |
| Plano | $31,535 |
| Garland | $31,603 |
CNA Classes by State
---