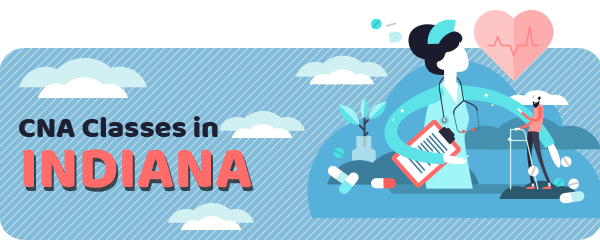 Indiana State Department of Health (ISDH) regulates all procedures related to the Certified Nursing Aide (CNA) program.
If you want to earn the nursing aide certificate in this state, you will have to complete an official training program and pass the final exam.
Keep reading to find out more information about steps and requirements.
Training Requirements
Everyone who lives in Indiana must complete the state-approved course to become eligible for the license.
The official website of the Indiana State Department of Health has the list of all official programs you can attend.
The program must have at least 30 hours of classroom education and at least 75 hours of practical training.
Nurses who completed the program in another state which meets all federal requirements can be eligible to take the final test without completing the training.
Also, graduate nurses and nursing students can also take the Certified Nursing Aide test without training.
Final Test
In Indiana, aspiring CNAs should pass the state's Nurse Aide Competency Exam.
Ivy Tech Community College administers the official exam.
The exam has practical skills and theoretical part.
You have to demonstrate key nursing assistant duties and have success on the knowledge test.
The knowledge test is in written form, but candidates with a diagnosed learning disability, literacy difficulty or visual impairment can take it in oral form.
In Indiana, there are plenty of testing locations across the state, and you can choose the preferred location and schedule your testing date.
You can find more information on the Ivy Tech website including learning materials, practice questions, etc.
Candidates who fail, have another attempt and limited time in which they must succeed.
The test fee in Indiana is $75, but candidates who need to retake only one part of the test have to pay $65.
Application 
Before you apply, make sure to check all the requirements and fill in the application forms.
You can find all materials on the Ivy Tech website.
Some candidates will be asked to provide documents.
The list of required documentation depends on your training, alternative training, etc.
The list may include the recommendation letters, copies of past, expired and out-of-state CNA certificates, additional licenses,  nursing diplomas, etc.
When you gather all materials, send them to CNA Testing'.
After you pass the exam, the process of getting your license can take up to ten weeks.
Schools
In Indiana, there is a high demand for nurses.
The nursing profession is rewarding but stressful and challenging.
Therefore, before you sign up for the program, make sure to understand all aspects of the nursing aide profession.
Check the list of free CNA training programs in the state of Indiana.
| School Name | Address |
| --- | --- |
| Dyer Nursing And Rehabilitation Centre | AvenueDyer, IN 46311 |
| Bluffton Regional Medical Center | Bluffton, IN 46714 |
| Atterbury Job Corps Center | Edinburgh, IN 46124 |
| Evansville Protestant Home | Evansville, IN 47714 |
| Kingston Healthcare Company | Fort Wayne, IN 46825 |
| Indy Pendence Job Corps Center | Indianapolis, IN 46204 |
| Miller's Merry Manor | Indianapolis, IN 46218 |
| Kindred Transitional Care and Rehabilitation – Eagle Creek | Indianapolis, IN 46254-2608 |
| Wabash Centers Employ Abilities | Lafayette, IN 47903 |
| Dearborn County Hospital | Lawrenceburg, IN 47025 |
| Munster Med-Inn Skilled Nursing and Rehabilitation | Munster, IN 46321 |
| Lincoln Hills Health Center | New Albany, IN 47150 |
| Persimmon Ridge Rehabilitation Centre | Portland, IN 47371 |
| Mulberry Health & Retirement Community | Street Mulberry, IN 46058 |
| Dukes Memorial Hospital | Street Peru, IN 46970 |
| The Ivy Tech Community College | Terre Haute IN |
| Westminster Village | Terre Haute, IN 47802 |
| Life Care Center of The Willows | Valparaiso, IN 46383 |
| Lodge of the Wabash Healthcare Facility | Vincennes, IN 47591 |
| Heritage Pointe | Warren, IN 46792-0326 |
Salary
The salary of a nurse is based on various factors – education, experience, licenses, additional skills, location, etc.
On average, a CNA earns $31187 per year in Indiana.
Annual Salary Range:
Annual Salary by Location:
| Location | Avg. Annual Salary |
| --- | --- |
| Indianapolis | $31,182 |
| Fort Wayne | $29,779 |
| Evansville | $30,171 |
| South Bend | $29,840 |
| Gary | $31,793 |
| Hammond | $31,793 |
| Bloomington | $29,404 |
| Muncie | $29,444 |
| Anderson | $29,559 |
| Terre Haute | $29,307 |
CNA Classes by State
---