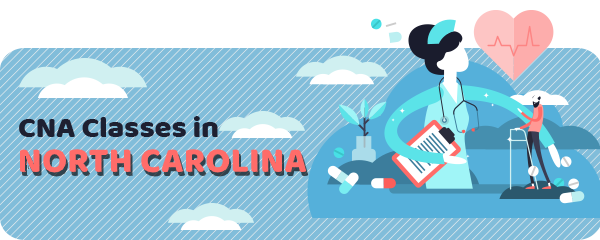 If you want to get a state-approved certificate in North Carolina in nursing aide, keep reading to learn what it takes to accomplish that.
The Department of Health and Human Services award two certificates – Nurse Aide I or a Geriatric Nurse Aide.
Board of Nursing awards the CNAII.
Training Requirements
To earn any of the mentioned certificates, you will have to sign for some of the state-approved training programs.
The Department of Health and Human Services has the list of all information about official training programs.
However, not everyone needs to take the training to become eligible to earn a certificate.
The final step is passing the exam, and nurses who attended some out-of-state CNA training, EMT, or any other healthcare educational program might be eligible to take the final test.
The aspiring geriatric nurses have to complete the state's geriatric aide curriculum.
Final Test
In North Carolina, nurses who want to earn a certificate must pass the NNAAP – National Nursing Aide Assessment Program exam.
The test has two obligatory parts – skills check and theory check.
To pass the skills check, you have to properly fulfill all key nursing activities which may include indirect care behaviors, hand hygiene, etc.
You can choose how to take the theoretical test – in written or in oral form.
There are plenty of testing sites across North Carolina, so you can pick the place which is the most convenient.
The fee for the test is $101.
In case you fail the test, you can retake it a few times.
But if you are still unsuccessful, you will have to take the course again.
Application
In North Carolina, candidates enrolled in official programs will be guided through the application procedure by their instructors.
Other candidates can inform themselves on the Pearson VUE website.
You will probably have to submit some documents, and it varies from your eligibility route.
Some candidates are asked to provide copies of out-of-state and expired certificates, copies of a nursing school diploma, instructor signature on the application form, etc.
Schools
The future labor market indicates raising the need for nurses in North Carolina.
Therefore there are more and more CNA training programs available in the state.
Before you start a training program, make sure that you are aware of the pros and cons of being a nurse.
Check the list of free CNA training options in North Carolina.
| School Name | Address |
| --- | --- |
| The GrayBrier | Trinity, NC 27370 |
| Brookside Rehabilitation & Care | Burnsville, NC 28714 |
| Flesher's Fairview Health & Retirement Center | Fairview, NC 28730 |
| The Laurels of Hendersonville | Hendersonville, NC 28792 |
| Smithfield Manor Nursing and Rehab | Smithfield, NC 27577 |
| Smithfield Manor Inc | Smithfield, NC 27577 |
| Snug Harbor on Nelson Bay | Sea Level, NC 28577 |
| Graybrier Nursing and Retirement Center | Trinity, NC 27370 |
| Golden Years Nursing home | Falcon, NC 28342 |
| Abernethy Laurels | Newton, NC 28658 |
| Carol Woods Retirement Community | Chapel Hill, NC 27514 |
| Conover Nursing and Rehabilitation Center | Conover, NC 28613-9679 |
| Davis Regional Medical Center | Statesville, NC 28625 |
| Alamance Health Care Center | Burlington, NC 27217 |
| Belaire Health Care Center | Gastonia, NC 28052 |
| Lutheran Home, Trinity Oaks | Salisbury, NC 28144 |
| Margate Health and Rehab | Jefferson, NC 28640 |
Salary
In North Carolina, an average yearly nurse's salary is $30509.
The numbers depend on the various factors including education level, professional experience, additional certificates and licenses, location, etc.
Annual Salary Range:
Annual Salary by Location:
| Location | Avg. Annual Salary |
| --- | --- |
| Charlotte | $31,327 |
| Raleigh | $30,681 |
| Greensboro | $30,562 |
| Durham | $30,511 |
| Winston-Salem | $30,637 |
| Fayetteville | $29,345 |
| Cary | $30,681 |
| High Point | $30,745 |
| Wilmington | $29,169 |
| Asheville | $29,377 |
CNA Classes by State
---