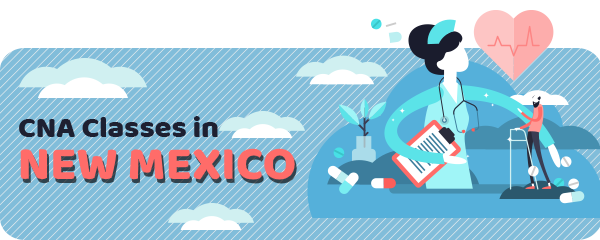 To become a Certified Nurse Aide (CNA) in New Mexico, you will need to complete a few steps.
The state's Department of Health maintains the CNA procedure.
The steps are attending the course and successfully passing the final exam.
Training Requirements
New Mexico residents must take the state-approved training course.
The minimal duration of the course is 75 hours.
You can find a list of state-approved programs on the official websites.
On the other hand, if you are a military nurse, RN or LPN, maybe a graduate nurse, you can be eligible to take the exam.
The training must be recent to become eligible, a maximum of two years old.
Final Test
After you complete the program, you must pass the Nurse Aide Competency Examination.
This examination consists of two parts – the skills check and the knowledge test.
During the skills check, you will need to perform different nursing duties which include three random skills, indirect care behaviors, and handwashing.
As for the knowledge test, it is available in a written or oral format, and in English or in Spanish.
The Prometric website holds all the necessary information about testing policies.
The test fee is $100, and if you pick the oral knowledge test it is $110.
Candidates are allowed to take the test several times until they reach time and attempt limits.
After that, they will have to take the course again.
The retake of skills check is $63, retake for written test is $37
and retake of oral knowledge test is $47.
Application
If you attend an official training program, your instructor will take care of everything related to the application.
Individual candidates or out-of-state aspiring nurses can find all information on the Prometric website where you can apply directly.
You will need to provide some documents.
Those can include a letter of recommendation from nursing school, past and out-of-state licenses, some verifications, instructors' signature, etc.
Schools
New Mexico is one of the states with a growing need for the CNA.
However, before you rush to apply for the program, make sure that you understand the challenges of the nursing profession.
You can find the list of CNAs free program in New Mexico here.
| School Name | Address |
| --- | --- |
| CASA Arena Blanca Nursing Center | Alamogordo, NM 88310 |
| Albuquerque Job Corps Center | Albuquerque, NM 87104 |
| St. Theresa Healthcare and Rehabilitation Center | Albuquerque, NM 87110 |
| St. John Healthcare and Rehabilitation Center | Albuquerque, NM 87112 |
| Ladera Nursing and Rehabilitation Center | Albuquerque, NM 87120 |
| Belen Meadows Healthcare and Rehabilitation Center | Belen, NM 87002 |
| Landsun Homes, INC | Carlsbad, NM 88220 |
| Carlsbad Medical Center | Carlsbad, NM 88220 |
| Clovis Healthcare and Rehabilitation Center | Clovis, NM 88101 |
| Sierra Health Care Center | Consequences, NM 87901 |
| New Mexico State Veteran's Home | Consequences, NM 87901 |
| Mimbres Memorial Hospital and Nursing Home | Deming, NM 88030 |
| Life Care Center of Farmington | Farmington, NM 87401 |
| Lea Regional Medical Center | Hobbs, NM 88240 |
| New Mexico State University | Las Cruces, NM 88003 |
| Vida Encantada Nursing and Rehab | Las Vegas, New Mexico 87701 |
| Retirement Ranch | New Mexico 88101 |
| CASA Maria Health Care Center | Roswell, NM 88203 |
| Silver City Care Center | Silver City, NM 88061 |
| Taos Living Center | Taos, New Mexico 87571 |
| Mesalands Community College | Tucumcari, NM 88401 |
Salary
Salary is based on lots of factors, including professional experience, formal education, education level, skills and certificates, city, etc.
In New Mexico, the average yearly salary of a nurse is $29230.
Annual Salary Range:
Annual Salary by Location:
| Location | Avg. Annual Salary |
| --- | --- |
| Albuquerque | $30,069 |
| Las Cruces | $27,183 |
| Santa Fe | $30,221 |
| Rio Rancho | $29,973 |
| Roswell | $28,046 |
| Farmington | $29,665 |
| Alamogordo | $28,526 |
| Clovis | $28,329 |
| Hobbs | $27,589 |
| Carlsbad | $28,046 |
CNA Classes by State
---