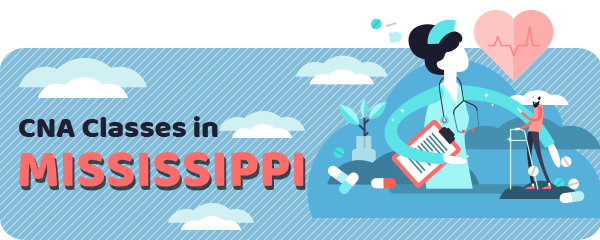 If you want to become a Certified Nurse Aide (CNA) in Mississippi, there are a few things you should know before you start a procedure.
A CNA program in Mississipi is under the jurisdiction of the Mississippi State Department of Health: Bureau of Health Facilities Licensure and Certification.
The official procedure includes a training program competition and a final exam.
Training Requirements
Aspiring nurses in Mississippi must complete an official training program approved by state.
You can find the list of all available and appropriate programs on the website of the state's Department of Health.
But, there are a few exceptions.
Nurse students, graduate nurses, or nurses who had completed the training program in other states can apply for the final exam without attending the course.
Final Test
In Mississippi, Pearson VUE administers the final test.
It is an NNAAP – National Nurse Aide Assessment Program test which has two parts.
The first part is a skills demonstration, and you will have to perform five nursing assistant duties, those can include proper hand hygiene, taking, and recording measurements.
The second part is a knowledge test, which you can take in a written or an oral format.
You can find all the learning material on the Pearson VUE website.
In Mississipi, you can choose a testing location and a date.
Check the website to find the list of available testing sites and dates.
Candidates have three attempts to take and pass the test in limited time.
Those who fail must go to the training course again.
The test costs $101, but if you have to retake skills evaluation, the fee is $69.
Retaking the knowledge test is $32.
Application
Instructors of the candidates involved in the official training courses will take care of the whole application procedure.
Other candidates can check the Pearson VUE website to find out more about their documentation and application forms.
You will probably have to submit appropriate documentation, which depends on your eligibility route.
Some candidates have to submit copies of out-of-state and expired CNA and other certificates, copies of diploma, recommendation letter, to prove the instructor's signature on the application form, etc.
Schools
Certified Nurse Aide programs in Mississippi are developing faster, due to higher demand for CNA in the state.
Nursing assistant profession is rewarding but challenging.
Check the list of free CNA training programs in Mississippi.
| School Name | Address |
| --- | --- |
| Ashland Health and Rehabilitation | Ashland, MS 38603 |
| Finch-Henry Job Corps Center | Batesville, MS 38606 |
| Landmark Nursing & Rehabilitation Center | Booneville, MS 38829 |
| Madison County Nursing Home | Canton, MS 39046 |
| Carthage Health and Rehab Center | Carthage, MS 39051 |
| Mississippi Job Corps Center | Crystal Springs, MS 39059 |
| Grenada Living Center | Grenada, MS 38901 |
| Gulfport Job Corps Center | Gulfport, MS 39501-4311 |
| Care Center of Laurel | Laurel, MS 39440 |
| Highland Home | Ridgeland, MS 39157 |
| Hilltop Manor Inc. | Union, MS 39365 |
Salary
A CNA in Mississippi earns on average $27822 per year.
But, the salaries vary based on the location, education level, professional experience, other skills, and licenses, etc.
Annual Salary Range:
Annual Salary by Location:
| Location | Avg. Annual Salary |
| --- | --- |
| Jackson | $28,600 |
| Gulfport | $28,120 |
| Biloxi | $28,344 |
| Hattiesburg | $27,944 |
| Greenville | $28,430 |
| Meridian | $28,339 |
| Tupelo | $26,978 |
| Southaven | $29,591 |
| Vicksburg | $28,313 |
| Pascagoula | $28,117 |
CNA Classes by State
---