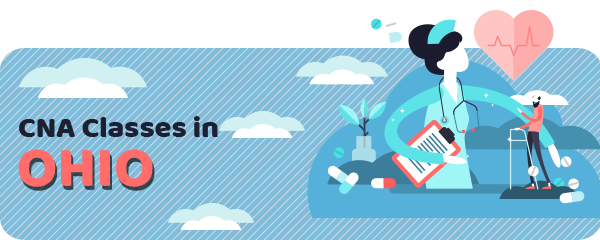 Ohio Department of Health regulates the nursing registry and administers the procedure to become a State Tested Nurse Aide (STNA).
The aspiring nurses will have to attend the official nursing training to become eligible to take the final test.
If you want to learn more about the procedure, keep reading.
Training Requirements
In Ohio, people who would like to become an STNA must take the official state-approved nursing training program.
You can find all about appropriate programs on the Department of Health, including the current list.
The minimal duration of each program is 75 hours.
However, there are a few exceptions in terms of taking the test without completing the training course.
People who have at least one year of experience in healthcare, as well as nursing students, can take the test.
Final Test
The final step towards your certificate is the examination test.
Headmaster/Diversified Technologies administers the test and it includes knowledge and skills competency evaluation.
To pass the skills evaluation, you will have to perform five key nursing duties.
The next step is the knowledge test, which can be taken in both written or oral form and accomplish at least 80% success.
All learning materials and handbooks can be found on the official websites.
In Ohio, there are several testing sites across the state, so you can pick which one suits you the most.
Candidates have a few attempts to pass the test in limited time.
If candidates remain unsuccessful, they will have to take the course once again.
The fee for skills evaluation is $76, written knowledge test costs $24
while oral test costs $34.
Application
If you apply for the state-approved program, your instructor will take care of the application.
On the other hand, the procedure might be different for other candidates, such as graduate nurses.
In that case, you can consult the Headmaster website to find out more useful information and download application forms.
You will also find the required documentation on the website.
For example, some candidates may be asked to submit their copies of the nursing school diploma, other certificates, expired and out-of-state licenses, etc.
Schools
Ohio has plenty of free training options for STNAs.
It is because there is a growing demand for nurses across the states.
Before you start the program, you should be aware of all rewards and disadvantages of the nursing profession.
Find the list of free training courses in Ohio.
| School Name | Address |
| --- | --- |
| Kimes Nursing and Rehabilitation Center | Athens, OH 45701 |
| The Laurels of Blanchester | Blanchester, OH 45107 |
| Bolivar Hennis Care Centre | Bolivar, OH 44612 |
| BrookHaven Retirement Community | Brookville, OH 45309 |
| Altercare of Bucyrus | Bucyrus, OH 44820 |
| Cleveland Job Corps | Cleveland, OH 44110 |
| The Oaks of West Kettering | Dayton, OH 45409 |
| Willow Brook Christian Communities | Delaware, OH 43015 |
| Elmwood Communities | Green Springs, OH 44836 |
| The Laurels of Hilliard | Hilliard, OH 43026 |
| Darby Glenn Nursing and Rehabilitation Center | Hilliard, OH 43026 |
| Gables Care Center | Hopedale, OH 43976 |
| Lincoln Park Manor | Kettering, OH 45429 |
| EnnisCourt Skilled Nursing Care | Lakewood, OH 44107 |
| Windsor Lane Health Care | LaneGibsonburg, OH 43431 |
| Lima Manor | Lima, OH 45801 |
| Marion Manor | Marion, OH 43302 |
| Kingston Healthcare Miamisburg | Miamisburg, OH 45342 |
| Flint Ridge Nursing & Rehabilitation Center | Newark, OH 43055 |
| Kindred Transitional Care and Rehabilitation – Newark | Newark, OH 43055-1808 |
| Echo Manor Nursing and Rehabilitation Center | NW Pickerington, OH 43147 |
| The Gardens of Paulding | Paulding, OH 45879 |
| Arcadia Acres Nursing and Rehabilitation Center | South Logan, OH 43138 |
| Roselawn Manor | Spencerville, OH 45887 |
| Van Wert Manor | Van Wert, OH 45891 |
| Quaker Heights Care Community | Waynesville, OH 45068 |
| Adams County Manor | West Union, OH 45693 |
| Columbus Colony Elderly Care Skilled Nursing and Rehabilitation Center | Westerville, OH 43081 |
| The Laurels of Norworth | Worthington, OH 43085 |
Salary
On average, STNA can make $31225 per year.
There could be differences in salary due to professional experience, education level, additional skills, and certificates, as well as the place of living.
Annual Salary Range:
Annual Salary by Location:
| Location | Avg. Annual Salary |
| --- | --- |
| Columbus | $31,452 |
| Cleveland | $30,440 |
| Cincinnati | $30,002 |
| Toledo | $29,667 |
| Akron | $29,456 |
| Dayton | $29,824 |
| Youngstown | $29,084 |
| Canton | $29,299 |
| Lorain | $29,873 |
| Elyria | $29,575 |
CNA Classes by State
---