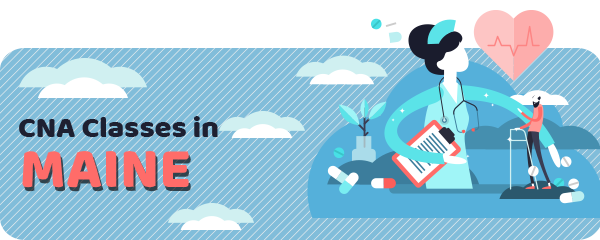 If you want to become a Certified Nursing Assistant (CNA) in Maine, keep reading to find useful information about the procedure.
You have to be at least 16 years old.
The Maine Registry of Certified Nursing Assistants & Direct Care Workers holds the list of all CNAs in the state.
The procedure includes attending the official training program and passing the final test.
Training Requirements
Maine aspiring nurses have to attend some of the state-approved training programs.
The current list of official programs is available online.
Each program's minimal duration is 180 hours – 90 hours of theory, 70 hours of practice under supervision, and 20 hours in the laboratory.
Some people can take the test without attending the course.
Those are international nurses or anyone who passed military nursing training.
Final Test
In Maine, you have to pass the Maine CNA competency test to earn your certificate.
The test includes praxis and theory.
The first, part skills demonstration is where you have to perform some random nursing assistant duties.
You have to perform all the key steps to continue with the exam.
After that, goes the knowledge test which you can take in written or in oral form.
The Maine Department of Education maintains the questions about the examination part.
In Maine, there are several locations in which you can take the test across the state.
Candidates who fail the first time have three more attempts and a deadline to pass the exam.
Those who fail, have to take the complete course again.
Application
Instructors within state-approved training programs help their candidates to apply for the test.
Other candidates can consult the Registry website and find all registration forms and lists of required documentation.
Nursing students are required to pass the criminal background check by the Maine State Bureau of Identification.
When applying for the test, you will have to bring a copy of the check.
There are other documents you will have to submit upon application, and those depend on your eligibility route.
Some students will be asked to bring the past certificates, out-of-state CNA licenses, nursing school diplomas, to provide training instructor signature on the application form, etc.
In Maine, you can verify your certification status online.
Schools
There is a growing demand for CNA in the whole world, and the same is in Maine.
Check the list of free CHA training plans and programs in Maine.
| School Name | Address |
| --- | --- |
| Auburn Adult Education | Auburn, ME 04210 |
| Augusta Center for Health & Rehabilitation | Augusta, ME 04330 |
| Ross Manor | Bangor, ME 04401 |
| United Technologies Center | Bangor, ME 04401 |
| Bangor Adult Education | Bangor, ME 04401 |
| The Commons at Tall Pines | Belfast, ME 04915 |
| Brewer Center for Health & Rehabilitation | Brewer, ME 04412 |
| Washington County Community College | Calais, ME 04619 |
| Victorian Villa Rehabilitation & Living Center | Canton, ME |
| Hibbard Nursing and Rehabilitation Center | Dover-Foxcroft ME 04426 |
| Falmouth by the Sea | Falmouth, ME 04105 |
| St. John Valley Technology Center | Frenchville, ME 04745 |
| Fryeburg Health & Residential Care Center | Fryeburg, ME 04037 |
| Gorham House | Gorham, ME 04038 |
| Presque Isle Rehab & Nursing Center | Presque Isle, ME 04769 |
| Rumford Hospital | Rumford, ME 04276 |
| Lakewood- A Continuing Care Center | Waterville, ME 04901 |
| Heritage Rehabilitation & Living Center | Winthrop, ME 04364 |
| Brentwood Center for Health & Rehabilitation | Yarmouth, ME 04096 |
Salary
In Maine, a CNA can earn an average of $30772 per year.
The salary depends on many factors, including location, education, skill, experience, licenses, etc.
Check the table for more details on salaries in Maine.
Annual Salary Range:
Annual Salary by Location:
| Location | Avg. Annual Salary |
| --- | --- |
| Portland | $31,942 |
| Lewiston | $31,623 |
| Bangor | $29,172 |
| South Portland | $31,942 |
| Auburn | $31,623 |
| Brunswick | $31,666 |
| Biddeford | $31,793 |
| Sanford | $32,296 |
| Augusta | $30,238 |
| Scarborough | $31,942 |
CNA Classes by State
---