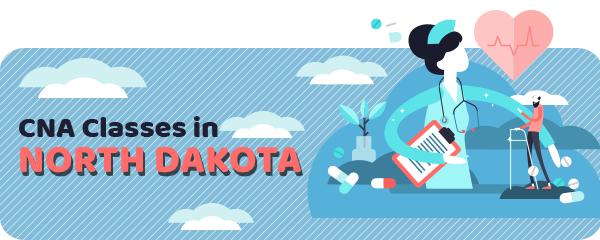 There are a few things you should know if you want to become a Certified Nurse Aide (CNA) in North Dakota.
In this state, there are differences between CNAs and Nurse Aides (NAs).
There are some standards you have to meet, and the procedure isn't the same.
Training Requirements
Aspiring nurses in North Dakota need to fulfill the training program approved by the state.
The Department of Health holds the list of all state-approved programs and you can find more information on their website.
The minimal duration of the program is 75 hours.
On the other hand, there are a few exceptions.
Nurse aides can sign up for the test without taking the official training.
Also, all nurses who hold the nurse aide certificate in any other state are eligible to take the exam.
Final Test
The final exam procedure includes taking the NNAAP test – National Nursing Aide Assessment Program.
The test has two obligatory parts – skills check and knowledge check.
To pass the skills check, you will need to properly perform various nursing assistant duties, some are randomly selected such as proper hand hygiene.
You can take a knowledge test in written or oral form.
The Pearson VUE website holds all learning materials and necessary information about the test itself.
In North Dakota, the headmaster also administers the CNA tests.
In the state, there are multiple locations in which you can take the test.
Candidates are allowed a few attempts and limited time to successfully pass the test.
If they fail, they will have to take the course from the beginning again.
The test fee in North Dakota is $120.
Application
If you sign for the official training program, your instructor will take care of the test application procedure.
Other candidates can apply individually and find useful information, including required documentation on the Headmaster or the Board of Nursing website.
Most likely, you will need to submit some documents.
The required documentation varies, but the most common required documents are copies of other past, expired and out-of-state certificates, copy of nursing school diploma, recommendation letters, etc.
Schools
In North Dakota, there is a growing need for Certified Nurse Aides.
Therefore, there are plenty of free training programs across the state.
Before you sign up for any of them, make sure that you are familiar with all aspects of the nursing profession.
Check the list of all free CNA training programs in North Dakota.
| School Name | Address |
| --- | --- |
| Aneta Parkview Health Center | Aneta, ND 58212 |
| Ashley Medical Center | Ashley, ND 58413 |
| Bismarck State College | Bismarck, ND 58506 |
| Southwest Healthcare Services | Bowman, ND 58623 |
| Golden Acres Manor | Carrington, ND 58421 |
| Cooperstown Medical Center Nursing Home | Cooperstown, ND 58425 |
| Cooperstown Medical Center | Cooperstown, ND 58425 |
| St. Aloisius Medical Center | East Harvey, ND 58341 |
| Prince of Peace Care Center | Ellendale, ND 58436 |
| Valley Memorial Homes | Grand Forks, ND 58201 |
| Valley Eldercare Center | Grand Forks, ND 58201 |
| Ave Maria Village | Jamestown, ND 58401 |
| Hill Top Home of Comfort | Killdeer, ND 58640 |
| CHI Lisbon Health | Lisbon, ND 58054 |
| Luther Memorial Home | Mayville, ND 58257-1698 |
| Nelson County Health System | McVille, ND 58254 |
| Quentin N. Burdick Job Corps Center | Minot, ND 58703 |
| Lutheran Home of the Good Shepherd | New Rockford, ND 58356 |
| Elm Crest Manor | New Salem, ND 58563 |
| Rolette Community Care Center | Rolette, ND 58366 |
| Bethany Retirement Living | South Fargo, ND 58103 |
| Pembilier Nursing Home | Walhalla, ND 58282 |
| Bethel Lutheran Nursing & Rehabilitation Center | West Williston, ND 58801 |
Salary
The salary is based on education level, additional certificates, licenses, location, etc.
In North Dakota, a nurse can make an average yearly salary of $30029.
Annual Salary Range:
Annual Salary by Location:
| Location | Avg. Annual Salary |
| --- | --- |
| Fargo | $30,003 |
| Bismarck | $29,808 |
| Grand Forks | $27,931 |
| Minot | $29,329 |
| Mandan | $29,808 |
| Dickinson | $29,329 |
| Jamestown | $29,426 |
| West Fargo | $30,003 |
| Williston | $29,329 |
| Wahpeton | $29,524 |
CNA Classes by State
---