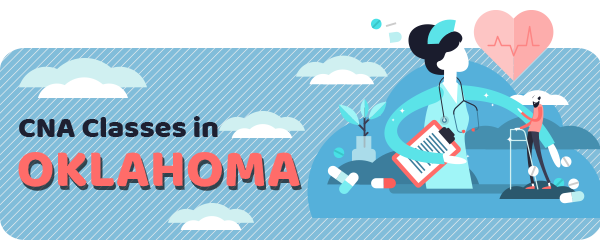 There are several different certificates for nurses in Oklahoma.
Those are Long Term Care Aide, Home Health Aide, Developmentally Disabled Direct Care Aide, Adult Day Care Aide, Residential Care Aide, and Medication Aide.
The procedure may vary for a different certificate, so keep reading to find out more.
Training Requirement
First of all, you have to take the official, state-approved training program.
The Department of Health website holds the current list of suitable programs, so check it before you start the procedure.
However, there are a few exceptions.
For example, nursing students can sign for the final test without attending the course.
Also, you might be required to take an additional 16 hours of training on a certain part of the population to get some certificates.
Final Test
In Oklahoma, you will be asked to pass the examination test administered by one of the three institutions – Headmaster, Health Certification Project, or Prometric.
Knowledge and skills check are an integral part of the final test.
To pass the skills check, you will have to perform all key nursing duties properly.
The knowledge test can be taken either in written or in oral form.
The websites of evaluation competency institutions have all learning materials including handbooks and other useful information.
Each candidate has a limited number of attempts and limited time in which he or she has to pass the exam.
If the candidate fails, he or she will have to take the course again.
Application
Instructors of candidates enrolled in official training programs will take care of the application procedure.
Other candidates who are individually signing for the test can find all information and download application form from the website of the Department of Health.
You can find the list of required documentation on the website.
The required documentation varies for different candidates based on their eligibility route.
You might have to submit your certificates, expired licenses, copies of diplomas, recommendation letters, etc.
Also, Oklahoma is one of the states in which you have to pass the fingerprints-based criminal background check.
Schools
As seen in other states, Oklahoma also is also in the deficit of nursing assistants.
Therefore, more training programs are available.
Before you start a program, make sure that you are fully aware of the pros and cons of the nursing profession.
Check the list of free CNA training options in Oklahoma.
| School Name | Address |
| --- | --- |
| Bartlesville Health & Rehab Community | Bartlesville, OK 74006 |
| Cedarcrest Care Center | Broken Arrow, OK 74012 |
| Glenhaven Retirement Village | Chickasha, OK 73023 |
| Eastern Oklahoma County Technology | Choctaw, OK 73020 |
| Drumright Nursing Home, LLC. | Drumright, OK 74030 |
| Four Seasons Rehabilitation & Care | Durant, OK 74701 |
| Bell Avenue Nursing Center | Elk City, OK 73644 |
| Golden Oaks Village | Enid, OK 73703 |
| Geary Community Nursing Home | Geary, OK 73040 |
| Fountain View Manor | Henryetta, OK 74437 |
| Lake Country Nursing Center | Marietta, OK 73448 |
| Walnut Grove Living Center | McAlester, OK 74502 |
| Deaconess Hospital | Oklahoma City, OK 73112 |
| George Nigh Rehabilitation Center | Okmulgee, OK 74447 |
| Stilwell Nursing Home | Stilwell, OK 74960 |
| Ambassador Manor Center | Tulsa, OK 74136 |
| Wilson Nursing Center | Wilson, OK 73463 |
Salary
Educational and demographic factors affect salary.
For example, education, experience, additional licenses, and location in which you perform the job affect the salary.
An average yearly salary of a nursing assistant in Oklahoma is $30061.
Check the table for more details on salaries in Oklahoma.
Annual Salary Range:
Annual Salary by Location:
| Location | Avg. Annual Salary |
| --- | --- |
| Oklahoma City | $30,326 |
| Tulsa | $30,681 |
| Norman | $30,135 |
| Lawton | $27,215 |
| Broken Arrow | $30,585 |
| Edmond | $30,230 |
| Enid | $28,817 |
| Stillwater | $28,817 |
| Muskogee | $29,158 |
| Bartlesville | $29,158 |
CNA Classes by State
---