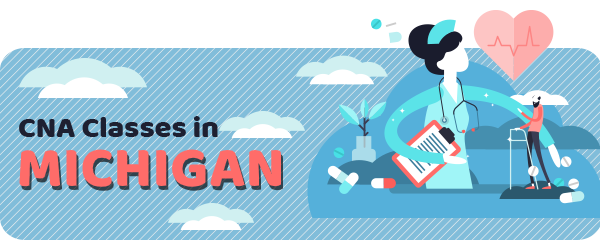 In Michigan, the Long Term Care Division of the Department of Licensing and Regulatory Affairs maintains the nurse aide certification.
If you want to become a Certified Nurse Aide (CNA) you will have to complete a training program and pass the final exam.
Keep reading for more information.
Training Requirements
Michigan residents have to complete an official state training course to become eligible for the certificate.
The current list of all state-approved training programs can be found on the Division of Long Term Care website.
The programs last for 100 hours.
But, people who complete the equivalent nurse aide programs in other states can take the exam in Michigan without taking the course.
Final Test
In Michigan, aspiring nurses have to pass the Nurse Aide Competency Evaluation.
It consists of two parts – a skills check and a knowledge test, both are obligatory.
During the skills demonstration, you will have to perform five different nursing assistant duties which include indirect skills and proper hand hygiene.
The knowledge test you can take either in a written or an oral format, whichever is more convenient for you.
In Michigan, there are several locations across the state where you can take the test.
You can find the list of all locations and schedule a testing date online.
Candidates have a few attempts and a deadline in which they must pass the test.
If they fail, they have to take the training course again from the beginning.
In Michigan, there are two fees you have to pay.
You pay $100 to the testing site, and $76.50 to the Prometric with all registration forms.
Application
Candidates who attend the official training program can ask their instructor to help them with the application procedure.
All other candidates can find necessary forms and requirements on the Prometric website.
Each candidate will have to submit documentation, but it will vary on its eligibility route.
For example, some candidates have to submit the expired CNA licenses and out-of-state certifications, while others have to submit copies of nursing school diplomas, recommendation letters, verification of past CNA certificate, and instructors' signature on the application form.
Schools
In Michigan, there is a higher demand for CNA across the state.
Therefore, the number of available official nursing assistant school is rising.
Check the complete list of all free training programs for CNA in Michigan.
| School Name | Address |
| --- | --- |
| Ashley Care Center | Ashley, MI 48806 |
| Bay Shores Senior Care & Rehab Center | Bay City, MI 48706 |
| Michigan Healthcare Academy | Clinton Township, MI 48035 |
| Detroit Job Corp Center | Detroit, MI 48206 |
| PATH | Detroit, MI 48219 |
| OakPointe Senior Care & Rehab Center | Detroit, MI 48235 |
| Flint/Genesee Job Corp Center | Flint, MI 48505 |
| Gerald R. Ford Job Corp Center | Grand Rapids, MI 49507 |
| Bay Bluffs – Emmet County Medical Care Facility | Harbor Springs, MI 49740 |
| Oakview Medical Care Facility | Ludington, MI 49431 |
| Tendercare of Ludington | Ludington, MI 49431 |
| Tendercare Midland | Midland, MI 48640 |
| Riveridge Manor | Niles, MI 49120 |
| Boulevard Health Center | Rochester, MI 48309 |
| Bishop Noa Home | South Escanaba, MI 49829 |
| Tendercare Health Center – Birchwood | Traverse City, MI 49686 |
| Aberdeen Skilled Nursing | Trenton, MI 48183 |
| Gogebic Medical Care Facility | Wakefield, MI 49968 |
Salary
Michigan nurses make an average yearly salary of $31947.
However, the salary depends on several educational and demographic factors such as location, experience level, and education, skills, certificates, etc.
Check the table for more details on salaries in Michigan.
Annual Salary Range:
Annual Salary by Location:
| Location | Avg. Annual Salary |
| --- | --- |
| Detroit | $32,706 |
| Grand Rapids | $31,145 |
| Warren | $32,706 |
| Flint | $29,612 |
| Sterling Heights | $32,604 |
| Lansing | $31,254 |
| Ann Arbor | $33,169 |
| Livonia | $32,604 |
| Dearborn | $32,706 |
| Westland | $32,810 |
CNA Classes by State
---