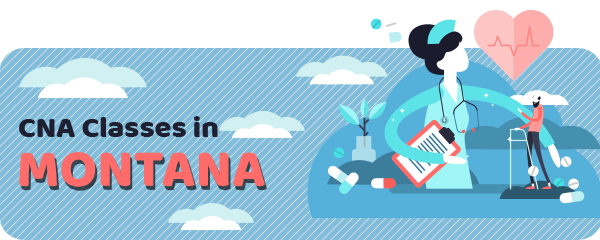 The Department of Health and Human Services in Montana maintains a complete procedure of Certified Nurse Assistants (CNA).
If you want to become CNA, you will have to complete a training course and to pass the final exam.
Keep reading to find out more information about the CNA program in Montana.
Training Requirements
Montana citizens must finish the official training program, approved by the state to become CNA.
There is a current and updated list of appropriate programs on the state's Department of Health and Human Services.
The minimal duration of any state-approved program is 75 hours.
Popular Programs
But, some people can take the final test, without having to take the course.
Those are nurse students, graduate nurses, or anyone who has completed similar training in another country of state.
Final Test
In Montana, nurses should pass the test administered by the Headmaster.
The test has two parts – the skills part and the theoretical part.
You will be asked to perform five nursing assistant duties, and demonstrate proper hand hygiene.
For the theoretical part, you have to pass a knowledge test either in written or oral form.
The Headmaster website contains all learning materials and useful information.
In Montana, there are several locations across the state where you can take the test.
Consult the Headmaster website to choose the preferred location and schedule the testing date.
Candidates have a few attempts in limited time in which they must pass the test.
Those who fail to pass, have to take the training course from the beginning once again.
The test fee in Montana costs $97 or $108 for candidates who decide to take the knowledge test in an oral format.
Application
If you attend the official training course, your mentor will take care of the application procedure.
Other candidates, out-of-state or anyone who is applying after alternative training, can find all useful information on the Headminister website.
You can also check what the required documentation is because it will vary for different candidates.
Some candidates should submit copies of other certificates, out-of-state and expired CNA licenses, copy of nursing diploma, etc.
Schools
The nursing assistant profession is challenging but rewarding.
There is a growing need for CNA in all states, including Montana.
Check the list of all free CNA training courses in state and find the one that is suitable for you.
| School Name | Address |
| --- | --- |
| Fallon Medical Complex | Baker, MT 59313 |
| St. John's Lutheran Ministries | Billings, MT 59102 |
| Daniels Memorial Healthcare Center | East Scobey, MT 59263 |
| Dahl Memorial Healthcare Association Inc. | Ekalaka, MT 59324 |
| Benton Medical Center | Fort Benton, MT- 59442 |
| Valley View Health Care Services | Glasgow, MT 59230 |
| Benefis Extended Care Center | Great Falls, MT 59405 |
| Valley View Estates Health Care Center | Hamilton, MT 59840 |
| Marcus Daly Memorial Hospital | Hamilton, MT 59840 |
| Flathead Valley Community College | Kalispell, MT 59901 |
| Kalispell Regional Healthcare | Kalispell, MT 59901 |
| Hillside Health Care Center | Missoula, MT 59803 |
| University of Montana | Missoula, MT 59812 |
| Teton Medical Center | North West Choteau, MT 59422 |
| St. Luke Community Healthcare | Ronan, MT 59864 |
| Daniels Memorial Nursing Home | Scobey, MT 59263 |
| Marias Medical Center | Shelby, MT 59474 |
| Sidney Health Center | Southwest, Sidney, MT 59270 |
| The Living Center | Stevensville, MT 59870 |
| Mineral Community Hospital | Superior, MT 59872 |
| Broadwater Health Center | Townsend, MT- 59644 |
| Polson Health and Rehabilitation Center | West Polson, MT 59860 |
Salary
The average yearly salary of a CNA in Montana is $28990.
Your salary will be calculated due to your education, experience, licenses, location, and other factors.
Annual Salary Range:
Annual Salary by Location:
| Location | Avg. Annual Salary |
| --- | --- |
| Billings | $30,626 |
| Missoula | $26,431 |
| Great Falls | $27,726 |
| Butte | $26,431 |
| Bozeman | $26,431 |
| Helena | $26,911 |
| Kalispell | $28,382 |
| Havre | $27,247 |
| Anaconda | $26,431 |
| Miles City | $30,147 |
CNA Classes by State
---