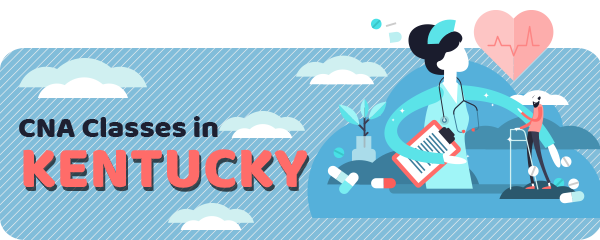 To become a Certified Nurse Aide (CNA) in Kentucky, you will have to complete official training and pass the final test.
If you succeed, you will become an SRNA – State Registered Nurse Aide in  Kentucky.
Keep reading for more information about the process.
Training Requirements
Aspiring nurses in  Kentucky have to complete a program approved by the state.
You can consult the current list of all approved programs.
Any appropriate programs must last minimally 75 hours and an additional 16 or more hours of practical training under supervision.
Make sure to double-check if the program is credible before you sign for it.
Nursing aide programs in some other US states are not equivalent to the Kentucky programs, so make sure that you meet the requirement before you apply for the final test.
However, in Kentucky, nursing students can apply for the test without taking the training course.
Final Test
To become SRNA in Kentucky, you have to pass the state's official Competency Evaluation Program.
It has two parts – a practical demonstration and a theoretical test.
For the practical demonstration, you will have to perform five randomly choose nursing assistant duties.
To pass the second part, written test, you need at least 70% correct answers.
Kentucky Community and Technical College System is the only approved testing institution in this state.
But, there are a few locations across the state where you can take the test.
You have three attempts to pass in a limited time.
Candidates who fail, have to take the course again.
Application
To find out more about the application procedure you can check the KCTCS website.
Any candidate who is attending the official training program can rely on its mentor to help him with the application.
Other candidates can contact any of the testing coordinator listed on the KCTCS website.
Some candidates may be asked to provide some documentation.
It can include different documents such as past certificates, nursing school diploma, copies of out-of-state licenses, etc.
After you pass the test in Kentucky, you will be added to the registry of Nurse Aides in Kentucky.
It can take up to 30 days.
Schools
SRNAs are a deficit profession in Kentucky.
Therefore, there is plenty of approved training across the state.
You can find the complete list of all free SRNA programs in Kentucky.
| School Name | Address |
| --- | --- |
| Ashland Community and Technology College | Ashland, KY 41101 |
| Boyd Nursing and Rehab Center | Ashland, KY 41102 |
| Bedford Health Care Center | Bedford, KY 40006 |
| Signature HealthCARE of Trimble County | Bedford, KY 40006 |
| Berea Health Care Center | Berea, KY 40403 |
| Southcentral Kentucky Community and Technical College | Bowling Green, KY 42101 |
| Signature HealthCARE of Georgetown | Georgetown, KY 40324 |
| Glasgow Health and Rehabilitation Center | Glasgow, KY-42141 |
| Life Care Center Of Lacenter | La Center, KY 42056 |
| Madisonville Community College | Madisonville, KY 42431 |
| Life Care Center Of Morehead | Morehead, KY 40351 |
| Bourbon Heights, Inc. | Paris, KY 40361 |
Salary
An SRNA in Kentucky earns averagely  $30038 per year.
But, the salary depends on the city where you work, on your education and experience, additional skill and licenses, etc.
Check the table for more information on salaries in Kentucky.
Annual Salary Range:
Annual Salary by Location:
| Location | Avg. Annual Salary |
| --- | --- |
| Lexington-Fayette | $30,060 |
| Louisville | $30,102 |
| Owensboro | $29,979 |
| Bowling Green | $28,774 |
| Covington | $31,216 |
| Hopkinsville | $28,729 |
| Frankfort | $29,160 |
| Henderson | $30,171 |
| Richmond | $29,756 |
| Georgetown | $30,043 |
CNA Classes by State
---