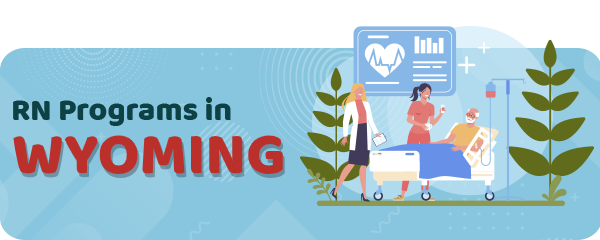 Not rarely, we want to pick the best things.
Basically, we want the best home, the best family, and at some point the best education and career too.
After all, these are the most important things around which everyone's life revolves.
However, we find the due time and effort for each to have a place in our life.
Pursuing an education can be a challenge in every state.
The same applied to any state of America as well.
Check for instance Wyoming, and you will find you need to take the same effort and time to plan one accordingly.
It could be any type of profession.
But this time is Registered Nursing.
But even though it seems a difficult path, in reality, it is not such.
Not when the only criteria you need to have is licensure.
Being such, finding one that assures you of it, is simple.
You just need to go through the NCLEX passing rates of the students.
Precisely, you need to check the programs that offer an Associate Degree in Nursing, such as the ASN, BSN, MSN, or ADN degrees.
But lighten up.
I have checked them all.
And as a result, I have found out that only three of them are top-rated in Wyoming.
However, everything does not end here.
In fact, it only begins.
First, you need to know that healthcare in the state requires high-quality work.
Meaning, nurses need to offer high-quality services to patients in the upcoming five years.
This need is planned to be met through the establishment of high education.
And in the meantime, through a good income.
The second, or better say, the salary for an RN in Wyoming, according to the Bureau of Labor Statistics is considered to be $67,360.
On the other hand, the Health Profession Shortage Areas of 39 in number, the need for nurses will only increase.
Nearly 200 nurses will be needed to enter new job positions in the state in order to finally fill the void.
And all in different nursing programs.
Among them, are the RN bridge programs, which you can check below:
RN to BSN Programs in Wyoming
RN to MSN Programs in Wyoming
ADN Programs in Wyoming
The ADN degree is the shortest and easiest career path in Wyoming, but indeed the most useful one.
And closely, the foundation of the entire RN career.
The common length of two years has drawn enough students so far.
While its accessibility in either junior or community colleges has turned it into a must for them.
The state offers 5 ADN programs that receive accreditation easily from the Wyoming Board of Nursing.
What to Look For in an ADN Program in Wyoming
As soon as you've stumbled into an ADN path, you want to know more about it.
However, what you look for depends a lot on what you are first.
Meaning what are your basic criteria for a good ADN program in the state.
Let me tell you some, then consider.
Accreditation
I would like to tell you that rules and principles are the keys to a good education.
But I choose to be concrete.
Boy, or a girl, you need to find an accredited program, no matter your destination.
The program should definitely work to the standards of the industry.
And believe me, that's not impossible in Wyoming.
All it takes is to find the right organizations to help you in the process.
These would be two.
First, you may contact the Accreditation Commission for Education in Nursing.
Or else, the American Association of Colleges of Nursing.
By all means, the Wyoming State Board of Nursing would not let you fall short of this step either.
Licensing
Nothing is as good as the one it is given the following document.
Once you get the nursing license, you're free to practice the profession.
But license requires to sit for the NCLEX exam.
Which is not unfamiliar.
Its take in 2015, brought 329 people entering the exam.
While 84.5% of them actually got the license soon after.
Program Outcomes
When talking about a program, be wary of its outcome.
It usually says a lot about its education in general.
Here are some of the key points you need to pay attention to when applying in one:
Graduation rate
Licensure exam pass rate
Graduate satisfaction
Employment rate
Before you go further, check the Casper College in Casper.
It's the address to find an accredited ADN program in Wyoming.
ADN Program Admission Requirements in Wyoming
hen talking about a program, we cannot forget the admission requirements.
They are indeed inseparable from the process.
Though they vary from school to school, they mainly include these:
The Candidate must fulfill the general admission requirements the school has set
The minimum overall GPA (mostly 2.5 or higher) is a must
Doing the Test of Essential Academic Skills (TEAS) admission test with a proficient or higher score is a must
Tuition and Costs of ADN Programs in Wyoming
The variety of ADN programs in the state does not come alone.
It comes with a variety of costs as well.
As such, the main payment is tuition.
Other payments such as for uniforms, textbooks, or similar, may or may not be part of the cost.
This exclusion is partial.
But check the two years' ADN program at Northwest College.
Located in Powell, its tuition, along with uniforms, books and other fees goes around $10,161.
If you add room and board to this cost, along with extras, you will have to pay $17,821 in total.
Advantages of ADN Programs
Going through many ADN programs in Wyoming should be an amazing experience.
How cannot it be so when it is accessible, affordable, and short?
Furthermore, the state offers flexible schedules as well.
LPN to RN Programs in Wyoming
After the advantages, come other opportunities in RN in Wyoming.
It's the LPN to RN bridge program.
Through these programs, you can make progress in your nursing career very fast.
You can do so and build your education with nursing skills gained first at the LPN training.
The state offers two types of this program actually.
One is the LPN to ADN path.
The other is the LPN to BSN.
And we keep going.
LPN to ADN/BSN Programs
The first program to go for in the state is the LPN to ADN.
This program ends up in an ADN degree after which the candidate can take the NCLEX-RN exam.
Its length depends on the number of courses that can be transferred with the LPN program.
You can find this program at Central Wyoming College.
This college also offers accelerated programs of the ADN type.
The LPN to BSN programs on the other hand is held online.
To enter this and the previous program, you need to meet some conditions, which they consist of:
Have an Active LPN license
Complete all prerequisite courses successfully (with a grade of 'C' or higher)
Proof of completion of an accredited LPN program through Official Transcripts
BSN Programs in Wyoming
Once you decide to advance your career, start thinking about a BSN degree.
The program is indeed long, four years of learning.
But they are worth it since they open up career opportunities along the way.
They are usually found in large universities across the state.
One destination to check for is the University of Wyoming at Laramie.
What To Look For in a BSN Program in Wyoming
As soon as you find the right school, you want the right program as well.
Some of the key points that qualify a program are accreditation, shortage, and one that prepares you for a nursing license.
Know that an accredited BSN program can be found at the University of Wyoming at Laramie.
BSN Program Length in Wyoming
As you can see, a four year traditional BSN program is available in Wyoming.
However different types of programs vary in length.
The RN to BSN program for instance does not take more than 2 years.
However, the school can always help you with the information prior to admission.
BSN Program Admission Requirements in Wyoming
As always, a nursing program has a different portion of requirements from another.
But at the University of Wyoming, the main ones are these:
A grade of C or better is required in all courses in the program. The CHEM 100 makes an exception, which requires a grade of B or better than that.
A cumulative Nursing GPA (NGPA) of 3.00 ( The GPA should be based on required courses in the Pre-Clinical Component. This score is the minimum you need to begin the Clinical Component in the spring of the sophomore year.
A cumulative Nursing G.P.A. (NGPA) of 3.00. ( The GPA should be based on all required courses in the program is. It has to make it through the progress through the Clinical Component
Tuition and Costs of BSN Programs in Wyoming
BSN program cost is divided into two parts.
Once you pay the tuition, you also need to pay the rest of the fees.
The latter usually include payment for room and board, textbooks, uniforms, CPR certification, health records, and so on.
However, the pay does not stop here.
When you graduate, you need to make a payment of $190-$195 for licensure exam application.
The payment can be done to the Wyoming State Board of Nursing.
While the NCLEX exam fee also requires payment of $200.
Advantages of BSN Programs
Without wasting your time, the advantages of the BSN program are already obvious.
However, income, opportunity to advance in the career and the variety of programs are some of the benefits you can't be oblivious about.
MSN Programs in Wyoming
Fortunately, an MSN program in Wyoming is available in the University of Wyoming.
The benefits of this degree are translated into nursing titles.
Basically, in an MSN program of the sort, you can become a Nurse Practitioner.
If you don't fit in with that, hold on, there is more.
It is the Certified Nurse Midwife.
While the last nursing title you can be educated for in the Clinical Nurse Specialist.
MSN Program Length in Wyoming
The sooner you complete an MSN program, the more you make progress in the field.
A Master's of Science in Nursing may take 3 years to complete.
But length sometimes depends on what type of courses you have taken prior to admission to this program.
One MSN program available in the state is the MSN Nurse Leadership Program.
Found at the University of Wyoming, it has online and part-time classes, which take nearly six years to complete.
MSN Admission Requirements in Wyoming
The hardest thing is sometimes the decision.
Once you pass this stage, being admitted to the program is the next.
This phase, however, requires you to meet some requirements in the short run.
They mainly include:
Graduate from an accredited BSN program
Write& Send a Self-Reflective Essay
Write& Send a Reaction Paper -the answers must refer to a set of questions the school prepares
Send your CV along with your employment history, certifications, and licensure, teaching experiences, academic history, publications and presentations, memberships. Also, don't forget to attach activities in professional associations, a list of continuing education experiences, and recognitions and awards you have earned.
Tuition and Costs of MSN Programs in Wyoming
MSN programs as a higher level of nursing education, have a considerable cost.
Basically, you will have to pay for class fees.
While at The University of Wyoming, this program demands to pay books and background checks.
For NP programs, see the following:
Wyoming DNP Programs
Wyoming FNP Programs
Wyoming Nurse Practitioner Programs
Wyoming Post-Graduate Certificate Nursing Programs
Getting a Wyoming Nursing License
If you apply rules to a thing, it becomes better.
Similarly, the Wyoming Board of Nursing has created regulations for earning the nursing license in the state.
These regulations include preparing for application and send the right documentation.
As for application, there are always two ways to do so in Wyoming.
You either apply by exam or by endorsement.
If you apply for licensure by exam, you will need to include in your application the following documents:
Prepare and send Official transcripts with a seal from the governing institution you have attended
Send a copy of Social Security card
Send a copy of Government-issued ID
Fingerprint-based Criminal Background Check
Register for the NCLEX- with your eventual successful completion
If you apply for licensure by endorsement, you will need to make sure you send these documents:
Copy of Social Security card and another Government-issued ID
Copy of an active/current license
Verify licensure from the state you've earned it – request form or through NURSYS
Fingerprint-based Criminal Background Check
By all means, the Wyoming State Board of Nursing will help you with everything related to your nursing licensure.
Accelerated Nursing Programs in Wyoming
In the range of accelerated programs in Wyoming, you will find BSN programs.
Taking 12 to 18 months, it is a good way to fasten your nursing career with one.
However, if you want to pursue more additional courses, length can extend.
By all means, this program is full-time and you need to pursue clinical hours to manage graduation from it.
Its cost is any way to be considered.
It depends on the credit hours you want to make and the rate that comes with them.
Wyoming Accelerated BSN Programs
Wyoming Accelerated MSN Programs
The Best RN Schools in Wyoming
The best things always come last.
So do RN schools in Wyoming.
Being only three, they will be enough anyway.
They offer a variety of programs and schedules for students.
Are you one of them?
| School Name | Address |
| --- | --- |
| Western Wyoming Community College | 2500 College Dr, Rock Springs, WY 82901 |
| Central Wyoming College | 2660 Peck Ave, Riverton, WY 82501 |
| Northern Wyoming Community College District - Sheridan College | 1 Whitney Way, Sheridan, WY 82801 |
RN Salaries in Wyoming
The next step you can take is towards the salary.
An RN career will definitely offer you a suitable one.
But surely, you should be the one who does his or her best to qualify for it.
However, get to know the three types of salaries you may encounter in Wyoming.
 Annual Salary Range: Annual Salary by Location:
| Location | Avg. Annual Salary |
| --- | --- |
| Cheyenne | $57,846 |
| Casper | $59,401 |
| Laramie | $58,534 |
| Gillette | $56,414 |
| Rock Springs | $58,518 |
| Sheridan | $60,108 |
| Green River | $58,518 |
| Evanston | $59,003 |
| Riverton | $58,445 |
| Cody | $60,108 |
RN Programs by State
---