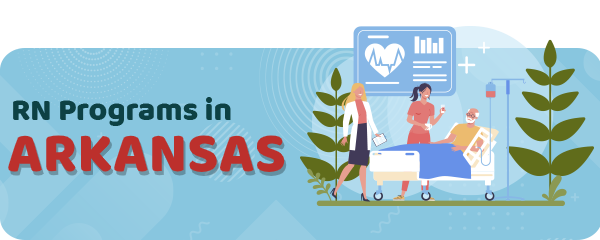 Healthcare is a new trend in Alaska.
And the state is doing its best to support the nurses as much as possible to help them prosper in the field.
As a result, those who benefit from the state like this, are nothing but prone to become great nurses.
And eager to fill the existing demand in the state's areas.
If we look closer, we will see that nearly 50% of the nurses have acquired their Bachelor of Science in Nursing
(BSN).
With this qualification, they are ready to practice their profession in jobs related to rural and urban areas.
Having so many opportunities to specialize and make advancements in the field, nurses are highly welcomed in this state.
So, if you're interested to know more about what it takes to become a nurse in Alaska, this article will show you how.
For RN bridge programs visit:
RN to BSN Programs in Alaska
RN to MSN Programs in Alaska
ADN Programs in Alaska
The Associate Degree in Nursing is the first step to a nursing career In Alaska.
This type of education is usually taken in community colleges or private career colleges.
The program length is 4 semesters in two years' time.
At the time of graduation, students can take the NCLEX exam and become Registered Nurses.
Through this title, they are able to start their professional practice in nursing.
The state of Alaska also offers accredited ADN programs in order to meet the demand for nurses in its areas.
These programs are mostly found in Anchorage urban area.
What to Look For in an ADN Program in Alaska
Before attending an ADN program in Alaska, students should consider a few criteria important to it.
With so many options to check, this issue is highly important to find out what matters most in any of them.
Accreditation
Accreditation is the first important criteria of any AND program in Alaska.
It shows that the program works at high-quality teaching standards.
The accreditation is done through the Accreditation Commission for Education in Nursing (AECN).
But the programs can also receive accreditation from the Northwest Commission on Colleges and Universities (NWCCU).
The latter is, in reality, one of the 6 regional bodies used to accredit programs.
It is appointed by the U.S Government.
Licensing
In Alaska, nursing schools receive licenses through Alaska's Board of Nursing.
This body is a division of the state's professional corporate licensing division.
Through this license, nurses can work as RNs as their professional title.
As a result, the importance of licensure from this board is high.
The board gives the license of the AND program in an accredited post-secondary institution.
Program Outcomes
The outcome of anything is as important as the input.
Similarly, when comparing your requirements of a program, and the program's objectives, you need to be mindful.
This check can be done in regards to a few areas, before applying to the program.
These areas are:
Successful graduation numbers
Successful NCLEX rates
Student satisfaction/graduate satisfaction
Post-program employment data
To give you a story of success, Charter College which has sites in both Anchorage and Wasilla, AK, has a successful accredited ADN program.
ADN Program Admission Requirements in Alaska
While institutions throughout the state vary, the programs have similar requirements for admission.
Students are required to adhere to school admission criteria
Students are required to meet the school and program GPA standards
Students need a TEAS composite score of sixty (60) or higher
Evidence of successful drug and background screenings are required
Students must create a nursing statement and have a successful interview
Student orientation (including proof of training on the Health Insurance Portability and Accountability Act, records management, and Bloodborne Pathogens training) must be successfully completed
Students must undergo a health screening and provide evidence of up-to-date vaccinations
Tuition and Costs of ADN Programs in Alaska
The money we spend in our education is wisely spent, but we need to make some sort of calculation in order to remain okay with our financial aspect.
The tuition of a nursing program in Alaska depends on the size of the program, access to clinical placement, transport and accommodation concerns, and so on.
For instance, Charter College has a total tuition cost of nearly $19,000.
Before applying to this college, students should check what costs do cover the tuition of it in total and separately.
Since the tuition varies from school to school, you will find that some of them include clinical scrubs and materials in their tuition.
While students can pay their own necessary materials and clothes with their personal income.
Advantages of ADN Programs
The advantage of the ADN program is that they have lower tuition costs than BSN and MSN programs.
Also, the community colleges and private career schools where this program is taught are cheaper.
Also, students have little time spent at work when they are studying 4 semesters.
So, the gap between high school graduation and the NCLEX exam is free of work for them.
This way, it gives them the privileged to devote their time to learning solely.
BSN Programs in Alaska
The Bachelor of Science in Nursing is a dream to many.
Being one of the main professional goals in nursing, it is acquired through undergraduate or professional studies.
Students can attend classes of this degree in on-campus programs that are offered at the University of Alaska.
The university, in fact, has its own satellite locations in Nome, Juneau, Kenai, and Ketchikan.
This way, nursing students have many options about where to reach their goals.
The BSN program in Alaska is accredited by the National League for Nursing Accreditation Commission (NLNAC).
The program lasts 4 years in which time, students have the chance to mix between theoretical and clinical routes.
This way, they will be able to create an experience in different medical disciplines.
Apart from on-campus programs, students from Alaska have the chance to also benefit from online BSN lessons.
These are offered from 48 states of the US.
What To Look For in a BSN Program in Alaska
Before enrolling in a BSN program in Alaska, it is important to know what the program offers and match it with your requirements as a student.
Basically, these programs are expected to communicate both medical skills and model evidence-based methods.
With the help of the experiences and ethical professors, students will be able to benefit a lot.
Mainly they will benefit from mentorship opportunities, learn from experienced individuals, and have access to a BSN program that is fitting to the healthcare needs system of these modern times.
The main institution to offer this type of BSN program is the University of Alaska Anchorage BSN Program.
This university is accredited from the Accreditation Commission for Education in Nursing (AECN).
This university is a source of transformative nursing opportunities, by having professional workers and consequently, successful nursing students.
BSN Program Length in Alaska
The average BSN program length, just like the majority of the programs is 4 years.
With such a length, students have enough time to learn in a medical area and as a result, take good care of the patients.
For those who are wanting to get an RN to BSN track, 2 years of course and clinical work are needed.
For this amount of time, they will be able to refresh and expand their skills.
BSN Program Admission Requirements in Alaska
Admission requirements are unique to each nursing institution.
However, BSN programs often have these elements in common for student applications:
University admission criteria are met
Minimum GPA of 3.0 for BSN students is met
Official transcripts are provided
Tuition and Costs of BSN Programs in Alaska
BSN tuition costs in Alaska depends on many factors.
Usually, they depend on the logistics, living, and clinical arrangements and whether the program is accelerated or not.
An example to consider is the University of Alaska Anchorage.
Its tuition and student does for a year go to $7,000.
This stands true for in-state students.
Here are included electronics, facilities, and student government fees.
While textbooks and other materials go near $1,600 per year or $800 per semester.
Advantages of BSN Programs
The advantages of going for a BSN program in Alaska are various.
First of all, with a four-year degree, both male and female students are able to show nursing care to those in need.
Secondly, there are enough opportunities for work.
To begin with the hospitals, to in-home care and similar areas.
Thirdly, from the predictions done, BSN students earn more money that AAS ones.
And the nursing workforce is expected to grow from 50% to 80% in the near future.
MSN Programs in Alaska
After finishing the BSN degree, there comes a higher level of nursing education.
That is a Masters of Science in Nursing (MSN).
This degree is perfect for those RNs who want to make a professional, flexible, and responsible work.
The degree offers many sideway nurse titles such as Nurse Midwife, Pediatric Nursing Specialist, Clinical Nurse, and Nurse Practitioner.
Through these titles, the individuals are able to go for a teaching or policy development at a clinic or state level.
The MSN degree studies are offered in a program at the University of Alaska Anchorage.
However, online options are available as well.
MSN Program Length in Alaska
The MSN program length in Alaska depends on both the student's aspirations and workload.
However, the average program length is estimated to be nearly 3 years.
Different students finish the courses in a different amount of time.
While extra qualifications may extend the program length as well.
But they depend on the studying field.
MSN Admission Requirements in Alaska
Admission requirements for BSN undergraduates who are seeking to enter the MSN level coursework are more rigorous.
Evidence of a completed BSN degree with GPA in line with MSN entrance requirements
Evidence of 'RN' status in good standing; able to practice in Alaska
Professional reference letters
Transcripts provided directly to the MSN Admissions department
Evidence of GRE, GMAT, or MAT graduate test scores that satisfy MSN entrance criteria
Tuition and Costs of MSN Programs in Alaska
MSN programs require a higher tuition cost than other undergraduate and associate degrees.
One example to consider is the University of Alaska Anchorage whose total cost of the MSN program is less than $30,000 for the 2.5-3.5 year program.
In this cost, accommodation and other costs are not covered.
However, students can explore other financial aid and benefit from them no matter how much money they have themselves.
For NP programs visit:
Alaska DNP Programs
Alaska FNP Programs
Alaska Nurse Practitioner Programs
Alaska Post-Graduate Certificate Nursing Programs
Getting an Alaska Nursing License
State resident candidates receive their nursing license in Alaska through the application.
While those out of state can apply by means of an endorsement.
Along with a completed application, the applicant must have ready:
An official transcript from an approved nursing program
Proof of citizenship or immigration status
Receipt of NCLEX-RN exam registration
No derogatory information on NURSYS database
Nurses from other states may apply for endorsement to practice in Alaska as well.
They should be prepared to submit the following documents:
Current license from the former state of practice
A sealed copy of their school transcripts from a state-approved school
Proof of US citizenship or lawful equivalent
Fingerprint documentation
Receipt of NCLEX-RN exam registration
No derogatory information on NURSYS database
Accelerated Nursing Programs in Alaska
Accelerated MSN programs are being stimulated in Alaska by many employers.
Especially, those from RN to a BSN and up to the MSN degree are most frequently accelerated.
But Alaska has another feature of nursing.
Since it is a remote area, most of the nursing courses are given online.
Through them, nurses have the chance to make the most of both their personal and professional work.
BSN and MSN level programs are the ones that have the most intense frequency of nurses.
Taking 12 to 36 months long to the degree, they have the same number of clinical hours as non-accelerated programs in Alaska.
Alaska Accelerated BSN Programs
Alaska Accelerated MSN Programs
The Best RN Schools in Alaska
In Alaska, Nursing Programs are offered in two ways.
They are offered online and local.
Though there are only to on-campus schools currently, online courses make the most of them as well.
| School Name | Address |
| --- | --- |
| Charter College | 2221 East Northern Lights Blvd., Suite 120, Anchorage, AK 99508 |
| University of Alaska Anchorage School of Nursing | 3211 Providence Dr, , Anchorage, AK 99508 |
RN Salaries in Alaska
Nursing Salaries in Alaska depend on many factors.
They depend on work experience, qualifications, and the place.
However, with all types of degrees, nurses will be able to make a really good living.
Annual Salary Range: Annual Salary by Location:
| Location | Avg. Annual Salary |
| --- | --- |
| Anchorage | $70,595 |
| Juneau | $69,904 |
| Fairbanks | $70,469 |
| Sitka | $68,953 |
| Ketchikan | $68,953 |
| Kenai | $69,644 |
| Kodiak | $69,644 |
| Bethel | $69,644 |
| Wasilla | $69,644 |
| Barrow | $69,517 |
RN Programs by State
---